« The F-15 On One Wing
|
Main
|
Alcohol May Have Played A Role »
May 30, 2007
Teen Track And Field Hottie Vaulted Into Unwanted Limelight By Blog Post
Underage here (she's now a year older), but undeniably gorgeous: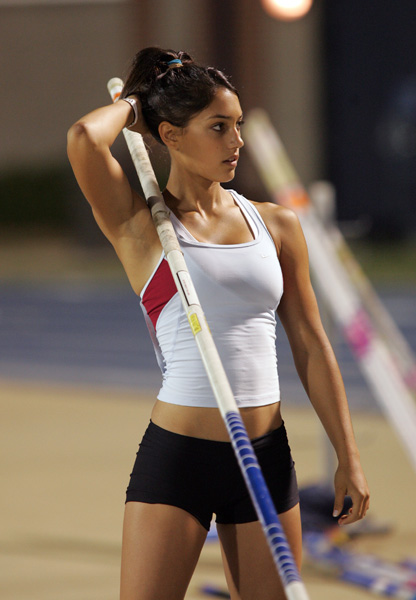 Gone from a track phenom to an internet phenom. And she was much happier being the former.
By the way, lest anyone think I'm contributing to the unwanted attention Allison Stokke's getting, this article is in the Washington Post. The secret's pretty much out.
In her high school track and field career, Stokke had won a 2004 California state pole vaulting title, broken five national records and earned a scholarship to the University of California, yet only track devotees had noticed. Then, in early May, she received e-mails from friends who warned that a year-old picture of Stokke idly adjusting her hair at a track meet in New York had been plastered across the Internet. She had more than 1,000 new messages on her MySpace page. A three-minute video of Stokke standing against a wall and analyzing her performance at another meet had been posted on YouTube and viewed 150,000 times. "I just want to find some way to get this all under control," Stokke told her coach.

Three weeks later, Stokke has decided that control is essentially beyond her grasp. Instead, she said, she has learned a distressing lesson in the unruly momentum of the Internet.

...

From her computer at home, Stokke tracked the spread of her image with dismay and disbelief. She had dealt with this once before, when a track fan posted a lewd comment and a picture of her on a message board two years earlier. Stokke had contacted the poster through e-mail and, a few days later, the image had disappeared. But what could she do now, when a search for her name in Yahoo! revealed almost 310,000 hits? "It's not like I could e-mail everybody on the Internet," Stokke said.

For the first week, Stokke tried to ignore the Internet attention. She kept it from her parents. She focused on graduating with a grade-point average above 4.0, on overcoming a knee injury and winning her second state title. But at track meets, twice as many photographers showed up to take her picture. The main office at Newport Harbor High School received dozens of requests for Stokke photo shoots, including one from a risquι magazine in Brazil.

...

"Even if none of it is illegal, it just all feels really demeaning," Allison Stokke said. "I worked so hard for pole vaulting and all this other stuff, and it's almost like that doesn't matter. Nobody sees that. Nobody really sees me."

...

A former gymnast, Stokke had tried pole vaulting as a lark as a freshman in high school. Two months later, she set a school record. She won the 2004 state championship three months after that. Stokke had augmented her natural, pole-vaulting disposition -- speed, upper-body strength and courage -- by lifting weights three times each week. College programs including Harvard, Stanford and UCLA also recruited her.

...

She loved pole vaulting because it was a sport built on intricacies. Each motion required calculation and precision. A well-executed vault blended a dancer's timing, a sprinter's speed and a gymnast's grace. "There's so much that happens in a vault below the surface," Stokke said.
Summing up:
4.0 GPA (or at least in striking distance of that) on full ride at U of California, champion athlete, ex-gymnast, dancer, looks like this:
It's as if Wonder Woman has been battling Nazis and counterfeiters for five years and we're only hearing about her now.
Although I'm sympathetic that Stokke's lost something important, I'm pretty sure she has the gifts to endure.
See, if that memo had had her picture as the State Department logo, I woud have had no problem with it. I just would have said, "Yeah, perfect logo -- this is what our country is fighting for."
Stokke in Action:
Oh, by the way, I forgot to mention: as she hails from Newport Beach, presumably, on top of everything else, she's loaded.

She Ain't All That: I just got this email--
I would defnitely not hit that. Her knees are too sharp and she is well beneath my standards.
That's from some dude signing his email "A. Kournakova."

posted by Ace at
04:03 PM
|
Access Comments