« Ahem: Women Who Engage In Condom-Free Sex Happier
|
Main
|
Fred's In »
May 29, 2007
Fauxtography? Palestinian Stringer Catches Israeli Missile In Flight
Pardon to those who've sent me this link earlier. This has been going 'round the 'nets for a little bit, and, while few (if any) are calling this a proven fake, one does have to wonder about what sort of shutter speed one would need to catch a descending, screamingly-fast missile in flight.
In video (which has a much slower speed that cameras), even insects move too fast to be clearly caught, appearing instead as strange "rods" (which credulous people claim are alien visitors or something).
Only very high-speed cameras can catch the images of bullets in flight. While I don't think missiles are moving at the speed of a bullet, they are moving quite fast indeed, and I'm rather doubtful that a missile would appear as a missile at all even if caught on a film, rather than metallic streak.
This is by no means proven yet. (And for those idiots on the left: No one is claiming that a missile didn't hit; they're only questioning if this is a genuine photo.)
I'd like to hear from professional photographers about the shutter speed required to capture an image of a streaking missile in flight. There is no blur here whatsoever.
Notice what happens when we zoom in on the suspicious "missile:"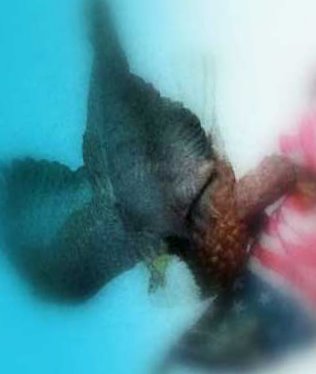 Eh, nevermind. It's obviously real. That's what missiles look like. The feathers and flag make them more aerodynamic.

posted by Ace at
06:10 PM
|
Access Comments