« Poll: Most Lutherans Assimilated; Nearly Two-Thirds Condemn Random Mayhem Against Presbyterians
|
Main
|
LaShawn Barber Reports From Duke Rape-of-the-Lax Panel »
May 23, 2007
The Amnesty Bill in Cinema History
MKH's gag riffs on Boehner's branding the "Comprehensive Immigration Bill" a "Piece of Shit."
So she substituted "Comprehensive Immigration Bill" in movies where the word "piece of shit" or just "shit" is used.
Like so: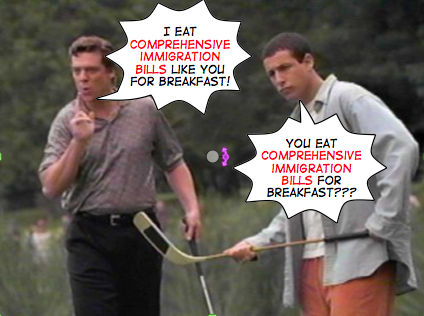 Triggers? We Don't Need No Stinking Triggers! Supposedly the amnesty bill requires the "enforcement triggers" to be pulled before the bullet of amnesty is shot. (Um, yeah, that got away from me.)
Check out this Hugh Hewitt post, though. Hugh's done something 90% of the amnesty bill's supporters have not done: RTFB (read the fuckin' bill).
Turns out that while the "enforcement trigger" provision is right up front in the bill, all reassuring-like, a rather enormous exception is carved out deep in the text.
To wit: any alien can, even before any enforcement trigger is met, or even begun, apply for a Z Visa and receive it within in a day.
Why a day? Because that's precisely how long the bill allows the government to conduct a background check to determine if the alien is a criminal or a terrorist or otherwise not someone we'd much want in our country.
What happens if the background check cannot be completed in a day?
Tough shit. The Z Visa still issues.
You got a day. Period.
And, of course, given that our current immigration folks are overstretched, and certainly cannot possibly be expected to conduct throrough 24-hour-only background checks on perhaps a half-million or a million aliens a day petitioning for their right to a Z Visa, that means that pretty much less than 1% of these folks will be checked at all before the automatic-issuance-after-24-hours-unless-you-can-find-something-disqualifying bug (or is it a feature?) kicks in.
But you know... they're so, so interested in security. Really, this bill is the only way we're going to get that security, and you're a bigot if you oppose it.

Thomas Sowell trashes the whole bill, but this especially angers me:
Incidentally, remember that 700-mile fence that Congress authorized last year? Only two miles have been built. That should tell us something about how seriously they are going to enforce other border-security provisions in the current bill.
Bush never wanted that fence. The Republican Senate didn't want that fence. They passed the authorization for a woefully inadequate fence just to appease voters in time for the 2006 election. (It didn't work, of course.)
The moment the election passed, whoops, the forgot to fund the fence and they forgot to build it.
Not only did they forget to build it, they also seem to have forgotten to even plan where or how to build it, and still, to this day, do not even have a plan of where it will supposedly go.
(I'd sort of think it would go pretty much along the border, with minor deviations, thus reducing the need for a great deal of planning in this regard, but I guess I'm not smart like these Washington types.)
But seriously-- trust Bush. He's willing to build that fence. You just have to grant him what he wants, and then, when he already has what he wants and needs nothing more from you, he'll definitely get around to building that fence that he clearly is opposed to building and has not built in the past six months nor even decided where to put, because, of course, he's decided not to put it anywhere at all.
He says what he means and he means what he says.
And what he says is, "You're bigots." Well, Lindsey Graham said that, and Michael Chertoff merely insinuated it.
By the way, why that didn't faze me -- I'm used to that, even from a douchebag administration I've supported for a long time; after all, the moment they couldn't get their precious Harriet Miers nomination they called us sexist and elitist -- I know a 9/11 ex-liberal-turned-conservative who is not used to being so branded and she is hopping angry about that.
Really pissed.
Heckuva job, boys.

Oh... Over at Kaus, rumors of a stiffening liberal resistance to this sham (but I wouldn't count on that saving us -- Kaus thinks, giggle, the Democrats care about their own constituents' interests), and growing suspicions that Fox News is soft-pedalling any opposition to the bill due to a request from the White House.

The Upside: Previously Republican candidates have had to walk a difficult line. They've had to express general support for and confidence in the President, until lately popular with the base, and yet criticize him enough to appeal to disaffected conservatives and independents who are, by and large, sick of him and waiting for that magical lame-duck status to set in so at least he can do less harm.
After this unmitigated political disaster, I don't see that being a problem for the Republican candidates much anymore. They're going to run from Bush like Rosie O'Donnell running from a balanced, sensible diet.
No longer will they have to pretend to want to carry on the Bush legacy, whatever that is; they can simply support the small handful of issues that Bush hasn't managed to botch completely.

Bruce Bartlett Jogs a Victory Lap: ...for abandoning Bush three years ago.
For me, the tipping point was the Medicare drug bill, which was rammed through Congress in the dead of night just hours after a conference agreement had been reached. Neither Bush nor his congressional lackeys dared allow any member to actually read the bill or know what they were voting for because then it would be obvious that the bill was unaffordable and almost certainly would go down to defeat. The only hope of passage was stealth, speed, and massive political pressure on principled conservative holdouts — a few of whom eventually buckled and allowed the bill to pass. ...

Bush assured wavering congressmen that they were guaranteeing their reelections by getting the large and growing elderly population to vote Republican. He told them that Franklin D. Roosevelt and Lyndon Johnson had gotten earlier generations of elderly voters to go Democratic by giving them Social Security and Medicare.

Rather than buy the elderly's votes for good, however, they were only rented for the 2004 election — the only one Bush cared about.... I predict that a majority of seniors will go back to voting Democratic next year.

Now it seems that conservatives will once again be asked to throw away their principles for illusory political gains....

Perhaps if there were some reason to believe that Hispanics would be so grateful for this immigration bill that they will vote heavily Republican for years to come, then it might be worth supporting purely out of political expediency. But there is no reason whatsoever to believe that this will be the case, since the Democratic Congress will at least get equal credit for passage.

It's worth remembering that despite Bush's support for an immigration bill last year, congressional Republicans only got 30 percent of the Hispanic vote, versus 69 percent for Democrats. This was a sharp decline from the 44 percent of the Hispanic vote Bush got in 2004. Thus whatever gratitude Hispanics might have for him because of his support for immigration reform, it is not going to transfer to other Republicans.

This looks like the Medicare debacle all over again to me. Bush is going to put the screws to principled conservatives to ram a piece of repugnant legislation through Congress in order to gain votes that are never going to emerge. Hispanics are going to vote overwhelmingly for Democrats whether this bill passes or doesn't. And to the extent that it enlarges the Hispanic voting population, Republicans will be cutting their own throats.

Even before the deal on immigration was reached, I was forecasting a Republican loss of the White House in 2008. Passage of the immigration bill means that it will be many years indeed before Republicans retake Congress.
I'm afraid that's right. I think we've returned to the pre-Gingrich Revolution equilibrium, in which Congress is almost always held by Democrats, and Republicans will need to capture the White House to have a share of governmental power.
Which is a hard trick to manage every four years.

Of course, we have a natural ally doing their level best to return Congressional power to us: Democrats. But given the GOP's moves lately, I don't even think the Democrats heroic efforts to reveal themselves as the unprincipled, hypocritical, corrupt anti-American tax lice they are will be quite enough to do the job.


posted by Ace at
07:44 PM
|
Access Comments