« John McCain Knows More About Amnesty Plan Than Anyone Else, Except That That Minor Provision About Paying Back Taxes Has Been Dropped
|
Main
|
Exclusive: Lileks Obtains Current Draft of Amnesty Bill »
May 22, 2007
Alpha Dogs: Hot Women Vow To Only Date Ugly Men
JackStraw sends this good news. Maybe some of these women only interested in dating ugly, sexually incompetent men, too. The double-plus.
Some of you may benefit from this. Me? I'm still waiting on a truly egalitarian sexual market, where the Oppressive Gynarchy no longer forces impossible standards of male beauty and basic hygiene on my gender.
MEET the women who find rippling muscles and chiselled good looks a complete turn-off.

Slicking on another layer of lipgloss, Selena Maria slings her bag over her shoulder and struts into the bar.

A sea of dark, handsome heads turn to ogle her. Jaws drop and good-looking men raise their eyebrows or move in to offer her a drink.

But Selena walks on by. She only has eyes for one man. He's waiting for her in a dark corner. He's not one of the handsome guys in sharp suits. He's not even 'average'.

He's bald and podgy, with a pock-marked face, and is easily the ugliest man in the room. She sidles into the chair next to him.

'Hi, gorgeous,' she purrs. The man's gargoyle face breaks into a toothless smile.


The Mother Theresa of Pooter.

The good-looking men know they don't stand a chance.

Selena has dated her fair share of hunks, but has given up on gorgeous guys because they're dull – both in and out of bed.

'I can't imagine anything more boring than classic handsome looks,' she says. 'I prefer no teeth, baldness and piercings to model looks. I like celebs such as Adrien Brody and Mackenzie Crook rather than Brad Pitt.

'Ugly men try harder. They care more about you and treat you like a princess. Good-looking guys are self-obsessed. That's not attractive.'

And Selena is not alone. In a recent study, sociologist Diane Felmee found only a third of women said looks were the first thing that attracted them to a man. Most preferred a sense of humour or financial and career success.

Researchers at Newcastle University also believe ugly men exist as a way of repairing our gene pool. Women would rather date men with good genes, who can fight disease easily, than a classically beautiful man.
"A sense of humor or financial and career success"?
I have a feeling that the latter just might be the driving criterion there.
Then again, this cat doesn't look like a white-shoed hedge-fund manager to me: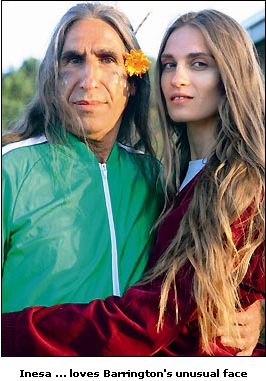 Must be the sense of humor working there. Combined with dosing chicks with near-lethal amounts of peyote.
Thanks to Slublog for the screen caps.

posted by Ace at
02:06 PM
|
Access Comments