« Andrew's Thoughts On Amnesty
|
Main
|
Lauraw's Thoughts on Whatever »
May 18, 2007
Slublog's Thoughts on Amnesty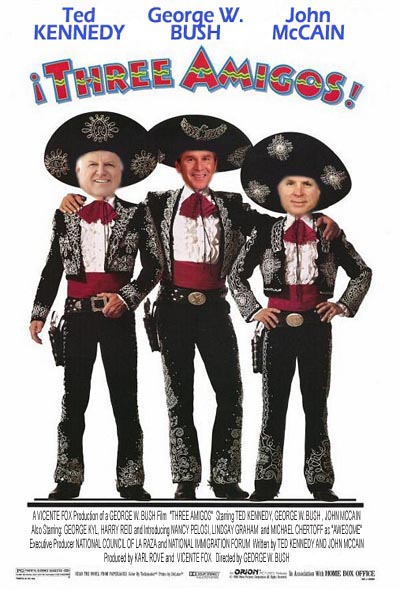 After laboring in obscurity for decades, groups such as the National Council of La Raza, the Mexican American Legal Defense and Educational Fund, and the National Immigration Forum are virtually being granted veto power over perhaps the biggest domestic issue coming before Congress this year. Organizations that represent what is now the nation's largest minority group are beginning to achieve power commensurate with their numbers.
Por La Raza, todo. Fuera de La Raza, nada.
Gracias al Gabriel por el "link."
I may be part Mexican, but that's about the extent of my Spanish.
If Jack M.'s post below doesn't make it clear enough, this story should - John McCain's presidential campaign is over. The Maverick™ may try to spin this legislation as pro-enforcement, but the fact that three of the most anti-enforcement lobbying organizations in the United States were granted veto power over it puts the lie to his talking points.

posted by Slublog at
09:54 PM
|
Access Comments