« Ministry of Silly Videos
|
Main
|
Man Decapitates *Self* With Chainsaw »
May 09, 2007
"The Ed Wood of Comics"
A guy who couldn't really write or draw churned out a bunch of lame knock-off superheroes with goofy powers and stupid names.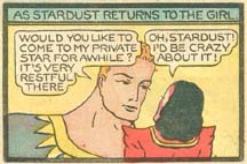 Imagine, for instance, a hero named Stardust the Super Wizard – a man with a crime-detecting laboratory on his own private star, and whose "vast knowledge of interplanetary science" makes him the "most remarkable man that ever lived." In addition to these formidable attributes, our hero has other improbable talents. He changes size arbitrarily from one panel to the next; his limbs, head and torso swell and distend for no discernible reason beyond alarming lapses in draughtsmanship. When not racket-busting or camouflaging the Earth with a giant, sculpted cloud of steam, our hero operates his "violently vibrating crime-detectors" and tosses foreign-looking villains down the mouths of active volcanoes. He's clearly quite a guy.
The guy has a cult sort of following. These guys bust on him affectionately, and even did a "virtual cartoon" of Startust, the Super-Wizard with "Scientific Rays." I'm guessing most of this dialogue is from the actual comic -- but a few lines here and there are tweaked for humor.
I have a feeling they'll wind up doing a movie about him. In addition to being incompetent, he was also a drunk and a womanizer -- what's not to love?


posted by Ace at
01:42 PM
|
Access Comments