« Oh Dear Me: Durham Potbangers Begin Exploring the Studio Space with Poetry Jams & Interpretative Dance
|
Main
|
Maggie Gyllenhallenhyllenhaalenhall's Maternity-Wardrobe Malfunction »
May 08, 2007
Mystery Solved: Canadian Coins *Not* Nanotech Surveillance Devices!
Remember that weird story about suspicions that strange-looking Canadian coins were really miniturized surveillance devices, perhaps even incorporating nanotechnology?
Well, it turns out they're just not-particularly-uncommon coins minted in 2004.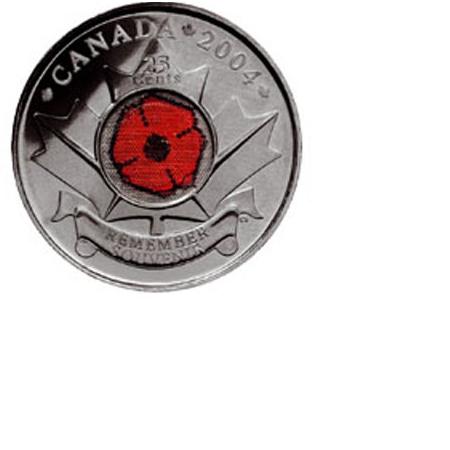 No one bothered to look the coin up in a collector's book
before issuing intelligence warnings to contractors visiting Canada.
An odd-looking Canadian coin with a bright red flower was the culprit behind the U.S. Defense Department's false espionage warning earlier this year, The Associated Press has learned.

The odd-looking -- but harmless -- "poppy coin" was so unfamiliar to suspicious U.S. Army contractors traveling in Canada that they filed confidential espionage accounts about them. The worried contractors described the coins as "anomalous" and "filled with something man-made that looked like nano-technology," according to once-classified U.S. government reports and e-mails obtained by the AP.

The silver-colored 25-cent piece features the red image of a poppy -- Canada's flower of remembrance - inlaid over a maple leaf. The unorthodox quarter is identical to the coins pictured and described as suspicious in the contractors' accounts.

The supposed nano-technology actually was a conventional protective coating the Royal Canadian Mint applied to prevent the poppy's red color from rubbing off. The mint produced nearly 30 million such quarters in 2004 commemorating Canada's 117,000 war dead.

"It did not appear to be electronic (analog) in nature or have a power source," wrote one U.S. contractor, who discovered the coin in the cup holder of a rental car. "Under high power microscope, it appeared to be complex consisting of several layers of clear, but different material, with a wire like mesh suspended on top."

The confidential accounts led to a sensational warning from the Defense Security Service, an agency of the Defense Department, that mysterious coins with radio frequency transmitters were found planted on U.S. contractors with classified security clearances on at least three separate occasions between October 2005 and January 2006 as the contractors traveled through Canada.
The only thing even vaguely suspicious about the coins is that the poppy part of them glows a bit oddly under ultraviolet light.
Now, I could make a lame joke about Canada being so boring and useless it's actually mysterious, and the fact they've minted tens of thousands of war-memorial coins takes US intelligence months to find out. Because, you know -- Canada. Who cares?
But there is something very wrong with our intelligence agencies if they cannot manage to simply buy a book about Canadian coins to find their answers. Or just, as Rosie says, Google it. It's not like anyone was trying very hard to keep these coins secret.
By the way -- the coins were mostly distributed through an especially insidious company -- Wendy's hamburger joints in Canada.
Our spy agencies were writing memos about contractors getting strange coins handed to them as change at Wendy's.
So not only did they have to speculate the Canadians were developing super-spy coins (conveniently marked with a big red translucent poppy on one side!) to Americans, they had nefariously roped in the Wendy's hamburger chain into their nefarious schemes.
What the hell are these people doing?
Thanks to dri.

posted by Ace at
04:32 AM
|
Access Comments