« Hillary! Camp Spooks Fundraisers
|
Main
|
Fred: Let Them Eat Lead »
April 20, 2007
Media Continues Attempting To Outlaw Guns Via Deception
Confederate Yankee notes NBC claiming the gunman carried 33-round extended capacity magazines, and CBS claiming, preposterously, that a high-stopping-power, low-penetration hollowpoint is precisely not the round one would need or want for home defense.
Apparently anything connected to this shooting is to be banned. Including hollowpoints. So that guns will only be loaded with overpenetrating full metal jacket rounds, blowing through the target (often without causing a "stop") and hitting the scenery -- or unintended victims -- beyond.
But let's get to that claim of NBC's -- that the killer used 33+ round magazines. I'm going to flat-out call bullshit.
Virginia State Police say they're nearly done with their on-scene investigation at Virginia Tech. But inside the classroom building, investigators say they found a surprising number of handgun magazines, or clips — 17. Some, officials say, were high-capacity magazines that hold 33 rounds. That means, investigators say, that Cho may have fired at least 200 times during his killing spree on Monday.
Why call bullshit? Because whether the gunman had these double-length magazines should not be some ambiguous area of mystery. Either he had them or he did not, and there's no reason to think the cops would withhold this information. (Police organizations tend to be pro-gun-patrol politically, by the way.) If he had them, we'd all know that, and we wouldn't have to rely on "some officials" to say so. It would be an established and publicized fact.
Furthermore, this guy released a "media package" showing his ammo all laid out and him brandishing the guns. Why would he not include the "kewl" extra-long magazines in these photos? Not even one photo?
The media simply doesn't understand guns and frequently blows terminology. Here's what I think happened: There are two arguments going on right now. One concerns what the media is dubbing "high-capacity magazines," which is a legal term created by the Assault Weapons ban, and simply means any magazine holding more than ten rounds.
The other argument is about extended capacity magazines, magazines that project well below the gun's handle. Basically, just a long, long magazine that's too big to fit flush inside the gun. These magazines hold 30 or more cartridges.
Note what NBC claims -- they claim "some officials" say the gunmen had "high-capacity magazines" -- which, legally, simply means more than ten rounds, i.e., the 15 the Glock holds -- but NBC then adds the definition "that hold 33 rounds."
Did the "33 round" remark come from the source, or from the reporter, trying to be "helpful" and guide us to the right position on fresh gun control laws? I think the latter.
I'm not buying it. Not because it's so difficult to get such magazines -- it's not. Not because a crazed gunman might not like the extra firepower in a clip -- he might. Not because a crazed psycho might not want to look all kewl with a funky clip intended to be used in a machine pistol -- he very well could.
No, because 1, if he had such a kewl magazine he'd have shown it off in a picture, and 2, if he had such magazines, the cops would simply say so, not whisper it only in NBC's ear, and 3, because the media is fundamentally sloppy, ignorant, and agenda-driven, and no, I don't trust these idiots to be able to understand what is meant when they're told the psycho carried high, as opposed to extended, capacity magazines.
The very fact the article calls what is in fact "extended" capacity merely "high" capacity speaks to an ignorance on the point.

What An Extended Mag Looks Like: Here's one for a .45.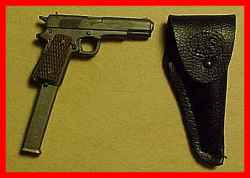 It's really not difficult to tell if a gun has an extended mag, is it? So why is this a subject of mystery?
Answer: Because he didn't have a clip like this, but the media is really, really determined to say he did, and thus anything that can be seized upon to advance this idea is run with minimal checking.
By the way, that pic is of a miniature .45, not a real one. But that's what an extended mag looks like.
Again: This isn't some difficult determination requiring a convocation of experts to ascertain. Either he had them or he did not. Either he had mags more than twice the height of the actual gun or he did not.
He did not -- which is why we haven't been unambiguously told he had them.
But Carolyn Mahoney's re-introduced ban needs public support, and the MSM is going to do everything possible to get the Truth out, even if the Truth is at odds with the truth.

posted by Ace at
01:49 PM
|
Access Comments