« Roseanne Calls Gays Self-Absorbed Narcissists Who Don't Give A Shit About Any Issue Not Involving Their Sexuality
|
Main
|
B.C., R.I.P. »
April 10, 2007
An Example of the Sex-Stupid "Politics" of the Left
Amanda Marcotte returns to discussing whether blowjobs are "degrading" or "empowering" yet again, like the swallows (ahem) returning to Capistrano.
How stupid is this discussion? And: I wonder where certified Marcotte Super Fan Elizabeth Edwards comes down on the subject?
Light Content Warning. This is mostly about sex.
Long story short: A book was published called Babyproofing Your Marriage. Basically about how couples can deal with the additional strains of child-rearing while managing to stay in love with each other, rather than begining to resent or actively dislike the other. The book gives a lot of advice about sharing responsibilities and that sort of thing.
So, we have a book written by a couple of women who have been married and had children and therefore can address this subject with a level of experience -- one might say expertise -- which is simply not available to the young, single, childless harridan Marcotte. You might think she might allow these women a slight amount of deference as to their factual statement of what married life is like post-childbirth, but now. She's a feminist, and she knows all.

Here are the authors of the book discussing their solution to the wildly disparate interest in sex exhibited by husbands and wives after the baby comes:
The book is full of helpful tips - one of the most notorious being the 'Five Minute Fix' - how did you first come across this useful tactic?

Well, it's not as if we invented it! We just realized that, as sex acts go, this one was totally undervalued by women. It wasn't until we became overworked, time-starved mums that we saw the obvious benefits. You don't have to take your clothes off, the time you spend on it is minimal, and your husband thinks you are a Goddess! When we mentioned the idea at one of our men's focus groups and got a gob smacked, "Good God, that would transform my marriage" reaction, we knew we were on to something.
Seems kind of like good advice to me. Men are miserable in marriage because their wives -- the partners with whom they are supposed to be sexually exclusive -- simply lose most or even all interest in sex after childbirth. So what reasonable accomodations can be made so that both partners are, if not completely fulfilled, are nevertheless satisfied enough so as not to have the issue of sex further straining their already difficult situation?
Here's how Pandagon treats this difficult situation about which she has absolutely no experience or qualifications to opine whatsoever:
If you slap some porn on the TV, you'll have two more minutes for chores!

Published by Amanda Marcotte February 18th, 2007 in Sex

Here's an interesting double standard to think about—if a radical feminist says that blow jobs are displays of subservience, then all hell breaks loose. But if you praise blow jobs as a female duty paid to male superiority, then that raises nary a peep of protests about "man-hating".
How about we do neither, and just say blow jobs are a relatively low-impact method of getitng your partner off?
Data point collected by Twisty, who managed to raise hell by suggesting that blow jobs are degrading to women. My take on the whole thing then and now is that there's nothing inherently degrading about blow jobs, but I agree with Twisty that giving a blow job is framed in our culture as degrading and subservient. And Twisty has more evidence today that the patriarchy prefers to believe that blow jobs are unappetizing female duties. She found an interview with some British women who have put out a how-to book for women on handling their job duties as wife and mother, and particularly how to handle your "duty" to keep the man of the house properly orgasmed to his preferred levels without losing valuable time you could spend waxing his floors. All you need to do is dispense with the idea that sex has anything to do with your pleasure and is nothing but a duty for your man, and you can save all sorts of valuable time.

Ah! It's all so clear to me! Women's sexual pleasure trumps all, even when they're not interested in sexual pleasure at all due to built-in, natural hormone changes that make sex rather low on their lists of priorities, and the needs of their husbands -- who love them, and are committed with them in raising their children, and support them emotionally (and, um, usually financially as well, in as much as the man is usually the greater contributor to the family fisk, especially after childbirth) -- are just to be dismissed as Not My Problem.
Gee, I wonder what she'd think of a man who made his sexual pleasure the end-all be-all concern.
She continues:
This sort of thing does more to scare young women off marriage and child-bearing than anything some grouchy feminist could say. Who doesn't want to see sex turn into something on a checklist of chores?

*Shopping
*Laundry
*Make sure your husband doesn't have to chap his precious hands jerking his own self off
*Cooking
*Baby's bath

I fail to see what the benefits of this are supposed to be. And now cue the trolls who will scream that I hate sex because I prefer it when it's fun for all parties involved.
Her solution to a mutual problem between married couples when their sex drives suddenly so diverge from each other's? The man should just jerk himself off until the skin of his hand cracks and peels away.
Um, yeah, see, she's ignoring the basic empirical data that post childbirth a woman's sexual drive will plunge, and therefore the times when it's "fun for all parties involved" are going to come about once or twice a year. And, as Woody Allen said in Love & Death, "I believe that in sex, quality is better than quality, but if the quality is less than once every eight months, you might want to look into that."
I'm also reminded of the old joke which is not really a joke: If sex isn't demeaning, degrading, and dirty, you're doing something wrong.
There follows a lot of very sophisticated, very policy-wonkish comments about whether a blowjob is demeaning for a woman or not, and how women should only participate in such an act when it is "empowering" for them to do so, whatever the hell that means. Please don't bother unless you're a professional statistician or economist who's comfortable debating the finer points of regression analyses.
So what's the group consensus here? I think it just means that a woman should give a blowjob when she really, really wants to give a blowjob. And should only have sex when she really, really wants to have sex, even if it's been a half year or more since she's felt that way, and even if the husband has pretty much resorted exclusively to internet pornography as his sexual outlet. There should be no give and take, no just doing something for one's partner because it might give some pleasure to the other party.
Well, there is a term for people who's performance in bed is wholly dedicated to pleasing themselves and not their partners. We call them "bad lays." And not only does Amanda Marcotte seem to be an excruciatingly bad lay, she's erected (ahem) an entire poltical manifesto about the virtue of being a bad lay.
Now contrast this with her enthusiastic approval of high school girls fucking any guy who so much as winks as them. Apparently random hook-ups are more deserving of sexual consideration and generosity than a man who's vowed to share his life with you and make a real family with you.
The only possible string running through these strangely divergent positions is selfishness, or, as they'd probably prefer to put it, "the championing of a woman's sexual autonomy." Well, women's sexual autonomy is important. No one's calling for a return to the days when a man could rape his wife as part of his husbandly rights, after all. But Marcotte and her fellow sub-atomic psychoknetic fissionists have decided that it is, as a matter of fairly absolutist political theory, an 1984-ish sexcrime for their to be any give or compromise on a woman's part in any relationship with a man. If a woman compromises or does something just to please her man, she's selling out and enabling "the patriarchy" which so oppresses women.
As opposed to, you know, just taking some pity on your husband who hasn't had any in five months and giving him a ten minute handjob.
Gee. I wonder why no guy's tried to lock down this particular catch with a diamond ring yet.
But perhaps the what's really wrong with Marcotte isn't that she insists on politicizing and theorizing about rather mundane compromises that occur in any relationship. She is stupid, after all; one expects stupidity from the stupid.
No, what the real problem is is this is almost entirely what her blog consists of. Important Action Alerts and Pretty Vicious Rants about whether this or that sexual practice is empowering or degrading, whether or not, say, a French Tickler is a corrupt tool of the patriarchy or a cheeky subversion of it by devaluing the phallus itself. Sometimes it's one, sometimes it's the other (it's a very nuanced propostion, of course, which usually boils down to "Do I want to do this?" and "Is my man a pussy liberal who yes-yeses me on all of my picayune moronities?"), but always that's the topic.
Writing a "political blog" almost exclusively about whether butt-plugs are a reification of the violative patriarchy or a transgressive undermining of male sexual dominance. Nice work if you can get it.
See? She favors writing about this twaddle because it's easy to write about it. Who needs to take more than three-tenths of a second to have a strong opinion on crap like this? One needn't crack a book or even think about it for a full minute. It's just so easy to spout off "blowjobs bad" or "in the proper, mutually-respectful context of feminine empowerment, blowjobs good."
And I realize I'm guilty of this to some extent -- and for the same reasons. It's so easy to write a piece about sexual matters, and it almost always attracts a big comment thread. 'Cause it's easy for commenters too.
But to have a blog that's almost nothing but this nonsense? Expounding every day on whether or not the Rusty Trombone is liberating or "shackling" for women? And what does the Donkey Punch say about genital circumcision in Africa, praytell?
Fuckin' please. Grow up. Sometimes, baby, a quickie blowjob is just a quickie blowjob. The fate of the Western world does not, I assure you, rest in the balance whether you perform it enthusiastically or listlessly.
If Roseanne wants to push the left away from its devolution into the politics of sexual stupidity, perhaps she should stop knocking gays -- as ever, a rather smallish segment of the "progressive" movement -- and start hectoring run-of-the-mill leftists incapable of thinking very far beyond their twats.
She's Available, Boys!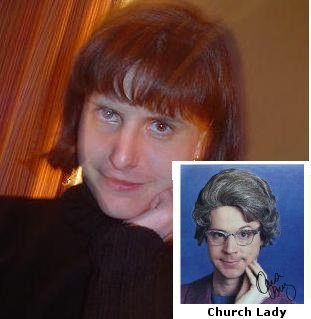 You can't spell "sexual hegemony" without "he"!
How convenient!!
Was that caddish? Whatever, she's given me the same treatment.
I wonder what Amanda Marcotte's boyfriends (located chiefly in the Niagra Falls area; you wouldn't know them) would say about all this. Does she really behave this way, or is this just leftist-feminist cant for public consumption?
Can someone really be so idiotic as to read political implications into every goddamn wettie or five-finger shuffle?
What I Don't Understand... is how Marcotte can be so militantly anti-blowjob, when she was clearly an enthusiast of the practice here (content warning):

posted by Ace at
05:42 PM
|
Access Comments