« Michael Crichton On Global Warming
|
Main
|
Weird Science »
March 30, 2007
Giuliani Faces "Firestorm" Over Suggestion of Kerik As DHS, Stuff About 9/11
The NYT and AP dutifully rehash old allegations. It's just not fair that Giuliani beats the Dems in the polls.
I'll link this pro-McCain blog for the digest.
And because I wanted to link this picture: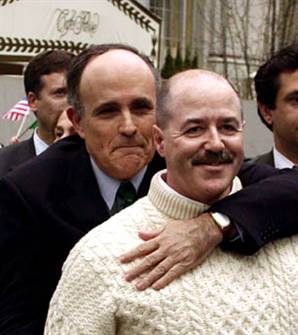 Subtle, Palmetto State McCaniacs. Very subtle. I am not reminded even for an instant that Giuliani bunked with a couple of gay guys after his ex-wife had him booted from Gracie Mansion.
That said, I'd run a similar picture of McCain who is, you know, almost certainly a homo.
Giuliani's Wife Will Sit In On Cabinet Meetings, If She Wants: Some people are bothered by this.
I'm not. It's called "pandering," and it's a time-honored method of appealing to voters (say, married women) who might not want to vote for you.
Pretty harmless pandering. Does anyone think Giuliani is so pussy-whipped he'll let his wife become a co-president like Hillary! ?
I don't. After all, he's a queer.

posted by Ace at
04:04 PM
|
Access Comments