« Al Qaeda's Waterloo?
|
Main
|
Tony Snow's Cancer Returns, Spreads To His Liver »
March 26, 2007
Rotten Tomatoes' 100 Worst-Reviewed Movies
It's distressing that I've seen so many of these.
I just avoided seeing the number 2 worst-reviewed movie, Alone in the Dark. Which rung in with one percent positive reviews, 99% negative. I rented it on PPV. The movie began with one of those "What Hath Come Before" title-pages describing some preposterous and overly-detailed backstory bullshit. Like I need that in a silly monsters-jumping-out-of-shadows horror movie, but whatever, fine. One page of Scary-Important Prior History, all right.
Fade to black.
And then another page of written backstory appeared.
This began to worry me. We're not talking about some complicated real-world event here, like the Spanish Civil War. (And even movies about such topics get by with a brief, paragraph-length set-up.) Again, this is a cheesy action horror movie based on a videogame -- why am I reading so much? Do I care about this silly fantasy history lesson?
Fade to black. Okay, fine. At least now they can begin the movie.
No they can't.
Because now appears a third page of backstory text.
And now I'm flabbergasted. Do these idiots imagine I'm interested in a novelization of a cheesy videogame? If not, where are the actual moving pictures? Why am I reading on and on about this stupid fantasy world instead of seeing some vampire aliens?
Was this director absent they day they taught "moving pictures" in Moving Pictures School?
But fade to black, now we're ready for some gratuitous gore and silly CGI monsters.
No we're not, because here comes more printed backstory.
At this point I had a choice. I could quickly cancel my PPV order within that five minute window, or I could settle in for what would be, I was sure, one of the worst movies ever made. When a director so thoroughly angers and baffles you before he's even gotten to the main titles, you know he's gone so egregiously wrong that you may be watching a disaster of near-epic proportions, and perhaps one worth watching, simply to exult in the baroque incompetence of it all.
But I took the path of wisdom instead and just cancelled the movie. I'd seen about 50 seconds of it, and not a single image of actual cinematic photography, but already I'd decided it was one of the worst movies I'd ever seen.
I still want to see that some day.
I'd've done a much better job on the backstory title-cards. Here's my quickie effort:
It is the year 2016.

The world has changed.

Did you see Aliens? Well everything's pretty much like that, minus the spaceships, and a little cheaper looking.

PS, in the future, all tough guys look like Christian Slater and all elite biomolecular scientists look like Tara Reid, so don't laugh. It's the future, like I said. Things are different, see? Like, there's radiation or nanomutations or, I don't know. Something. Just accept it and stop being such a total dick.
I think that sums it up.
Meanwhile, the number one worst-reviewed movie ever -- Ballistic: Ecks vs. Sever -- wasn't horrible. If nothing else, it did have two terrific stunts I replayed multiple times. One of them was a falling gag with the stuntman on a (digitally erased) descending wire, but the cool thing was you could see him fall all the way from the thirtieth floor to crash upon a parked car on the street with no cuts at all. You don't see that too often.
Another one was double cars-jumping-into-the-air-and-barrel-rolling stunt. No CGI, just two cars flyin' into the air like they were in a Synchronized Dance exhibition.
Eh.
It was better than a lot of movies. Right there you made back your $4.95, plus profit.

Hollywood Family Values Update: The Will Ferrell movie Blades of Glory already looked pretty funny (even if it is somewhat cribbed from a funny episode of Just Shoot Me), but now I find out that Ferrell's & Heder's nemeses are played by Will "GOB" Arnett and his wife, Amy Poehler, which strikes me as a good thing.
Jenna "Pam from The Office Fischer is never going to really get naked, but here she teases dorks everywhere who are attracted by her "Illusion of Obtainability" cuteness level by pretending to get naked for Wired.
She's married to James Gunn, by the way, who wrote the Dawn of the Dead remake and also, I think, either one or both of those, um, surprisingly decent Scooby-Doo movies. So until his career tanks, forget it.
Not sure how I know this, but Pam's romantic rival on the show, the really cute chick Jim is dating now, is Quincy Jones' daughter.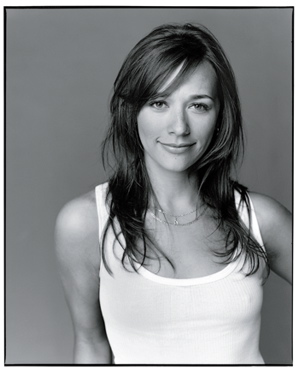 No Illusion of Obtainability on that one, alas. She could be so much more attractive if she just had a hare-lip or something.
Thanks to yls.

posted by Ace at
06:31 PM
|
Access Comments