« Democrats Bribing Congressmen For Anti-War Votes
|
Main
|
Dead-Deer Fornicator Sentenced to... Treatment »
March 21, 2007
The Planet's Got A Fev-eh... And The Only Prescription Is More Carbon Offsets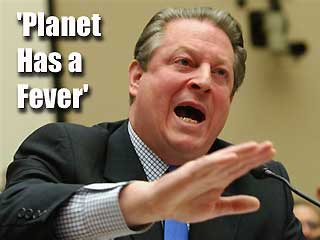 Above The Fold Update:
I hope more will be available later. I'd like to see Gore's full fillibuster.
...
"The planet has a fever," Al Gore announced in his testimony on global warming.
The usual rule is that witnesses must submit their prepared remarks 48 hours before the hearing, so that the committee members may prepare questions. They suspended that rule for Gore, allowing him to submit his opening remarks 24 hours in advance.
Did he make that deadline?
Of course not. He submitted his remarks one entire minute before the hearings began.
Obviously this is an attempt to avoid being quizzed on his more ludicrous statements and challenged by factual rebuttal. The rebuttal will come later, but Gore won't have to sputter in front of the camera as he's caught in his various shoddy lies.
Is the media interested in that? Of course it's not.
Barton's "Questions:" Not really questions, but criticisms of Gore's outlandish claims, and good readin'.
"The first thing I want to address is the science of global warming as portrayed by the vice president's film, 'An Inconvenient Truth.' This is something that I think we absolutely have to get right. Even the mainstream media, Mr. Vice President, are now noticing that global warming science is uneven and evolving. We need to be deliberative and careful when we talk about so-called scientific facts," Barton, the ranking member of the House Energy and Commerce Committee, said.

"In your movie, you display a timeline of temperature and compared to CO2 levels over a 600,000-year period as reconstructed from ice core samples. You indicate that this is conclusive proof of the link of increased CO2 emissions and global warming. A closer examination of these facts reveals something entirely different," Barton said.

Barton said a Science magazine article he was submitting for the record shows that historically, increases in CO2 concentrations actually lagged temperature changes by up to 1,000 years.

"The temperature appears to drive CO2, not vice versa. On this point, Mr. Vice President, you're not just off a little. You're totally wrong. And it's not just this one article; the president of the National Academy of Sciences agreed, under oath, last summer in an Oversight and Investigations Subcommittee hearing on this very point," said Barton.

Barton also noted that "historically, and repeatedly," CO2 levels have far exceeded concentrations now being reported, which are in the range of 380 parts per million.

"Indeed, CO2 levels in the past have exceeded 1,000 ppm, and average earth temperatures have been much higher then than they are today. We know these things. … [I]t remains a fact, and is clear from the data we do have, that for hundreds of thousands of years, CO2 levels followed temperature rise, not the other way around, as you preach," he said.

"You've also asserted that global warming will cause sea levels to rise by over 20 feet. The recent Intergovernmental Panel on Climate Change report indicates a rise of at most 23 inches.

"You state that there will be more and stronger hurricanes because of global warming. The IPCC report does not support this claim. You also state that malaria has been exacerbated in Nairobi because of global warming. The World Health Organization report does not support this allegation. In fact, malaria is not exclusively a warm weather disease – inhabitants of Siberia have long experienced malaria outbreaks," Barton noted.
Thanks to Alex.

Gore Refuses To Consume Less Energy: Energy use is going to destroy the world, but Al won't give up his heated pool for the cause:
t has been reported that many of these so-called carbon offset projects would have been done anyway. Also, carbon offset projects such as planting trees can take decades or even a century to sequester the carbon emitted today. So energy usage today results in greenhouse gases remaining in the atmosphere for decades, even with the purchase of so-called carbon offsets. "There are hundreds of thousands of people who adore you and would follow your example by reducing their energy usage if you did. Don't give us the run-around on carbon offsets or the gimmicks the wealthy do," Senator Inhofe told Gore. "Are you willing to make a commitment here today by taking this pledge to consume no more energy for use in your residence than the average American household by one year from today?" Senator Inhofe asked. Senator Inhofe then presented Vice President Gore with the following "Personal Energy Ethics Pledge:

"As a believer:

· that human-caused global warming is a moral, ethical, and spiritual issue affecting our survival;

· that home energy use is a key component of overall energy use;

· that reducing my fossil fuel-based home energy usage will lead to lower greenhouse gas emissions; and

· that leaders on moral issues should lead by example;

I pledge to consume no more energy for use in my residence than the average American household by March 21, 2008."




Gore refused to take the pledge.
Reduce his actual, real "carbon footprint"? Please. Al Gore won't even try to reduce his meatloaf footprint.

"Good For Her!" A CNN reporter says "Good for her" under his breath in response to Barbara Boxer's defense of Gore.

posted by Ace at
04:02 PM
|
Access Comments