« John Edwards' Very Normal, Very Patriotic New Blogger
|
Main
|
F%#@in' Polar Bears Again »
February 05, 2007
OUTRAGE: Snickers Commercials "Mainstream" Homosexuality For Our Children
Join Americablog's boycott/protest against the demonically queer Mars Company, which seeks to "ram homosexuality down our throats" by suggesting that otherwise straight men, in a lapse of judgement due to cravings for peanut, caramel, and chocloate, may suddenly embrace the "gay lifestyle" and degenerate into man-on-man kissing at a moment's notice.
It is one thing to have such disgusting displays on Queer as Folk. If you're tuning in to that Cinemax sodomania, you know what you're getting. But when our children are watching the Super Bowl, and exposed to "alternate lifestyles" being practiced by men who work with trucks and appear otherwise "normal," I say it's time to give the Mars Company -- or should I say, Hermes-Aphrodite Company -- a piece of our collective mind.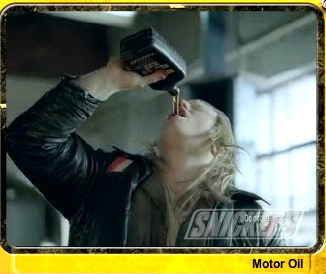 In this ad, following the disgusting gay kissing, the newly-minted sodomites resort to imbibing dangerous amounts of mind-affecting engine oil, thus promoting the gay community's notoriously permissive attitudes on "recreational drug" use. The bottle's marked "oil" -- but it could more accurately be labled "Ecstacy" or "amyl nitrate."
Is this what Snickers considers good, wholesome family entertainment? A thirty-second version of Less Than Zero or any other Bret Easton Ellis blowjobs-and-barbituates filth?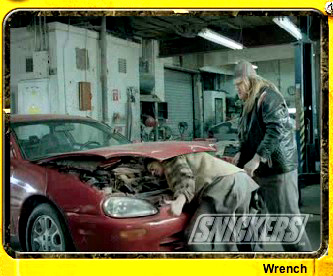 The Seduction of the Innocents continues here. After the homosexualist kissing propaganda, these minicing mechanics then embrace the depraved sado-masochistic perversions so prevalent in the gay community, smashing each other in the faces with wrenches (penises?) and slamming each other's heads under car roofs. (Perhaps a stealth message evoking vagina dentata and further scaring kids into the gay recruitment centers?)
In the ad actually aired during the Super Bowl, the just-crowned queens follow up their degenerate tongue-kissing by tearing off their own chest hair. Is this an ad for a candy bar, or for the so-called "metrosexual" style of feminne grooming?
The entire thing is absolutely sickening. And while I can appreciate that Snickers didn't overtly think that promoting recruitment for gays and lesbians is "funny," they knew what they were doing. They were gay-pimping for fun. And they didn't just cross the line - they left the line in the dust.
One final point. Why is the NFL logo on the bottom of the Snickers pro-homosexual Web site? Why - because the NFL gave its permission for its logo to be on this Web site promoting new recruits for gays. And the Bears and the Colts gave their permission for their players to be filmed reacting in intrigued confusion to gay people.
What's next?
1. Mars Incorporated, the parent of Snickers, is in McLean, Virginia. That would be about a ten minute drive from where Joe and I live. I see some major "Snickers kills" protests coming soon at Snickers headquarters.
2. I give it one hour before the major family-values groups weigh in and accuse Snickers of promoting the gay and lesbian lifestyle.
3. Then it will probably be the end of the afternoon, or maybe tomorrow, when members of Congress start writing letters to the head of Snickers, demanding he address the company's call to sodomaniacal promiscuity. If you're in a Hill office, please consider doing this - and feel free to contact me for more information. I'd recommend a press release and a letter to the Mars president.
4. By the end of today, but more likely tomorrow, we'll start seeing articles in the press about Snickers associating its brand with gays.
5. And the Mars boycott will probably be called for by some independent activist by tomorrow, I think. And once that happens, it's out of our hands because there isn't much of anything Mars can do to negotiate with independent actors who will smear the company, permanently, online (remember folks, once something hits the Internet, it's in Google forever).
I've called the head of corporate public relations for Mars and am waiting to hear back. I've also talked with the lead press guy for Focus on the Family, the largest family-values group in the country, and they're not very happy, to put it lightly.
As the guy who launched the first-ever soon-to-be-successful boycott of a TV show (CSI:Miami, because it sucks so bad), I'm going to suggest to Mars that they had better nip this in the bud quickly, or they're not going to know what hit them.

Shock: PETA Uses Sex In Another Dumb, Unfunny Ad: It's amusing to see PETA keep going to this well.
If my experience is any indication, PETA chicks are cute but sexually confused and often sexually juvenile girls who haven't moved out of the "bunnies and ponies are cute" stage of development enough to even have a definite "sexuality" one way or the other. They're not lesbians, but they're also not really straight. They just like the cute and fluffy. Like six-year-olds.
So this is basically porn as imagined by space aliens.