« Hype vs. Quality
|
Main
|
Open Thread »
October 06, 2006
Agency Law -- Michael
Before we get to the news -- a brief lecture. Bear with me.
Legally, there are different types of agencies in the federal government. One type is an "independent agency." These agencies are essentially creatures of Congress which were specifically created to interpret and enforce Congressional legislation.
The Federal Communications Commission is an example of one such powerful agency. It was created to implement the Communications Act of 1934. It basically reports to Congress. Although the five members of the Commission are appointed by the President, only three can be from the same political party. This ensures that two Democrats are Commissioners when the Republicans hold the White House, and vice versa.
Other agencies are purely creatures of the Executive Branch, which function to execute the President's powers under Article II of the Constitution. The Department of Homeland Security is such an agency.
Now, the news.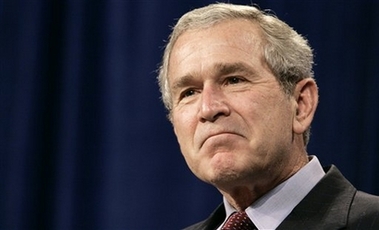 WASHINGTON - President Bush, again defying Congress, says he has the power to edit the Homeland Security Department's reports about whether it obeys privacy rules while handling background checks, ID cards and watchlists.

In the law Bush signed Wednesday, Congress stated no one but the privacy officer could alter, delay or prohibit the mandatory annual report on Homeland Security department activities that affect privacy, including complaints.

But Bush, in a signing statement attached to the agency's 2007 spending bill, said he will interpret that section "in a manner consistent with the President's constitutional authority to supervise the unitary executive branch."
Signing statements are used by the President to influence future judicial interpretations of a law, in the same way that Congress uses the "legislative record" (committee reports; legislators bullshitting from the floor) to exert the same influence. Note here Bush's reference to the "unitary executive branch." Bush is basically saying: "Fuck you, Congress. This is my agency, not yours, and you cannot supervise it or circumscribe my ability to control it."
Good on you, Mr. President.
White House spokeswoman Dana Perino said it's appropriate for the administration to know what reports go to Congress and to review them beforehand.

"There can be a discussion on whether to accept a change or a nuance," she said. "It could be any number of things."
Should that be controversial? Seems to me that the President should have the last word on what his agencies say to Congress.
Some do not agree.
The American Bar Association and members of Congress have said Bush uses signing statements excessively as a way to expand his power.
No. He is using signing statements to protect the Constitutional responsibilities of the Executive Branch from Congressional encroachments.
Privacy advocate Marc Rotenberg said Bush is trying to subvert lawmakers' ability to accurately monitor activities of the executive branch of government.
Bullshit. Congress has ample legal authority to monitor the executive branch. The principal weapon is Congressional hearings, backed by subpoena power. What Congress does not have is the ability to require executive agencies to report to them.
He [Marc Rotenberg] said the Homeland Security Department has the most significant impact on citizens' privacy of any agency in the federal government.

Homeland Security agencies check airline passengers' names against terrorist watch lists and detain them if there's a match. They make sure transportation workers' backgrounds are investigated. They are working on several kinds of biometric ID cards that millions of people would have to carry.
Earlier, I mentioned the FCC as an example of an independent agency. I chose the FCC just so I could point out that Marc Rotenberg is a dumbshit. The FCC regulates all aspects of the telecommunications industry, and is an order of magnitude more important on privacy issues than anything that DHS could do with respect to the privacy of airline passengers. Why does Marc not get this?
I just told you. He is a dumbshit.

Bush says he can edit privacy reports

posted by Ace at
10:55 PM
|
Access Comments