« The Whole Thing
|
Main
|
Unreasonable Israelis Demand U.N. Forces Actually Do Their Jobs »
September 26, 2006
What A Memorial Should Be
This entry in its entirety graciously provided by geoff.
The Arizona 9/11 Memorial controversy has been raging for a week, but in my town of Broomfield, Colorado they used the occasion of the 5th anniversary of 9/11 to open a different sort of memorial. Last year they put out American flags all over the lawn of the library – one for each victim on 9/11. They then sold the flags for $20 apiece to partially fund this memorial (I believe the total cost was $1.2 million).
This picture (all pictures were taken by Mrs. geoff) shows the site, which faces west towards a small lake. There are six sculpture pieces: the three plaques in the center, the policeman & child in the foreground, the fireman on the back right, and three survivors in the back left (behind the third plaque).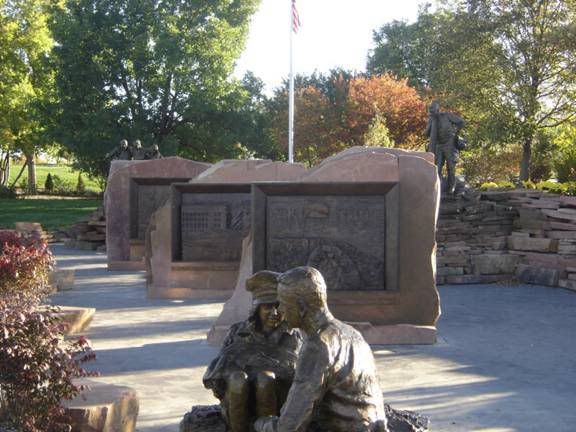 The policeman is comforting a child, and has given her his hat to wear.
This plaque is devoted to Flight 93 which crashed in Shanksville, PA.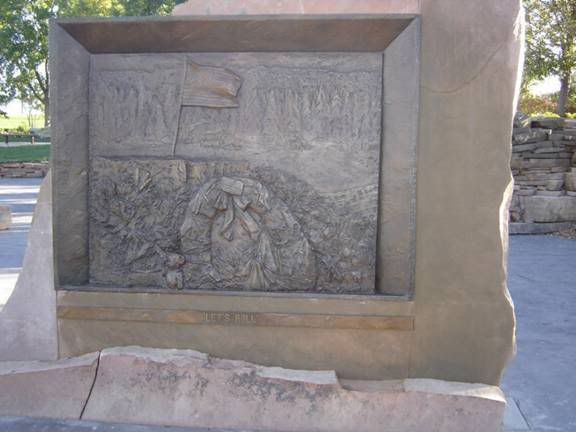 It's difficult to make out (even on the plaque), but halfway up the plaque there are trucks and bulldozers cleaning up the scene after the crash. A wreath and a teddy bear are in the foreground, and the forest is in the background. The inscription says "Let's Roll." This is my least favorite of the three, but at least there's no moonbattery evident.
The second plaque is dedicated to the attack on the Pentagon – it's pretty obvious what is shown here.

The third plaque shows the World Trade Center towers on the morning after. They have been replaced by beams of light reaching to the heavens. My favorite of the three. The inscription reads "The Towers of Light."

This is the sculpture you couldn't see in the first photo. Three survivors helping each other escape the disaster.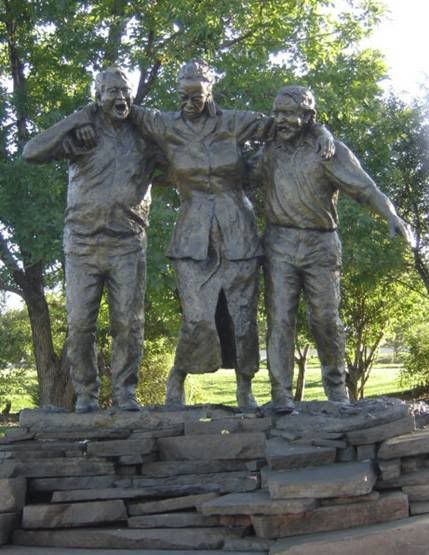 It was hard to walk around the memorial without tearing up. This memorial was dedicated wholly to the victims – there are no "teachable moments" here, no vetting by AZ professors to ensure that we take away the right lessons, no nuance, no layers.
It's a simple and respectful acknowledgement of a terrible tragedy, with no martial or pacifistic overtones. And that's exactly what a memorial should be.

posted by Laura. at
02:16 PM
|
Access Comments