« "The Shire" Hobbit-Themed Condo/Aparment Complex
|
Main
|
Science: Men Smarter Than Women »
September 18, 2006
Pope Apologizes, Seeks Reconciliation with Muslims -- Michael
Ignoring my advice, on Sunday Pope Benedict issued an apology for his remarks in Germany last week, hoping thereby to calm Muslim outrage.
I don't think it worked as well as he hoped it would.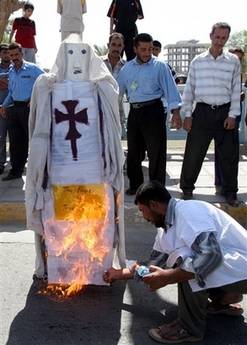 By ANNA JOHNSON, Associated Press Writer

5 minutes ago

CAIRO, Egypt - An al-Qaida-linked extremist group warned Pope Benedict XVI on Monday that he and the West were "doomed," as protesters returned to the streets across the Muslim world to demand more of an apology from the pontiff for his remarks about Islam and violence.

The Mujahedeen Shura Council, an umbrella organization of Sunni Arab extremist groups that includes al-Qaida in Iraq, issued a statement on a Web forum vowing to continue its holy war against the West. The authenticity of the statement could not be independently verified.

The group said Muslims would be victorious and addressed the pope as "the worshipper of the cross" saying "you and the West are doomed as you can see from the defeat in Iraq, Afghanistan, Chechnya and elsewhere. ... We will break up the cross, spill the liquor and impose head tax, then the only thing acceptable is a conversion (to Islam) or (killed by) the sword."

. . .

In Indian-controlled Kashmir, meanwhile, shops, businesses and schools shut down in response to a strike call by the head of a hard-line Muslim separatist leader to denounce Benedict. For the third day running, people burned tires and shouted "Down with the pope."

Protests also raged in Iraq, where angry demonstrators burned an effigy of the pope in Basra, and in Indonesia, where more than 100 people rallied in front of the heavily guarded Vatican Embassy in Jakarta, waving banners that said the "Pope is building religion on hatred."

Iraq al-Qaida says pope, West are doomed


posted by Ace at
10:10 AM
|
Access Comments