« School superintendent in Iowa has brain check, appears semi-naked in fund-raising calendar [Dave in Texas]
|
Main
|
The United States Navy Having Fun -- Michael »
September 04, 2006
Steve Irwin, The Crocodile Hunter, dies at 44 [Jack M.]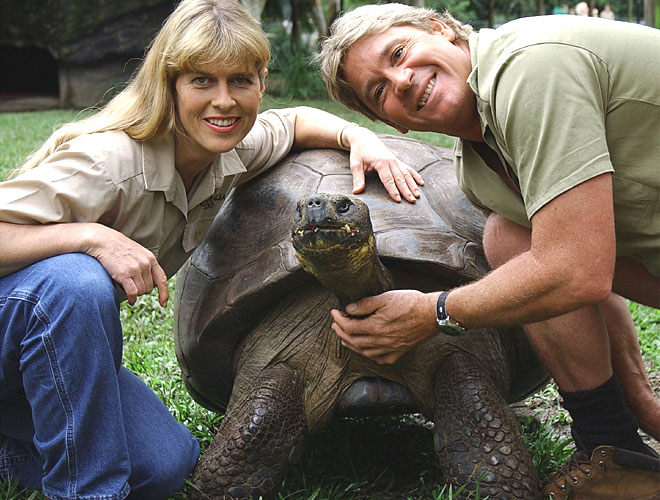 It's 1:13 on the East Coast, and news is coming over the wires that Steve Irwin, the wildlife documentarian and the owner/curator of Australia Zoo (better known to anyone with a TV as "The Crocodile Hunter") has been killed in what appears to be a freak accident today.
The picture above, shows Mr. Irwin and his wife Terri. He also has left a young son and a young daughter behind.
Although details are sketchy, it appears Mr. Irwin was the victim of one of the animals he was filming. According to early reports, the barb of a sting ray penetrated his chest resulting in his death.
Now, I understand that many will see something ironic and possibly even amusing in the circumstances surrounding Mr. Irwin's death. Since Ace has not seen fit to revoke my posting privileges yet, I would like to take this opportunity to express my appreciation for Mr. Irwin's work, and to express my sincere condolences to his family.
In fact, Steve Irwin is somebody for whom I feel a special debt of gratitude. I'll get into the reasons why in the extended entry so that those of you who aren't interested in a tribute, or who are (with good reason I grant you) expecting me to engage in snark can skip the rest of the entry. Further, the extended entry will be long. Don't say you weren't warned.
Why do I feel a certain kinship with the Crocodile Hunter?
I don't talk about my personal life much. Even when I quasi-blogged at my own sites, I seldom discussed much that might be too revealing.
But people who did read those posts at those earlier blogs, were aware of one fact that I did share. My first blog (in which I posted as a character named Senator Phil A. Buster) was begun as a way for my fiancee and I (who, at the time, were both staffers on Capitol Hill) to blow off steam and make some jokes and have some fun with aspects of our jobs that we couldn't get away with in other forums.
I really blogged for an audience of one. I only wanted to make her smile, or to get a phone call in the middle of the afternoon saying, in between muffled laughs, "I can't believe you posted that!."
Well, the thing I loved the most about the "Senatrix" was her ability to make me laugh. She was the funniest woman I ever met.
You may have noticed that I refer to her in the past tense here. A few months before the wedding date, she was tragically killed by a drunk driver. I lost my best friend.
What's this got to do with Steve Irwin? The Senatrix loved his show. It's hard to establish "routines" as a Hill staffer, as hours are variable and you never really know what each day will bring. But we did establish a couple. And one of them was that if she would make me dinner, I would agree to watch the Crocodile Hunter with her, no questions asked. And I'd tape the ones that schedules meant we couldnt watch together, so that we could watch it together at another time.
She appreciated Irwin's show for a number of reasons. First, she was always fascinated by the biological diversity that could be found in Australia, and Irwin's show, if it succeeded in anything, brought examples of the abundance of natural wonders into one's home every week. Second, she had visitied Australia in her youth, and was absolutely convinced that she would return there for good one day (assumedly with me in tow!), and always enjoyed episodes that took places in locations she remembered. Finally, Irwin's sheer goofyness, and his overly-enthusiastic love for what he did, was something she loved to goof on. Her affection for the show was infectious. In time, I even began to see a great deal of merit in it myself.
I can hear her now, doing a letter-perfect imitation of an Aussie/Irwin accent saying "Crikey, Jack...when you get me beer-ya out of the friggy, you hav' ta remembah that you are invading the beer-yas natural habitat. Look at that Guinness..the head on that Sheila is a beaut!"
Is it all that funny a joke in print? Not really. But it was hilarious then, and it still makes me laugh today.
Steve Irwin brought the woman I loved untold hours of goofy, "no worries mate" fun. Sure, a lot of it was unintentional comedy (does anyone remember the episode when Steve-o filmed Terri giving birth to their first child, and how pissed Terri was? Pure. Comedy. Gold.)But, it was still fun. It made her laugh. And I swear to you, even if I ever get to the point where I can't hear her voice anymore, I will always remember the sound of the demure, semi-embarrassed manner in which she used to blushingly, crack up.
It took me a long time to be able to talk about this kind of stuff. And even longer to get to the point where I could date again. But I do both now. With varying degrees of success, of course. :) I would be remiss though, if I didn't say some nice things about Steve Irwin on this tragic occasion.
I don't know how many other people feel any sort of kinship to the Irwins. I imagine most of his fans were probably elementary school aged.
Except for the one that meant the most to me.
So, thank you Steve. I have a lot of treasured memories that your show helped create.
And if the Senatrix were here, she'd want to thank you too.
On behalf of this poster at AoSHQ, my condolences to the Irwin family on your loss.

posted by Ace at
01:59 AM