« Joe Wilson Couldn't Find Anything Suspicious About A.Q. Khan's 1999 Visit To Niger, Either
|
Main
|
Nagin apologizes for WTC remark [Dave in Texas] »
September 01, 2006
Cowbell: Hiring Perks Up A Bit; Jobless Rate Falls To 4.7%
Hiring perked up in August as employers added 128,000 jobs, pulling down the unemployment rate to 4.7 percent, sending a Labor Day message that the economic expansion still has staying power.

The latest snapshot, released by the Labor Department Friday, was a bit brighter than expected and should ease any fears that the expansion that began in late 2001 is not in danger of fizzling out.

The tally of new jobs last month was slightly stronger than the 125,000 that economists were forecasting. The nation's unemployment rate dropped down a notch from a five-month high of 4.8 percent in July. Job gains for June and July also turned out to be better than previously estimated. In June, employers boosted payrolls by 134,000 positions and in July they added another 121,000.
As usual.
And, by the way, that crap about stagnant wages?
Workers' average hourly earnings edged up to $16.79 in August, a 0.1 percent increase from July. Economists were forecasting a bigger, 0.3 percent advance. While workers welcome strong wage growth, economists worry that a rapid and prolonged pickup in wages can ignite inflation fears.

Over the 12 months ending August, wages grew by a strong 3.9 percent. The last time this figure was higher was in June 2001.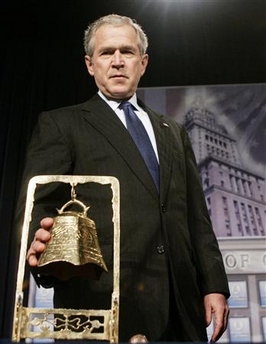 Click for some more cowbell.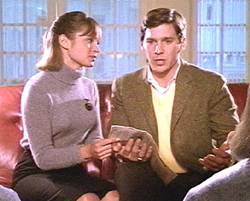 "I used to touch Alan Greenspan like this."
-- "I know, he told me."
"He told you?"


posted by Ace at
12:22 PM
|
Access Comments