« Ace Laughs; Paul Sulks -- Michael
|
Main
|
My Name is BrewFan, and I'm a Retard -- BrewFan »
July 29, 2006
I Know John From WuzzaDem, And I'm No John From WuzzaDem.
Hey John. How ya doin' pal? I guess I remembered I too still have posting rights here at Ace's.
Well, at least until Ace see this post.
Anyway, I figured I'd post here just to say hello to everyone while the Innocent Bystanders crowd entertain you all, like some blogging improv troop. They're like the Upright Citizens Brigade, but with 100% less Amy Poehler. Who, by the way, is 100% less hot than Rachel Harris, but that's because Harris has funky glasses, and she has heat vision.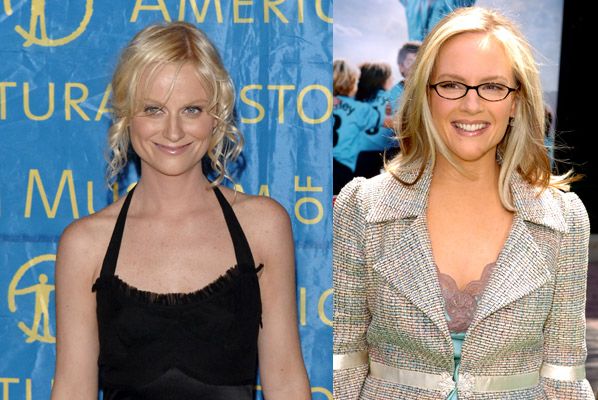 Who's with me here? Anyone?
Of course, I couldn't possibly put up a posting without some links back to my crapblog, as it's always about the marketing. Especially when my crapblog gets 1,600 hits a day, and this moronblog gets *20,000*. The only other thing I know that gets 20,000 hits a day is Ace's crack pipe, so color me impressed.
Here's an "old" but disturbing commercial for Adidas called "Pink." Yeah, it's got a girl being covered in pink. . . stuff, but that's not the freakiest part-- it's how the pink teddy bear comes alive and walks around, sorta like that detergent bear, only evil. Or, more evil. Because that Snuggle bear is REALLY evil. If that Snuggle bear ever got the chance, it'd eat you, and everyone you care about.
Did you hear that Lindsay Lohan got scolded by the production company of her latest film? They called her a "spoiled child," which are words I would not have chosen. I would have gone for "spoiled f'ing brat who smells like cigarettes, Red Bull and broiled tilapia," but that's because I don't placate.
A study shows college kids can handle their liquor. Now, if only we could handle college kids.
And finally, one of the most popular YouTube videos out there right now demonstrates just how stupid kids can be. Especially kids with motorscooters.
Anyway, to all the crazy Innocent Bystander kids, good luck, have fun, and remember: this guestblogging at Ace's thing won't result in a damn lick of sustainable traffic for your own blogs, so don't get your hopes up that you're accomplishing anything other than washing Ace's balls while he sits at home all weekend watching the World Series of Poker.
Cheers,
Dave at Garfield Ridge
UPDATE: Dammit, I just cockblocked Dave in Texas with the Lohan post-- scroll on down to here. Sorry 'bout that, pal.
Ace's Edit To Prevent Embarrassment To Dave:
Hi, I'm Dave At Garfield-Ridge. That thing about Lohan I just posted? It's old.
Dave's Edit To Shut Ace Up: Dude, I had the posting on my site last night. You know, when you were having your little inside-baseball blogger wars with people none of your loyal readers ever bother to read.
Also, you smell like ham.

posted by Dave From Garfield Ridge at
10:42 AM
|
Access Comments