« Re: Your Brains -- Sobek
|
Main
|
I Know John From WuzzaDem, And I'm No John From WuzzaDem. »
July 29, 2006
Ace Laughs; Paul Sulks -- Michael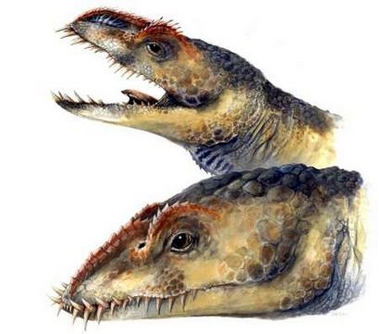 It's actually at artist's guess at what two new species discovered in Thailand might have looked like.
By MICHAEL CASEY, AP Environmental Writer Fri Jul 28, 6:59 PM ET BANGKOK, Thailand - Scientists have identified two ancient reptiles that swam in icy waters off Australia 115 million years ago, researchers said Friday. They are among the first of their kind to be found from the period soon after the Jurassic era.

The discoveries β€" dubbed Umoonasaurus and Opallionectes β€" belonged to a group of animals called plesiosaurs, long-necked marine reptiles that lived during the time of the dinosaurs.

Researchers, led by paleontologist Benjamin Kear and a team from the University of Australia and South Australian Museum, identified the new species after piecing together fossils from 30 individuals collected from an opal mine in the past 30 years.
Like certain bloggers, these critters were nasty. One was a vicious killer:
Umoonasaurus was a rhomaleosaurid, a kind of plesiosaur that was the "killer whale equivalent of the Jurassic" period, Kear said. It was distinguished by its relatively small size of less than 8 feet long and three crest-like ridges on its skull.

"Imagine a compact body with four flippers, a reasonably long neck, small head and short tail much like a reptilian seal," Kear said.
Does that not sound like Ace?
The other species was a fat boy that picked on small prey:
Opallionectes was also a plesiosaur, but much larger β€" about 19 feet long with masses of fine, needle-like teeth for trapping small fish and squid. Its name means "the opal swimmer from Andamooka."

"It's a missing link between older forms of the Jurassic period found in England about 170 million years ago and the much younger ones found in Antarctica and Patagonia which are about 65 million years old," Kear said.
AP - Scientists identify 2 ancient reptiles

posted by Ace at
10:19 AM
|
Access Comments