« Certainly This Is Just A Coincidence
|
Main
|
Ayaan Hirsi Ali »
May 10, 2006
Power To The (Deranged) People
Writing about Colbertgate (did I just actually type the non-word "Colbertgate"?), a very useless and stupid blogger/race-hustler named Steve Gilliard writes about leftist blog-solidarity. Or blogidarity.
If you get confused here (possible, because he's not a very good writer), keep in mind he is frequently using the term "civil response" in a novel fashion. He's not talking about a objectively civil response, but about a response with a level of civility equal to, as he judges it, the civility of the statement being responded to. So, when he says people are owed a "civil response," that's a cutesy way of saying "They deserve to be torn to shreds if they're not sufficiently following the party line; if they break the party line and criticize people on the left, that is inherently uncivil, and so a 'civil respose' to them will be equally uncivil."
I'm quoting this because it demonstrates the sheep-like, slightly Stalinesque Sisterhood of Solidarity nature of the leftist mindset. Or, as a once-great President nearly said, "You're either with us, or you're with the right-wing fascist racist terrorists who don't think Steven Colbert was particularly witty or funny or even brave."
Civility is more than politeness, it is defending your prinicples when they are attacked in a way consistent with them. An agressive defense is a civil response. When someone sweep a broad brush over people who support and defend you, it is not only uncivil, but cowardly to not respond in defense.

This is also not a loyalty test based on belief. This is about solidarity. We cannot ask the Democratic Party to present a unified front while ignoring vicious and unfair attacks on ourselves. If we don't stand for each other, how can we expect anyone to take us seriously?
Honestly, I can't think of anything more likely to cause people to not take you seriously than playing this game of "You criticized my friend, so now I will say mean things about you, too."
Jeff Goldstein is constantly being pounded by the left. Have I risen to his defense? Um, no.
Is it because I don't like Jeff Goldstein? Well, of course that's a big part of it. In fact, that's a really big part of it; the guy just pisses me off.
But it's also because I have this crazy idea that Jeff Goldstein is an individual and an adult who can, and probably should, fight his own battles himself. And it's also because I just don't share the Left's Sisterhood of Solidarity mindset.
The mainstream media, by the way, looks pretty silly and clicquish and Heathers-ish when they all rally to protect one of their own. The lefty blogs criticize the "right wing media" for doing this, and yet they see no hypocrisy in doing the same.
This doesn't mean blind agreement, but collective defense, like NATO. That doesn't mean France and the UK agree on trade policy, but if someone attacks France, the UK puts those differences aside and joins in the common defense. But if Italy joins the attack on France, you don't continue to defend Italy as an ally. They are no longer part of the common defense.

When someone goes after our fellow bloggers, we engage in collective defense. If you go after Peter Daou, don't think he stands alone, because he doesn't. If you take him on, you better be prepared to take on a bunch of other people. Not because we agree with every word, but because if he acted responsibly, we are honor-bound to stand by him as he has stood by us.

And when we disagree, we disagree on the issues, not on his taste in shoes or his job. That is true civility.
Again, the self-pleasing illusion that the left is not personally nasty, but only engaged in substantive policy disputes.
This would come as a surprise to Jeff Goldstein, who has been repeatedly attacked as some kind of brain-addled drug addict by the left because he takes the anti-panic/anti-anxiety drug Klonopin, by doctor's prescription.
As I do, by the way. So why haven't I defended him on this?
Because, again, he just gets on my tits and I don't like him.
But also, that other thing about being an individual.
But mostly the first one.
I mean, Jeff has been having a pledge drive for a week now, and have I mentioned it?
No. Because 1, we're individuals who stand or fall on our own merits, and not because we're part of a group. And 2, I just don't fucking like him.
Our readers stand with us as well, because they see the value in what we do. Which where our power comes from. It doesn't come from us alone.
Ahem. I'm pretty sure I get as much if not more traffic than Steve Gilliard, and never have I deluded myself into believing I have "power."
From where would my power derive? You morons? You don't listen to me, for one thing, you constantly argue with me and point out my errors, for another thing, and of course you're all too clumsy and low-functioning to manage anything more difficult than a riot at a Dairy Queen, nevermind a political revolution.
But to mistake civility for politeness is a sign of weakness. One can disagree civily, and defend oneself civily, but still stand one's ground. It is not a euphemism for weakness.

If Ms. Cox wants to stand by her man, that's fine. But if she chooses to do so by slagging people, then she will get an aggressive, if civil, response. She long ago violated any sense of collective security, by taking her act to inappropriate forums and placing her career first and foremost. Even Stephen Colbert leaves the stupid act at home.

But when she goes after people we respect for petty, trivial reasons, that collective security is going to come into play.
It's not a petty or trivial complaint to note that you've gone batshit crazy.
Peter Daou doesn't get tossed under the bus because we want to make nice. We stick together because we benefit from it. She chose to turn on left bloggers, and they turned back on her. Just because she claimed to be on our side, she always acted like she was on her side.
Um, Wonkette has always been on Wonkette's side, idiot, and I don't say that as an insult. Her shameless self-promotion and naked ambition are pretty much the only things I respect about her.
Not because she didn't agree with us, but because she wanted to impress her new friends, she slagged a bunch of hard working people who she once identified with.

And that requires a civil response.
Here's a civil response for you, Steve. There's only one cat in the blogopshere who truly has my back, and he's a time-travelling drug-addled baloney sandwich named Johnny Coldcuts.
(Content Warning after the jump.)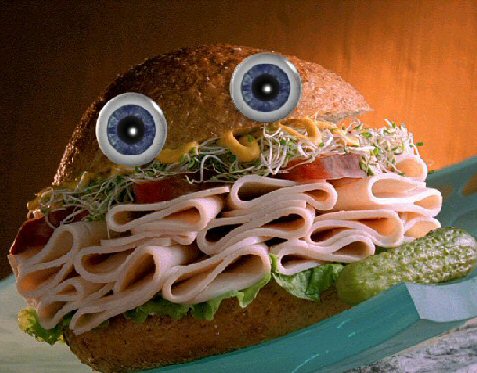 When I want your opinion, Steve Gilliard,

I'll decide what I think it should be,

write it down on my cock,

and shove it up your ass for you.

posted by Ace at
01:18 PM
|
Access Comments