« When looking for a needle in a haystack, there is more hay than needles
|
Main
|
The Healing Hands of Husbands »
February 05, 2006
What's the best Super Bowl junk food? Chic-ken, separated mechanical-lee!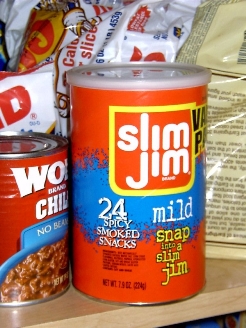 So, what's everybody's favorite Super Bowl junk food? Here's one of mine. Slim Jims. I have loved these for decades. When I was a kid, if we were on a trip, I could usually talk my dad into getting me one when we stopped to fill up, but he always said "don't let your mom see it, ok"?
Back then they were as long as my arm. Not so much today. As you can see here, they have a handy variety pack now. It is a wonderfully Greasy. Meat. Snack.
I won't bore you with the Nutrition Facts printed on the side of the canister, it's pretty much what you think it is, loads of grease, not so many carbs, chemicals and stuff.
I do think one of the ingredients is interesting though. Right after "BEEF", it says "MECHANICALLY SEPARATED CHICKEN".
This was once done by skilled labor? And now we have machines that can do it. I am in awe of our technology, although many of you know I'm still pissed off about no flying cars.
Yes, the Wolf Brand chili next to the Slim Jims will be warming up soon. Something for the Fritos. I have to make a quick run though cause we're out of bean dip.
What's your favorite Super Bowl Junk Food?


posted by Dave In Texas at
05:39 PM
|
Access Comments