« Happy Blogiversary To Me!
|
Main
|
Muslim protesters set fire to Danish and Norwegian embassies in Damascus over cartoons »
February 04, 2006
If you start him up. If you start him up he'll never stop.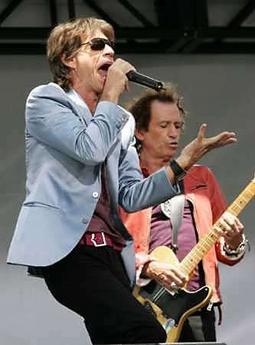 I know. Another Super Bowl post about a Super Bowl that nobody cares about except the tree huggers and displaced steelworkers.
Taking a small detour from their "A Bigger Bang" world tour, sorry, that's World Tour, this year's Super Bowl halftime show will feature the Rolling Stones.
The Rolling. f'n'. Stones.
In another of my now legendary "shit, I'm old" guest blog posts, I bring you the Rolling Stones. Mick Jagger, Keith Richards, Ronnie Wood and smirkin Charlie Watts. Mick Jagger will be 63 in July. Some quick arithmetic tells me he is closer to my dad's age than me, but only by five years. And they're the headliners at the Super Bowl Extra Large Halftime Extravaganza.
How in the world do the Rolling Stones score this gig? I mean, yeah, I understand there are still some "wardrobe malfunction" concerns lingering. But is this the widest swing of the pendulum? What could be further out? Lawrence Welk?
I understand why these guys still make money, and probably will even in wheelchairs and oxygen masks. It's the same reason every stupid television show from the 60s and 70s (and comic books) were rewritten into movies for the last 20 years. Those of us who grew up with that are the ones with the money. We have lots of it, and we're willing to part with it for remembrances of "good times, good times", as Phil Hartman used to say.
The other demographic with the money is our kids. And basically that's still our money, just more under their control than ours.
Some of you know I still goof around in a cover band. I've played since I was a kid, and I do it for fun. We all do, we all have day jobs and none of us need the money. We play the occasional wedding gig, small clubs, private parties. Our rule of thumb is if they will pay you to come back and it covers the bar tab, you didn't suck. Much. It's just about having fun.
The Rolling Stones is a business. Sure, I think the boys can have some fun, and can enjoy it. But at it's heart, it's a business, and a big one. It's about investments and profits.
This is the set design they put together for their 1989 "Steel Wheels" tour. $18 million dollars (estimated).
This is the one they designed for their current tour.
There are a couple of dollars in that. Or pounds. Euros. Whatever.
Incidentally, the tongue and lips logo wasn't designed by Andy Warhol, and it wasn't designed by Charlie Watts, it was created by John Pasche. Charlie does quite a bit of creative work on their sets and has for a long time.
Cause he's a smirkin drummer.
I hope I'm still smirkin when I'm 63. Like Mick and the boys.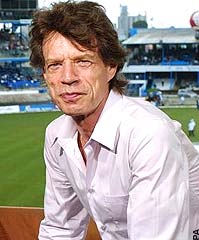 Where's the money, yeah?


posted by Dave In Texas at
10:06 AM
|
Access Comments