« Some Conservatives React To News That Execution of Scumbag Who Murdered 15-Year-Old Girl Is Delayed
|
Main
|
Understanding Hamas »
February 03, 2006
A Deficit Of Ideas?
I hate watching the State of the Union speech. The part I hate the most are the laundry list of things that the President wants to do. Inevitably with such a list, some new bureaucracy will be formed and more of my tax dollars will be wasted..
But then again, at least the President and the Republicans are coming up with ideas. They may be bad ideas, and many are, but at least they are tossing out ideas.
What exactly have the Democrats proposed in the last 6 years? Name one thing. Other than saying "No" to EVERYTHING Bush proposes?
So it is with that background that I chuckled to myself after reading E. J. Dionne Jr.'s op-ed in today's The Washington Post.

Another Bush Deficit: Ideas
Ha ha! I get it. See Bush is responsible for the budget deficits and now he has a deficit of ideas....too clever for me Dionne. How DO you get a sweet job with The Washington Post?
He does stick it to the Dems though:

The Democrats should be sued by one of their own trial lawyers if they fail to seize their opportunity.
Bush's ideas may suck sometimes but at least he has some.
The Washington Times editorial cartoon today could not be a better contrast to Dionne's op-ed at the Post: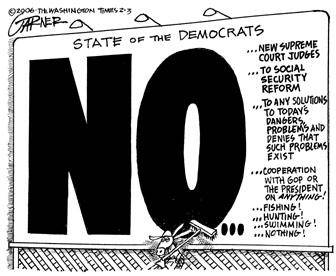 WunderKraut can be found writing angry letters to the government under a single light bulb at WunderKraut.com

posted by WunderKraut at
09:09 AM
|
Access Comments