« A Song About Geek Love
|
Main
|
Cool Facts About Jonathan "The Impaler" Sharkey »
January 31, 2006
Update On Jonathan "The Impaler" Sharkey: Arrested On Old Stalking Warrants
"The Impaler"? Stalking? The Deuce you say!
Jonathon "The Impaler" Sharkey, who announced in Princeton Jan. 13 that he was running for governor, was arrested at his Princeton apartment about 8:30 Monday evening.

Princeton officer Todd Frederick initiated a search yesterday afternoon that led to the discovery of two active felony warrants from... Indiana.

The 2005 warrants were issued in May for stalking and in September for escape on a $100,000 bond.
Just because you're hiding in the bushes, going through someone's trash, and collecting toe-nail clippings and discarded bandages doesn't mean you're "stalking."
Followers of the Dark Lord of Blood know that these steps are necessary to construct a voodoo doll.
The authorities call it "stalking." I call it "Magikal Path courting."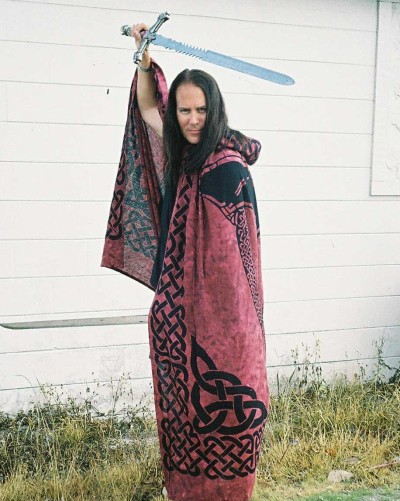 "You will love me, or I will bathe in
your blood before the Children of Babylon!
How's the Olive Garden at eight-ish sound?"
The old "The Impaler" post, if you missed it.
More Geek Jokes: Brain B--
So he failed his Move Silently and Hide in Shadow rolls?
Critical miss resulting in... let me look this up on my tables and matrices... loss of 4 Wisdom points and a booking on a Class C Felony. Ooooh! That's going to leave a mark!
Cleric! I need a Restoration spell! And a Reduce Bail spell!
Thanks to DeeGoGa.

posted by Ace at
12:27 PM
|
Access Comments