« Controversial CAP Article: Satire?
|
Main
|
John Murtha Receives CODE PINK Award »
January 13, 2006
Satanic Vampire Running For Minn. Governor
"Politics is a cut-throat business," said Jonathan "The Impaler" Sharkey, who said he plans to announce his bid for governor on the ticket of the Vampyres, Witches and Pagans Party.

...

"I'm a Satanist who doesn't hate Jesus," Sharkey said. "I just hate God the Father."
Okay, that's not going to fly with conservatives, obviously. But he does tempt us back with his other positions:
However, he claims to respect all religions and if elected, will post "everything from the Ten Commandments to the Wicca Reed" in government buildings.

Sharkey also pledged to execute convicted murders and child molesters personally by impaling them on a wooden pole outside the state capitol.
Nice. It's only political outsiders that dare to introduce innovative solutions like this into the public debate.
But is he really a vampire?
Sharkey told the Minneapolis Star Tribune that he's a vampire "just like you see in the movies and TV."

"I sink my fangs into the neck of my donor ... and drink their blood," he said, adding that his donor is his wife, Julie.
Family values. I think maybe we can get behind this guy.
Apparently he's also considering a run for president, as he's formed a PAC called The Impaler For President Committee-- 2008."
And if you need further convincing, check out his website.
Honesty is very seldom heard nowadays, especially from a politician. So, I am going to break from political tradition. My name is Jonathon "The Impaler" Sharkey, Ph.D., L.D.D.D. I am a Satanic Dark Priest, Sanguinarian Vampyre and a Hecate Witch.
Oh, wait, a Sanguinarian Vampyre? I don't like those. I prefer Nosferatuan Vampyres.
My Magikal Path name is: Lord Ares.
I have thirty hit dice.
I despise and hate the Christian God the Father. He is my enemy.

However, it doesn't mean that I hate all his followers. This Country was founded on religious rights and freedoms. This is guaranteed under the 1st Amendment of our great constitution. This right allows me to worship Lucifer and the Goddess Hecate, just as it allows you to worship the Goddess/God of your choice.
I'm amused that even a Lucifer-worshipping vampire, the moment he becomes a politician, feels the need to try, rather clumsily, to pander to the religious right. Now that's clout, baby.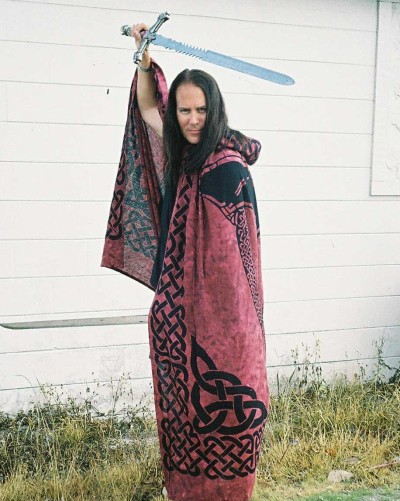 Jonathan "The Impaler" Sharkey
My guarantee to you, the voter: I shall bathe in the blood of the Children of Babylon!
By the way: Everyone realizes, I trust, that while he apparently can shell out $100 for a dumb-looking "vampyre" sword, he dresses in a friggin' throw-carpet.
That's what all the "Magikal Path Sanguinarian Vampyre Dark Lords" are wearing these days. Discount remnant floor coverings.
Thanks to SWOOD.
Evil, But Not Bad Evil: Mrs. Peel catches--
He admits to being evil, but says he will use his evil, vampiric nature to protect the innocent and impale terrorists. I guess that's lawful evil.
By the way: it's "vampYric." Or maybe it's "vampyryc." Who knows.


posted by Ace at
12:51 PM
|
Access Comments