« Two Christmas Generic Midwinter Holiday Miracles Odd Events With No Supernatural Import
|
Main
|
Dean: Did I Say The War Was Unwinnable? That's Just Crazy-Talk, That's What That Is »
December 10, 2005
Talking To Kids About Terrorism
Welcome Again Corner Readers! This post's okay, but if you want a really good laugh, check out the Paul Anka links here. You're thinking Paul Anka isn't funny. You couldn't be more wrong.
Actual "Talking to Kids About Terrorism Post" now begins.
This is so bizarre that it's funny in that what-the-eff kind of way.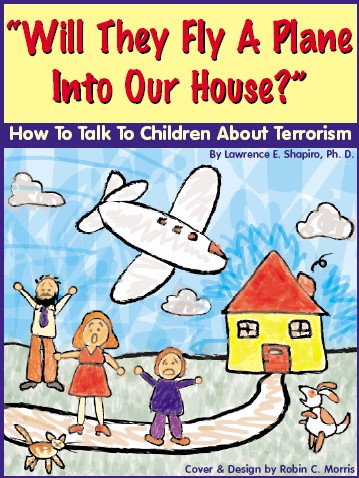 First: What is the deal with that cover?
I've got to say that cover picture doesn't seem very reassuring to me. And I'm an adult. You've got a plane flying into a house, for crying out loud, and even the dog is terrified. Nothing soothes a scared child like the pictorial statement that Even your dog is going to be offed.
Suggestion for reducing children's nightmares about terrorism: Don't show them the horrifying cover of this book.
Oddly, only the cat is blase about the whole deal. Suggesting, probably accurately, that cats support terrorist murder.
Bareknuckle Politics has a link to the a cached version of this on-line book.
A sample:
Learn To Understand The Feelings Of Others

How do you know when someone else is having trouble with his or her feelings? How do you know when a parent is angry? How do youknow when a friend is sad?Sometimes they just tell you how they feel. That makes it easy.

But sometimes they don't tell you how they feel. Sometimes they might not even know how they feelthemselves! Did you know that you can tell how people feel just by looking at their face and their"body language?"In the picture below, write what you think these people are feeling by looking at their expression and "body language."

Feelings Charade

Now, I want to teach you a game called "Feelings Charades." Cut out the cards below and shufflethem in a deck. Give them to a parent or friend and ask them to pick the top card and act out thatfeeling. Then try to guess what feeling they are acting out.
My girlfriend and I play a version of "Feelings Charade." She knows that when I start loading a pillowcase full of doorknobs and glass ashtrays, I "feel" that her meatloaf was "disappointing" and that she needs to be "corrected."
Helping Others Takes Your Mind Off Your Own Problems

Some of the happiest people I know are always looking for ways to help others. Helping othersmakes you proud of yourself. Helping others is a good way to make friends. Helping others brings outthe best in you, the people that you help, and anyone who hears about or sees what you have done.

Every day is a good day to help others. Take a shoe box and write these words on the side: HELPING BOX. Cut out the cards on the next page. On each one write "A Helping Tip" and put it in the box. You can make up your own ideas or use the ones listed below. Every day pick a card from the box and do what is on the card. These things only take a few minutes of your time, but they will make you feel good about yourselffor the whole day.
Helping box? What kind of pinko metrosexual cryptosocialist pussy-shit are they teaching our kids these days?
When I have a kid, I'm going to have him make a WINNERS NEVER CRY BOX, and have him fill it with ideas of how to really kick ass and dominate all the other retards he's in school with. And he will, too, because we're going to take Tae Kwon Do together. We'll also wear matching Ninja outfits.
Not even for the dojo. Just for going to the supermarket and stuff. We'll be totally adorable, but in that menacing, don't-dare-make-eye-contact-with-me-or-my-Ninja-toddler kind of way.
Note: This is quite old; of course I'm just hearing about it for the first time. It seems written in the immediate aftermath of 9/11, bearing a 2001 copyright. It states that we still don't know for sure who planned the attacks, which means it was probably written in the first several weeks after the murders.
The writer also doesn't seem to be a true moonbeam. His answers to kids and parents seem reasonable.
Still, however well-intentioned, it's a weird, sad, and darkly funny artifact. Again, maybe "Feelings Charades" and "Helping Boxes" are sound suggestions for young children. But they do invite satire. At least they invite satire from a heartless dick like me.
Related: Sample pages from "Little Democrats," which uses adorable squirrels to explain the Democratic platform.
The sample pages don't include anything about abortion or gay marriage, but maybe those are covered in the sequel, Mommy Squirrel's Big Book of Vaginas and Penises.
Thanks to Phinn.
More... Someting Awful parodizes that scary cover.
Best of the bunch? To further calm children, they've filled the Death-Plane with carnivorous serpents, and have retitled the book Will They Crash a Plane (Full of FUCKING SNAKES!) Into Our House?
Thanks to Kyle T.

posted by Ace at
01:41 PM
|
Access Comments