« Praise Be! Sanity Prevails
|
Main
|
U.S. Mulls "Decisive" Attack on Rogue Iraqi Town »
September 09, 2005
Flight 93 "Memorial:" The Crescent of Dhimmitude
The design selected to honor those who gave their lives fighting terrorism in the first battle of the new war has some nice elements. A tower of wind chimes, each sounding a different note, will represent the voices of the dead. A little eerie and ghostlike, but perhaps you need that to make people remember. Ghosts aren't noticed unless they act in a spooky way.
But why shape the memorial in a big red crescent? They call it "The Crescent of Embrace."
What embrace could they be thinking of? The embrace of an Islamofascist murderer as he grabbed a stewardress from behind and slit her throat? Is that what the big red crescent is supposed to symbolize-- the gushing slashed throat of an unarmed woman?
I rather doubt it.
What the hell is this "embrace" and "crescent" shit doing in a memorial to valor?
Remember the outrage when Ronald Reagan visited a cemetery for Nazi soldiers at Bitburg (sp?)? The left-leaning press went nuts at that. So I guess I'm a little off-put by elevating the Religion of Islam as the main "victim" of the 9/11 massacres.
That is how many people see it... but the great majority don't. The great majority of people want memorials to honor the actual victims and heroes.
I actually don't mind when Bush oh-so-frequently mentions Islam as a religion of peace, or says that a great world religion has been hijacked by butchers. There's some truth in that, and if that truth is overstated and stretched a bit, that can be excused as diplomatic nice-nice.
But it is beyond inappropriate to memorialize the (literal) fallen of flight 93 with an enormous symbol of the religion which animated their killers to murder them.
Yes, we should always keep in mind that Muslims are victims of terrorism too. And that many Muslims don't support terrorism. And etc.
But can we keep the PC out of a memorial for the dead? Is there no tribute that can be built without these ridiculous One World not-so-stealth messages?
And, actually, can we have a single tribute that honors old-school stuff like valor and selflessness, rather than just the fact that people died?
I'm tired of the left's methods of "honoring" the fallen. They only are capable of "honoring" the dead of 9/11 as victims. The heroes of 9/11 were victims, of course, but they were more than that too-- they were heroes who fought back, and not in vain. They gave their lives to save others. They knew they were doomed, but they fought back anyway-- because they knew that was the right thing to do.
I realize that the left isn't comfortable with the idea of fighting back, but I grow very weary of the hard pacifist left having such complete control over our memorials.
Allah Wants Proof Of Intent: Well, if the name "The Crescent of Embrace" doesn't tip you off, how about this?
The idea of the Crescent of Embrace, Murdoch said, is to be a gesture of healing and bonding.
Healing and bonding are nice. But once again, the deliberately clueless left seems to have lost the thrust of the plot here. Healing and bonding come after a tragedy.
This is a memorial to those who died in a tragedy, and thus are incapable of healing or bonding.
They fought back. They died. No healing, no bonding. Their last actions were not of healing, but of courage in the service of survival, and sparing other their fate.
But of course we couldn't possibly honor such retrograde, troglodytic actions. Depak Chopra just wouldn't approve.
Family Members Chose The Design?: Well, some family members did (which? Were they selected for their enlightned views?), but there were more chefs in the kitchen than that.
A 15-member jury made up of family members, community members and design professionals was tasked with making a final recommendation on the design. Five finalists were selected from 1,011 designs.
15 members in total. And community members and "design professionals" (not sure that most designers skew belligerent in their response to terrorism) chose the design.
There were 40+ victims, and, just guestimating here, about 200 or more close family members affected by the massacre.
15 people chose the design, of which only a fraction (let's guess-- about a third or a little bit more) were actual family members of the fallen.
So let's not rush to say "the families" chose this until we have all the facts.
Some Snark: Jaceonline suggests we erect "The Mama Cass Memorial Subway Sandwich Shop" while we're at it.
Again, no controversial symoblism there. The sandwich is simply an age-old symbol of friendship and togetherness. Look, everyone loves sandwiches; everyone enjoys eating a nice sandwich with their buddies. Of the top ten memories in my life, three involve sex, two involve winning money at gambling, and the other five involve sandwiches.
I'm sure Mama Cass would be thrilled by such a lovely tribute. And I've got just the design: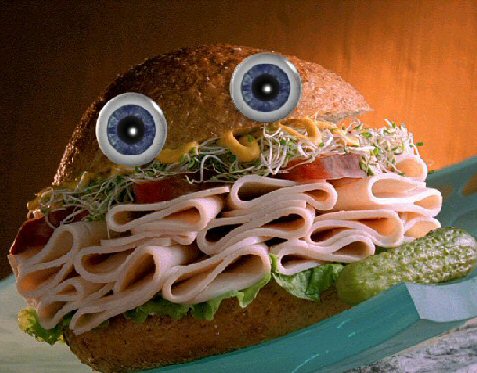 It's your own fault, baby, for trying to deep-throat a monster balogna love-machine like myself.

posted by Ace at
11:34 AM
|
Access Comments