« Howard Dean Reaches Bottom, Digs. [Dave at Garfield Ridge]
|
Main
|
Samuel L. Jackson Thinks Like A Terrorist [Say Anything] »
June 11, 2005
Andrew Sullivan: I Don't Like Him Very Much. [Dave at Garfield Ridge]
Ace of Spades groupie Megan is quite sad that her blogging hero is gone this week. When asked what I, the lowly ringer, could possibly do to improve her mood, she begged for a hit-piece on Andrew Sullivan, like Ace used to do. You know, back when he was as funny as Megan thinks he is now.
For the record, I've done my fair share of snarky Sully bashing-- see here, or here. Or here.
But fine, those are all posts on my site, which Megan never reads, because Megan loves Ace, and not me. That's okay, I'm a husky boy, my ego can take it. I am under no illusions that I am even *half* as talented as Ace, and he's got the Sitemeter results to prove it.
Okay, let's all go see Excitable Andy's site today, and see if there's anything worth making fun of, shall we?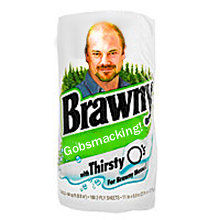 This is going to be gob-smackingly vile, isn't it?

[Graphic by John]
He highlights this NYT story on "meth mouth." Yawn, whatever--
I've covered that before, only with a lot more funny. Of course, Sully won't bother acknowledging that the allure of meth in the gay community has anything to do with risky (some dare call it "deviant") sexual behavior. Nope, his problem is with the drug abuse, not the sexual self-abuse.
His email of the day talks about how great it is that Iraq is now free. Andy agrees in the way that only he can:

This is absolutely true, and it's why I still support the liberation of Iraq. And it's why it's so distressing to see such good undermined by such stupidity.
I could say the same about Andy's writing about the war-- a lot of good undermined by stupidity.

But that would be hitting a guy when he's down
.
Next, Sully talks about a camp where gay kids are sent to make them "straight." It sounds awful, even criminal, and it may very well be. Yet, what if it wasn't? What if they sang songs and cooked marshmallows and read copies of Maxim all day long? Would that change his opinion at all?
If it's perfectly all right to be gay-- and I happen to believe strongly that it is-- then isn't perfectly all right to *not* want to be gay? Regardless of whether it's biology, cultural, or a mix of both influences, there are plenty of other similar areas that people want to change all the time. I'd like to lose a few (okay, more than a few) pounds-- am I living a lie? If I get lasik, am I "going against nature"?
Some parents send their kids to Little League, even when they suck at it, in the hopes that they'll learn something about themselves. I guess that's cruel, too. Especially if they are little fat porky kids who never learn to work the pitch count no matter how many times you yell at the little ungrateful fucks.
We get another update on Sully's health. I'm sad he's feeling ill-- mostly because we'll hear about it for another few weeks until he goes off to P-town for a month of reading Camus in the hammock.
Okay, I'm sorry for the slim pickings on the Andy front today. No need to change the alert status based on these comments. Let's scroll down a bit, see if there's anything else that's interesting. Anything *at all*. . . please.
Hmmm. . . he's got issues with the whole "urine on the Koran at Gitmo" deal. Yeah, me too.
Not that I don't buy the Pentagon's official explanation, but I don't buy how nobody bothered to actually place a Koran at their feet and piss all over it. Seriously, if you're a soldier guarding a jihadi fresh from killing one of your buddies, wouldn't you relish the opportunity to unleash your hot stream of American justice all over his little flip book of fanaticism? Hell, I'm surprised we're not dumping these things into shredders down there.
Regardless of however "peaceful" Islam and its million of adherents may be, can't we all admit that these guys, these jihadis, are lunatics who corrupt what they read in the Koran as justification for their lunacy? So, remind me why we're giving them Korans? We should be giving them books on The Wiggles.
Anyway, Andy concludes that the "the obvious truth is that a guard decided to humiliate a Muslim prisoner by pissing on him through an airvent." And how does he know this?
Why, because he has a photo of a vent that might look(!!) just like the vent in question, but actually is not, in fact, the vent in question. Gee, can't argue with that ironclad logic.
Hell, Andy, here's another picture of an airvent that might look like the one down in Gitmo:
We wouldn't want to get any urine down that, however. I hear you can catch meth mouth that way.

posted by Ace at
10:55 PM
|
Access Comments