« Ummm...
|
Main
|
Another Domino Falls »
March 24, 2005
New Logo
Well, it served me well, but the old death-card: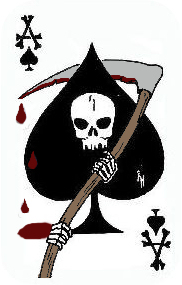 had to be retired, for a couple of reasons. First, I thought the skull was too small and, well, a little goofy-looking. Second, I sort of want to sell t-shirts, and I couldn't track down whether that image was still copyrighted; I decided to err on the side of caution and get a new design. Third, it was a little too smallish in its details to look good on a t-shirt anyway. Those skeletal hands... always figured out they'd wind up looking like Snoopy's paws.
Riehl World View did the original death card for me, basing it off an old Vietnam-era death-card. Great design, of course, and I miss that connection with real military history... but there are lawsuits to consider. Plus, I wanted a more classically piratical design, to go along with the killer Mencken quote.
I asked George from Snapshot to design me a skull-and-crossed swords design, swords behind the skull to fit on the ace. I also asked him, "Make the eyes both look vaguely menacing and vaguely jovial." That's a pretty hard thing to accomplish, but George nailed it on the first try.
Cool swords, too. You have no idea the f'n' exasperation I put him through over those swords. I swear, I had him try out every possible blade and hilt combination from a Scottish Claymore to a +3 Flame Tongue.
George was busy with business or family this past week -- or perhaps he went crazy from my annoying and constant suggestions for minor changes in the design -- and I asked Riehl World View to come in and pitch relief and finish the design up-- shrinking down one larger-than-the-other hilt, adding some blood to the blade, making the double-curved Arab-esque blade look a little more realistic, superimposing it on an ace, and adding it to a new banner with a crisper look. He knocked the whole thing together, beautifully I think, in two days.
And boy, you have no idea the problems I gave Riehl World over the blood.
Now, there's some loose shit going on with the page-borders and stuff-- yeah, I know, the BlogAds creep up into the banner, and I've got to fix the background color to match the slightly different gray Riehl World used -- but I've contacted Web Diva to try to get that all up to snuff, so the site should be looking like it has integrity again pretty soon. And cooler, I think.
Thanks so much to Snapshot and Riehl World View for putting up with my annoying demands. I'm a real taskmaster-- or, should I say, quartermaster, arrrgghh -- and they put up with more of my bullshit than any human should be expected to. As Riehl World told me tonight, "It's a good thing you ain't married yet, or you'd be dead already."
The new card isn't a perfect duplicate of a Vietnam-era death-card, of course, but it's similar in the basics to ones used by the military. This, for example, is one I found on-line, used by troops in Iraq: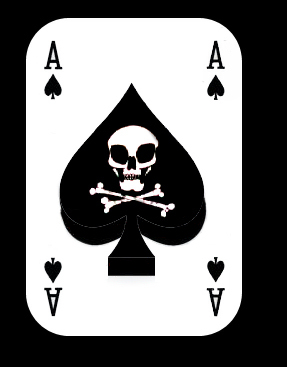 Cool, yeah, but... I like George's skull a lot better. And to hell with crossed bones. You can't slit a throat with a bone. At least not without a lot of wasted effort.
Anyway, that's the new logo. I love it. I hope you guys like it too.
Aaarrhhh.
Loose Shit That Will Be Straightened Out: For now, the logo is a work in progress. I'm going to lose the blood -- too garish, plus it obscures the cool shape of that sword -- and I'll move those little "A's" in the corner so that they don't conflict with the logo, or ditch them entirely.
And yes-- the BlogAds overlap with the logo, and the background/border is now the wrong shade of gray.
Web-Diva has been alerted!


posted by Ace at
01:48 AM
|
Access Comments