« Must-Read: Our Unbiased Media Critiques Coulter
|
Main
|
My Editorial Commentary on Andrew Sullivan's Pro-Kerry Burblings »
July 27, 2004
For Evil-Twin Garth Doug
MASTER-STROKE I'm still somewhat in shock at the first night of the Democratic Convention. I kept thinking i was at a Republican convention. Tightly scripted, elegantly choreographed, seamlessly on the centrist message of war, unity, maturity and judgment. Foreign policy was front and center; faith was showcased; military service was held up as the ideal; prudent leadership was touted in a time of "peril," in Hillary's word. I wonder if they can keep this up. But I'm amazed they've tried. I've been writing for months now that Kerry's most effective message would be that he'd conduct the war on terror with more allies and more wisdom than Bush. But I never actually believed he'd be canny enough to do exactly that. But he has! If the first night is any indicator, the Democrats have played the smartest, strongest card of the campaign so far....
I had a catch in my throat as "Amazing Grace" struck up, and another as I absorbed the fact that a Muslim-American and a Jewish-American had just joined in tribute to the murdered.
...
Rhetorically, at least, they were saying: this is our war too. But we can pursue it more wisely and effectively than the well-meaning hothead now in office. And there was a subtler message as well. Remember when we were one as a nation? Do you really think that president Bush is capable of bringing any of us together again? Of course, some Democrats are responsible for exactly that polarization. But it's nevertheless a smart move to portray themselves as a unifying future compared to the divisive past.

THE CONSERVATIVE PARTY: The cultural signals were superbly done as well.
...
Jimmy Carter's speech was one of the best I've ever heard from him; and the genius of it was that Carter went against type. He re-introduced himself as a navy veteran, and was most effective mentioning those presidents who had actually been in the military: Eisenhower and Truman, under whom Carter served. Now listen to this passage:
Today -- today our Democratic Party is led by another former naval officer, one who volunteered for military service. He showed up when assigned to duty -- and he served with honor and distinction. He also knows the horrors of war and the responsibilities of leadership. And I am confident that next January he would restore the judgment and maturity to our government that nowadays is sorely lacking.
Kerry showed up. Kerry is as tough as Bush - but with "judgment and maturity." And in case you didn't get the message: "The biggest reason to make John Kerry president is even more important. It is to safeguard the security of our nation."
...

TO THE RIGHT OF BUSH: ...
After 9/11, America stood proud, wounded but determined and united. A cowardly attack on innocent civilians brought us an unprecedented level of cooperation and understanding around the world.
But in just 34 months we have watched with deep concern as all this good will has been squandered by a virtually unbroken series of mistakes and miscalculations.
If you're a worried undecided voter, you may nott agree with all that. But you'll be troubled by enough of it to consider Kerry. And then there was the gut-punch: the indirect use of Bush's dubious National Guard service. In fact, the way in which the Democrats used the service record of Kerry against Bush was straight out of the Republican playbook. It's a pretty low blow, and Carter delivered it with a deep thud. When you describe someone as weak on defense and a draft-dodger, you're usually a Republican. But not this time.
...
CLINTON AT HIS BEST: Carter's was the better speech, but Clinton was magnificent.
...
And then the coup de grace: he put himself and Bush in the same camp as draft-dodgers, in stark comparison to the patriotic Kerry! My jaw was on the floor at that point in a mixture of admiration and horror. But it was mighty effective. And the way in which he described the cost of the tax cut in terms of squandered attempts to improve homeland defense was another smart move. Use the Republican tax cut issue against the Republican security issue. Wedge against them for once. If the constitution didn't prevent it, the man would still be president. After last night's speech, you can see why.
Guess who...?
Yes, it's that centrist, undecided analyst "reluctantly" moving towards supporting John Kerry. The one who apparently pays $120,000 for a server.
AllahPundit wrote to me, about six months ago, that Sully was just waiting for John Forbes Kerry to bravely declare "Terrorism is bad," and then he'd go into another one of his loopy puppy-dog-love swoons, praising the guts and judgment of the man to make such a steely pronouncement.
They don't call Allah the Maker of All Wisdom for nothin', folks.
By the way. This?:
I kept thinking i was at a Republican convention. Tightly scripted, elegantly choreographed, seamlessly on the centrist message of war, unity, maturity and judgment.
Of course Randy Andy thought he was at a Republican convention. Randy Andy has this funny way of thinking that wherever he is on an issue RIGHT AT THIS MOMENT, that represents the heart and soul of the conservative movement-- or at least the real conservative movement, the Gay-Marriage-Arnold-Schwarzenegger-John-McCain-Eagles-'n-Ecstasy "conservative movement" he prefers.
Who is this Garth Doug? There seems to be some confusion among readers about who "Garth Doug" is. One of the Dougs thinks I mean "Darth."
Didn't you guys watch Knight Rider?
Garth Knight was Michael Knight's "evil twin with a goatee."
So, to tell the two Dougs apart: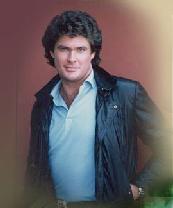 This is the Doug that agrees with me. Notice how sexy he looks in that Member's Only jacket.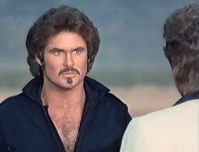 This is Evil Twin Garth Doug, who disagrees with me. Look at this evil son-of-a-bitch! Look at that corrupt goatee! And look at that mendacious chest-hair! What a dickweed!
I hope that clears things up.
p.s. to Evil Twin Garth Doug:
j/k. (g). :)

posted by Ace at
02:43 AM
|
Access Comments