« The Story of the NH Transgender Democrat Office-Holder Busted With Child Pr0n Gets Even Worse, If You Can Believe It
|
Main
|
Madonna Is Found Unconscious and Unresponsive in Apartment; Now Recovering In Regular Ward »
June 28, 2023
The New York Times Confirms That David Weiss Said He Was Being Blocked From Pursuing Charges Against Hunter Biden By the DOJ; CBS Actually Reports on BagmanGate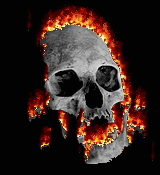 The NYT's report is critical because Merrick Garland testified before Congress that he didn't have to appoint a special prosecutor, with a level of independence from him and the ability to investigate crimes without the need of permission from a boss, because he'd already given David Weiss complete authority to act independently and investigate whatever he wanted without need of additional permission.
He said this to Congress. That means it's a crime if he's found to have been lying.
Which he was. Because both of the IRS whistleblowers say that David Weiss explained to them that he couldn't charge Hunter Biden with more crimes, and couldn't even start investigations on some crimes, because Merrick Garland the FBI were blocking him from doing so.
The NYT has a third source -- independent of either of the two whistleblowers -- who says that yes, David Weiss said that Merrick Garland was blocking him from fully investigating and charging the president's crackhead son.
Chuck Ross @ChuckRossDC

NYT buries in the 21st paragraph that it has an independent source who confirms the two IRS whistleblowers' claim that David Weiss said he was blocked from bringing charges against Hunter Biden in California. https://nytimes.com/2023/06/27/us/
The first whistleblower, Gary Shapley, came forward when he saw Merrick Garland lie to Congress about David Weiss' authority to investigate the president's crackhead business partner in any way he saw fit. Now we have confirmation from an entirely different source that David Weiss told that person too that Merrick Garland was protecting the crackhead.
Merrick Garland must be impeached -- even if impeached after he leaves office. He must have his precious pension impounded from him.
And then he must be prosecuted for obstructing a congressional inquiry. Five years in jail, jack.
Bonchie notes that the New York Times is hiding and undermining its own scoop:
In any situation not involving a major Democrat, that would have been blared in the headlines as a bombshell. In what was presented as a passing mention in a broader piece, the Times independently sourced the damning allegation that AG Merrick Garland committed perjury before Congress (and repeatedly lied to the press and the American people). That's the story here, not the idea that there are "competing accounts," as the headline reads. One side is pretty obviously not telling the truth, and it's not the side that contains the two IRS whistleblowers.

Ironically, despite the aforementioned whistleblowers being technically such and being protected under the relevant statutes, the very same Times that has now confirmed the key component of their testimony is still putting scare quotes around the word whistleblowers.
Meanwhile, via Beege Wellbourne at Hot Air, CBS is actually bothering to report on the president using his crackhead son as a bagman to collect bribes from Communist Chinese officials.
Wellbourne provides this transcript:
...[Axelrod narration] ...And Shapley told lawmakers that Weiss was blocked from bringing stronger charges...[Merrick Garland clip denying Weiss authority impeded]...

Shapley: I documented exactly what happened, and it doesn't seem to match what the attorney general or the U.S. attorney seem to be saying today.

[Axelrod narration] Shapley provided lawmakers this contemporaneous email he wrote after an October meeting last year. Shapley says Weiss told him the opposite, that Weiss is NOT the deciding person on whether charges are filed....

....Shapley told us that even before President Biden took office, he was directed to avoid leads involving Hunter's father...

The corrupt bribe-taking r4pist Joe Biden gave his usual jackass grin when asked if he was present, as Hunter Biden said, when he threatened the Chinese official to pay them the money that had been promised.
You know he's lying when he breaks out that Jackass Grin.
Then he shouted at the reporter asking the questions. Such a vicious attack on our precious Fourth Estate!
A few days ago,John Kirby refused to answer questions about Joe Biden's bribery business.

Also, Joe Biden is trying to make light of people's worries about his decrepitude and his rotting brains.
And he's made two gaffes in 24 hours while trying to reassure us he's still got the vigor for Bribe-Taking that he had when he was 20.

More at the link.
From two weeks ago:
And from one week ago.
Yesterday:
Biden made the same "Putin is losing in Iraq" flub at a fundraiser -- but the pool reporter, whose report is relied upon by all other reporters "covering" the event, was kind enough to omit the error from his report.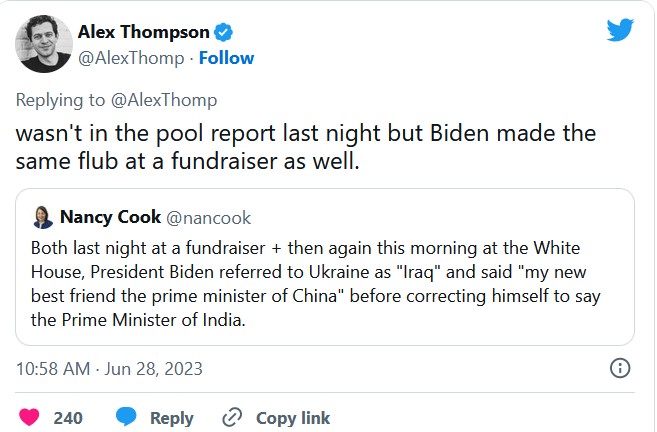 posted by Lamont the Big Dummy at
05:39 PM
|
Access Comments