« Michael Brennan Doherty: The Bulwark Longs For the Days When They Could Lie to Conservatives and Profit From It
|
Main
|
Quick Hits »
April 25, 2023
Horrifying: Medical Journal Article Recounts Tale of 18-Year-Old Boy Killed on the Operating Table in Quixotic Bid to "Become a Woman"
He had been on puberty blockers since he was young. He died during a "vaginoplasty" -- a thoroughly stupid and pointless bit of experimental surgery where they take a man's penis, cut down the middle like a hot dog, rip out the insides, and then invert it and stuff it back into the pelvis to become a totally not convincing fake vagina.
But to make a fake vagina, you have to have enough penile tissue to work with. This boy had been on a regime of severely depressed testosterone since he was young, and his penis never really developed. He simply had not grown enough penis to even be turned into a vagina.
This is a sadly common situation, which doctors call Jonah Goldberg Syndrome.
This crazed Megele-like butchers decided to snip out a piece of his colon to try Frankensteining that into a fake vagina.
The boy died of complications of this horrific butchery.
The investigation into the young person's death revealed that the deadly strain of E-Coli most likely came from the patient's own intestines, not from the hospital setting, meaning that the more risky vaginoplasty surgery necessary due to early puberty suppression almost certainly caused the fatality.
In other words, they put his colon still covered with fecal matter into the unnecessary-surgery surgical wound pelvis and he went septic and died horribly.
You'd rather have a live daughter than a dead boy? Well how's this grab you: How about a dead "daughter" instead?
"Becoming your authentic self" through drugs that ruin your endocrine system and natural development, and experimental surgery that warps and removes parts of you from you, seems counterproductive.
More from the Post-Millennial.
You know how they're always claiming that we don't need to ban experimental surgery for the young, because such surgeries never happen?
You'll never guess -- it turns out they were lying. These surgeries are performed on children as young as ten years old.
Puberty blockers at 8, mutilating surgery at 10!
But it never happens, h8rz! Never ever never!
Well, Project Veritas isn't dead yet. They just released the first installment of an undercover investigation where gender-bending doctors talk about how they start puberty blockers as young as 8, and would do gender transition surgeries as young as 10 years old. Apparently such surgeries are routinely done at 14-15 years of age by these doctors, although they lament insurance won't cover it that young.
So you know that they're always claiming that no one does these procedures on very young children? Surely you must; I just mentioned it like five seconds ago.
Anyway, demented, awful, criminal parents are rushing to get their very-young children experimental "therapy" before states ban the procedures for very young children.
NBC is Sad!!!
As a third grader in Utah, mandolin-playing math whiz Elle Palmer said aloud what she had only before sensed, telling a friend she planned to transfer schools the following year and hoped her new classmates would see her as a girl.

Several states northeast, Asher Wilcox-Broekemeier listened to punk rock in his room, longing to join the shirtless boys from the neighborhood playing beneath the South Dakota sunshine. It wasn't until menstruation started, and the disconnect with his body grew, that he knew he was one of them.

Both kids' realizations started their families on a yearslong path of doctors, therapists and other experts in transgender medicine.
"Experts." The eternal political battle is always waged between conservatives and... "experts."
Now teenagers [barely!], their journeys have hit a roadblock.

Republican lawmakers across the country are banning gender-affirming care for minors. Restrictions have gone into effect in eight states this year -- including conservative Utah and South Dakota -- and are slated to in at least nine more by next year.

Those who oppose gender-affirming care raise fears about the long-term effects treatments have on teens, argue research is limited and focus particularly on irreversible procedures such as genital surgery or mastectomies.


...

The new laws have parents scrambling to secure the care their kids need. They worry what will happen if they can't get the medications they've been prescribed, especially as their kids start puberty and their bodies change in ways that can't be reversed.

"My body's basically this ticking time bomb, just sitting there waiting for it to go off," said Asher Wilcox-Broekemeier, now 13.
That's the "teenager" they mentioned. She just became one this year. Before that she was a tween.
As Michael Anton observed -- making Rod Dreher's "Law of Merited Impossibility" more comprehensible -- "This isn't happening, and it's good that it is."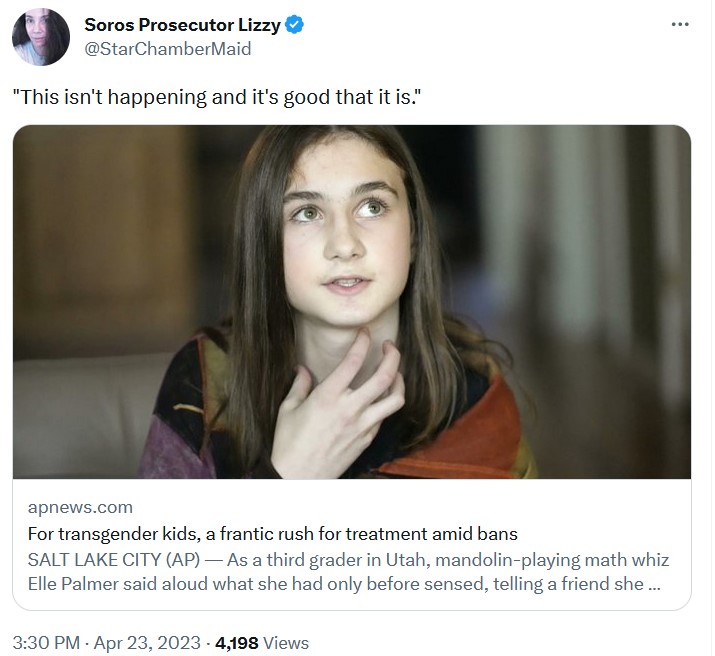 posted by Ace at
05:06 PM
|
Access Comments