« Horrifying: Medical Journal Article Recounts Tale of 18-Year-Old Boy Killed on the Operating Table in Quixotic Bid to "Become a Woman"
|
Main
|
Cell Phone Sympony Cafe »
April 25, 2023
Quick Hits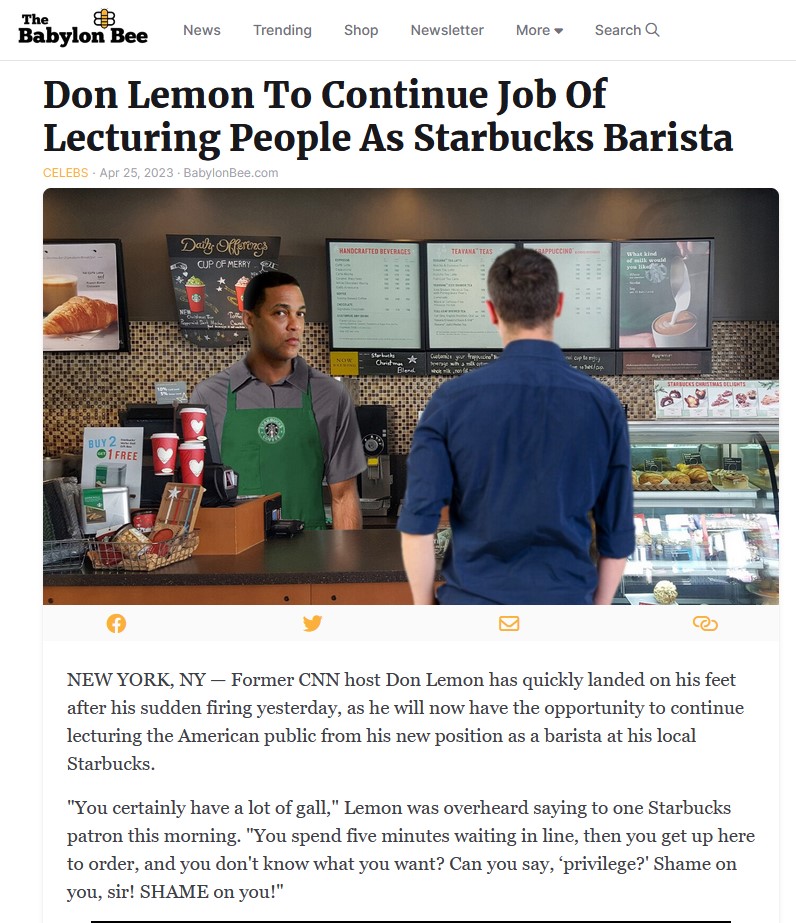 From the Bee, thanks to SMH.
Ooof: Supposedly Laura Ingraham has the "inside track" to replace Tucker Carlson at 8pm.
Yeah that's... that's not a thing, as the kids say.
According to two sources with the cable news network that spoke to 19FortyFive, Laura Ingraham has the inside track to replace Carlson at 8 pm.

While nothing is definitive right now, according to those sources, she is viewed as the best choice at the moment.
I imagine they'd then move the unfunny Gutfeld show to ten p.m., so he can preach the legalization of black tar heroin and how conservatives shouldn't boycott Bud Light because we're "The Fun Party."
Did you know that Nate Silver's election-prediction website is owned by Disney?
And also, that Disney is laying off 7000 people? (Thanks, DeSantis!)
Anyway, what do you think happened next?
Something wonderful, as Keir Dulea said in 2010: The year We Make Contact.
Nate Silver @NateSilver538

Disney layoffs have substantially impacted FiveThirtyEight. I am sad and disappointed to a degree that's kind of hard to express right now. We've been at Disney almost 10 years. My contract is up soon and I expect that I'll be leaving at the end of it.

I had been worried about an outcome like this and so have had some great initial conversations about opportunities elsewhere. Don't hesitate to get in touch. I am so proud of the work of FiveThirtyEight staff. It has never been easy. I'm so sorry to the people impacted by this.
The Ace of Spades Decision Desk is ready to project that Nate Silver has a 96.5% chance of continuing to Suck a Greasy Bum's D.
A judge has ruled that Hunter Biden must physically attend his baby-mama's court hearing. And apparently Hunter hasn't been hiding out at the White House -- no, instead he's been hiding out in the vineyards of a hyper-rich Democrat mega-donor.
Hunter Biden is hiding out at the $50 million vineyard owned by major Democrat donor Joe Kiani. Hunter Biden and his wife Melissa Cohen escaped for a getaway Friday at the vineyard. Kiani, a medical device company executive, is a major door to Joe Biden. The couple and their Secret Service detail arrived at the location, about three hours north of LA in Santa Barbara wine country in a four-car motorcade.

...

Thanks to his father, Hunter lives the good life.

Kiani has been very generous to Joe Biden and his family.

This weekend is far from the first time Kiani, the CEO of Orange County-based Masimo Corporation has helped out a Biden family member. He donated $750,000 to the pro-Biden Unite the Country PAC in 2020, part of nearly $3 million he reportedly bundled to the president's campaign, super PAC, and inaugural committee.

Kiani has also tried to boost the Bidens in other ways. According to emails and text messages from Hunter's abandoned laptop, Masimo offered a job in July 2018 to first niece Caroline Biden, which would have allowed her to serve out her probationary period in California after she racked up more than $100,000 in charges on a stolen credit card.

Instead, Caroline turned down the offer, sniffing to her father James -- Hunter's uncle and sometime business partner -- that the base salary of $85,000 was "below minimum wage in California after taxes ... I made more money every other year."

Caroline later messaged her cousin Hunter that she "didn't get the job" at Masimo, but was later "given an intern job at 31 years old because of your dad asking him [Kiani] to give me something even though I bombed it."

Days later, Caroline texted the now-first son that Joe Biden "told me he was done with me yesterday."

Arrogance and demand to live large seems to run in the family.

Meanwhile, a judge in Arkansas has lost patience with the serial vacationer, Hunter Biden. Just as Joe Biden officially announces his reelection campaign, Hunter's legal woes get more intense. Independence County Circuit Judge Holly Meyer ordered Hunter to be in the courtroom to attend a hearing on May 1 because his absence is ' interfering with the process of litigation.'

In other words: Hunter Biden is dodging subpoenas so I'm ordering him to appear in court where, of course, he can be served.

The Dow Jones loved Joe Biden's long-threatened reelection announcement by falling 189 points, which just proves we're living in a Miracle Economy the likes of which we will probably never see again (if we're lucky). Thanks to It's Me Donna.
Trump suggests -- or says; it's hard to tell because he bullshits so much -- that he won't take part in any Republican debates.
Deb Heine:
Former President Donald Trump indicated on Tuesday that he will not participate in any primary debates ahead of the party's 2024 nomination.

"I see that everybody is talking about the Republican Debates, but nobody got my approval, or the approval of the Trump Campaign, before announcing them," Trump wrote on his social media platform Truth Social. "When you're leading by seemingly insurmountable numbers, and you have hostile Networks with angry, TRUMP & MAGA hating anchors asking the 'questions,' why subject yourself to being libeled and abused?" he argued. "Also, the Second Debate is being held at the Reagan Library, the Chairman of which is, amazingly, Fred Ryan, Publisher of The Washington Post. NO!" he concluded.

The party out of power traditionally holds multiple debates during the presidential nomination process.

Well that's one way to draw a distinction between yourself and Hidin' Biden.
Jesse R. Binnall @jbinnall

As a Trump supporter, I badly want to watch him wipe the floor with the opposition at debates. But it cannot be moderated by corporate media stooges. There is one man, however, who all conservatives trust to moderate: @TuckerCarlson.
I accept! Not sure Trump will, though.
Speaking of Tucker Carlson: This Gabe Sherman article claims that Rupert Murdoch might have fired Tucker Carlson because of that great speech he gave at Heritage, which spoke of higher puposes and of God and Good vs. Evil, because "that spiritual talk" "freaks Rupert out."
A new theory has emerged. According to the source, Fox Corp. chair Rupert Murdoch removed Carlson over remarks Carlson made during a speech at the Heritage Foundation's 50th Anniversary gala on Friday night. Carlson laced his speech with religious overtones that even Murdoch found too extreme, the source, who was briefed on Murdoch's decision-making, said. Carlson told the Heritage audience that national politics has become a manichean battle between "good" and "evil." Carlson said that people advocating for transgender rights and DEI programs want to destroy America and they could not be persuaded with facts. "We should say that and stop engaging in these totally fraudulent debates...I've tried. That doesn't work," he said. The answer, Carlson suggested, was prayer. "I have concluded it might be worth taking just 10 minutes out of your busy schedule to say a prayer for the future, and I hope you will," he said. "That stuff freaks Rupert out. He doesn't like all the spiritual talk," the source said.
It also claims the firing may have been due to Murdoch's split with his ex-fiancee -- Tucker Carlson was her favorite show.
Rupert Murdoch was perhaps unnerved by Carlson's messianism because it echoed the end-times worldview of Murdoch's ex-fiancée Ann Lesley Smith, the source said. In my May cover story, I reported that Murdoch and Smith called off their two-week engagement because Smith had told people Carlson was "a messenger from God." Murdoch had seen Carlson and Smith discuss religion firsthand. In late March, Carlson had dinner at Murdoch's Bel Air vineyard with Murdoch and Smith, according to the source. During dinner, Smith pulled out a bible and started reading passages from the Book of Exodus, the source said. "Rupert just sat there and stared," the source said. A few days after the dinner, Murdoch and Smith called.
A friend who attended reports that one of her friends only thought the speech was good not great, but said that many other people had felt utterly transported by Tucker's speech.
These suggested reasons don't sound likely to me. But I think they show that Rupert Murdoch is a deeply secular and culturally liberal man who despises the faith of "The Deplorables." No wonder we're never allowed to win.

Leonardo DiCaprio testifies in court about Malaysian man who planned do (illegally) donate $30 million to Obama's campaign in 2012, in what is charged as an illegal influence operation.
Actor Leonardo DiCaprio told a Washington jury on Monday that Malaysian financier Jho Low revealed his plans to donate up to $30 million to help U.S. President Barack Obama's 2012 reelection campaign in what prosecutors allege was part of an illegal foreign influence operation.

"It was a casual conversation about what party he was in support of," DiCaprio said, telling jurors that Low said he planned on giving "a significant donation" to the Democratic Party that was "somewhere to the tune of $20-30 million."

"I basically said, 'Wow, that's a lot of money,'" DiCaprio added.

The "Titanic" star took the witness stand in the trial of Prakazrel "Pras" Michel of the Fugees hip-hop group, who faces criminal charges for his alleged role in a foreign influence campaign aimed at the administrations of Obama and Donald Trump.

Joe Biden says, "Now that's what I call good ol' Democrat politics."
Thanks to bonhomme.
From last week. I meant to post this earlier, but forgot to.
From AmBev:

"We communicated some next steps with our internal teams and wholesaler partners, we made it clear that the safety and welfare of our employees and our partners is our top priority."


Now who can argue with that? I think we're all indebted to AmBev for clearly stating what needed to be said. I'm particularly glad that these lovely children were here today to hear that speech. Not only was it authentic frontier gibberish, it expressed a courage little seen in this day and age.

Posted by: Tonypete
No, this wasn't an insurrection. They're leftists. They're allowed to disrupt legislatures. It's only criminal for Republicans.

How to Be An Anti-Racist:
Thanks to Ciampino.

posted by Ace at
06:10 PM
|
Access Comments