« Swimmer Riley Gaines Assaulted, Imprisoned, Ransomed by Leftist Trans Extremist Terrorists Encouraged by The Regime
Update: Obama Defends Tennessee Insurrectionists
|
Main
|
DeSantis' Stalker and Serial Accuser Rebekah Jones: Ron DeSantis Kidnapped My Child! »
April 07, 2023
Biden Junta Releases Report on His Bloody Afghanistan Bungling The Day Before Most of DC Goes On Vacation;
NSC Spokesliar Claims It's Not About "Accountability," But Also, It's All Trump's Fault
Before getting to this, it's worth pointing out that this "after-action report" just coincidentally repeats the spin that Biden established in August 2021, after his disastrous withdrawal.
On that day, before any "after-action report" was even begun, he declared it was all Trump's fault.
And, by wildest of coincidences, it turns out that's what this corrupt Pentagon has concluded after almost two years of research: The demented mental-patient and r@pist had it right when he made up an excuse just minutes after 13 American soldiers were detonated due to his incompetence.
In a speech on Monday, President Joe Biden blamed his predecessor, Donald Trump, and the Afghan people, for his administration's botched withdrawal of U.S. troops from Afghanistan and the rapid takeover of the country's capital by Taliban forces.
Wow, what a genius! Biden had all the answers in his Brilliant Brain that it took Pentagon researchers 18 months to figure out!
Never forget that Biden ran his Basement Zoom Campaign on the promise that, unlike that Wicked Trump, he would always take responsibility for his failures, and never seek to blame others:

This wasn't just a one-off-- this was a central promise of his Fake Zoom Campaign.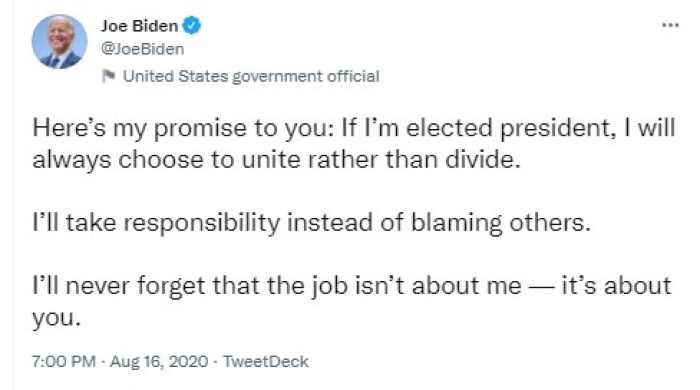 The following month, in a rare interview with 60 Minutes, a neutral and adversarial press outlet (LOL), Biden lied for the third time:
"I know what the job takes. I sat for hundreds of hours in the situation room. For eight years, I was vice president in every major decision. I know how difficult the job is.

"And one more thing I'll do: I'll take responsibility. I'll acknowledge my mistakes when I make them, and I'll level with the American people."
After the Very Fortified Election, Biden repeated the promise again:
"As I said to you on other interviews, I will take responsibility. When I fail, I will acknowledge it, and I will not deny that I made a mistake."
I think it's fair to say that that promise, like Adam Kinzinger's anal virginity, is no longer operative.
The Administration lie-splains that there's no accountability for Biden's decisions in the report, because it's not about "accountability," it's an "after-action report" which is just about getting the facts right.
But weirdly, it repeatedly blames Trump.
I guess this "after-action report" can assign blame.
So why is the man who actually oversaw the murderous chaos of the withdrawal never blamed once?
The White House on Thursday released its review of President Biden's fumbled withdrawal from Afghanistan in 2021, dropping the long-awaited report days before the Easter holiday while former President Donald Trump's indictment dominates headlines.

In a 12-page outline, Biden officials defend the president's decision to withdraw, calling his decision to end the two decades-long war "the right thing for the country." The report does not appear to acknowledge any mistakes made by Biden. However, the document repeatedly criticizes the Trump administration for constraining the conditions of American evacuation, during which 13 American soldiers died in a suicide bombing while protecting the Kabul airport.

The review does acknowledge that the evacuation of Americans and allies from Afghanistan should have started sooner, but blames the delays on the Afghan government and military, and on U.S. military and intelligence community assessments.

"President Biden's choices for how to execute a withdrawal from Afghanistan were severely constrained by conditions created by his predecessor," the document states.

For one CBS reporter -- incredibly-- this was all too much.
CBS White House correspondent Ed O'Keefe put the screws to retired Admiral John Kirby during a Thursday briefing, pressing him on the administration's decision to release a long-awaited assessment of the chaotic Afghanistan withdrawal just before a holiday weekend.

Kirby, who is currently serving as the strategic communications coordinator for the National Security Council, claimed that the timing of the report was coincidental and that the multiple agencies that had worked to compile the report had just happened to get it together at this specific time.

Noting that the information had been requested months earlier, O'Keefe pointed out that reporters had only received it 10 minutes before the briefing that preceded the Easter holiday. "Why today? Is this all we get? Is this a response to the studies that were done by the agencies or is this considered a summary?" he asked, calling the move "the very definition of a modern major holiday news dump."

...

O'Keefe continued to press, however, noting that according to the administration's assessment, President Biden had "received and accepted the unanimous advice of his top national security officials to end the evacuation on August 31."

"What is the definition of a top national security official, because we know for example General McKenzie, who was then head of CentCom, said he objected to aspects of this," O'Keefe asked.
<
Peter Doocy demanded to know "who's being fired over this," to which Kirby replied that this report, which repeatedly blames Trump, isn't about assigning blame.

I don't believe "accountability is coming," but he did lie.

posted by Ace at
01:00 PM
|
Access Comments