« Race2Dinner "Hostesses:" The House of White Womanhood Rests Upon a Foundation of Doing Things Well
|
Main
|
Quizzical Puppy Cafe »
December 05, 2022
Quick Hits
Semi-permanent CNN and MSNBC guest host Michael Avenatti has been sentenced to fourteen years for, if I understand this right, being "almost too presidential."

Twitter told the FEC that none of its decision makers communicated with the Biden campaign about the Hunter Biden story.
I'm sure the Justice Department is preparing charging documents at this very moment.
Glenn Greenwald has a good thread responding to the media's attempt to downplay the Twitter Files revelation.
He makes a point that rebuts something I said on Friday. On Friday, I got pissed at Taibbi for saying there was "no government involvement" in the Hunter Biden laptop story. Greenwald notes that many leftwingers pick up on this quote, and says that they all misinterpreted it, as did I (by implication):
He says Taibbi is saying that while the claimed justification for censoring the story was foreign hacks and document dumps, there was "no government involvement" that he could detect in the leak of the story. And so, he was referring to the leak of the story, not to "no government involvement" in the decision to censor the story.
I don't know if that's correct, but it seems important enough to point out.
Commenter Seldom says this about Breitbart's claims about the Legacy Media Protection Act, which I adopted as my own:
67 I actually read the bill in question. I don't think it does what Brietbart says it does. It allows Digital Publishers to negotiate as a bloc with Content Providers who provide access the publishers materials. The target for this bill isn't Twitter, it's Google. This is a shot at Google Scholar, News, and Books, all of which bypass paywalls. Twitter does not. (I don't know about Facebook.)

To the best of my knowledge, Twitter doesn't (as a corporate entity) directly redistribute Publisher content. Publishers and private individuals do that when they post. Musk has talked about some sort of paywall bypass, and this would allow publishers to negotiate that as a bloc with Twitter if he went forward with that.

This would also explain why Jim Jordan is against it, as he is (allegedly) a wholly owned Google subsidiary.
Posted by: Seldom
Well, I guess we'll have to see. The Breitbart article is not about what the law says it will do, but what it actually will do and what it does not prevent this new Authorized Monopoly from doing by explicitly forbidding it.
But let me point out this much: We, actual conservatives, have been screaming that we are being abused by social media monopolies for ten years. Establishment corporatist pricks like McConnell have told us to piss up a rope for ten fucking years, telling us that "private corporations can do whatever they want," and the government must not ever interfere.
Now gigantic leftwing media corporations which do everything they can to destroy the Republican Party and the American Way of Life say that they are being abused by the social media monopolies' use of their copyrighted material, and now, does McConnell say, "private corporations can do whatever they please, go piss up a rope"?
No. Now he says, "Oh, you gigantic corporations are being abused? Let me pass a law that creates a special exemption for you so that you can band together as a monopoly without triggering anti-trust laws so that you can fight the monopoly predations of the social media monopolies."
So apparently it is possible to get some relief from government if you're being abused by social media monopolies from Bitch McConnell: You just have to be gigantic legacy media corporations valued at trillions of dollars in aggregate, and you have to oppose the Republican Party with every fiber of your being.
If you're like me, or you, or Breitbart, or Libs of TikTok, or Babylon Bee, or Stephen Crowder: Well all of us can piss up a rope, because private corporations can do whatever they want.
Do you understand, now, Plebes? Sometimes the Free Market "needs a little help" and in those cases, Mitch McConnell will ride to the rescue and help the Free Market with a New Law that will help some of his Behemoth Corporate Friends against some of his other Behemoth Corporate Friends.
But other times, as when people who don't have money are being abused by all of his Behemoth Corporate Friends colluding together, then the Free Market is working absolutely perfectly and just as the God of Economics intended, and in that case, you can go piss up a rope.
So, the lesson is, if you want something from the GOP Establishment: You should either become rich, become a corporation, or just become a Democrat, because they're the only people the GOPe is interested in doing favors for. It's easiest to just become a Democrat.
So that's what I'm thinking I'm going to do. Why fight for a party that literally hates me?
CNN: "Some want you to think" that Twitter's censorship of the Hunter Biden story "was Big Tech censorship."

Yoel Roth says he decided to ban Trump from Twitter due to the "trauma" that Twitter employees -- "front-line censorship officers," in other words -- experienced covering January 6.
The media NPCs had one coordinated response to Matt Taibbi on Friday night: He was "doing PR" for "the world's richest man." A huge number of NPCs repeated this software update.
Greenwald points out that the bulk of the NPCs repeating the "Taibbi is just doing PR for the world's richest man" meme... are themselves just doing PR for the CIA and FBI and DOJ.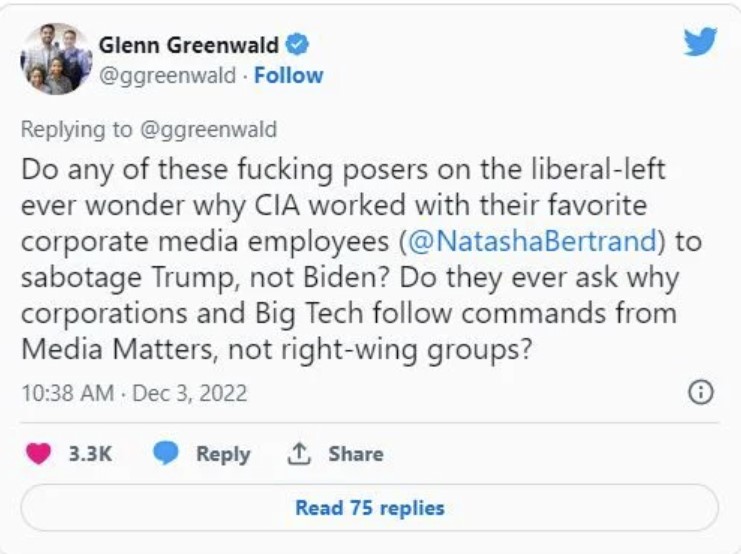 The typing game program is available here. I have not downloaded it and cannot vouch for it or tell you it's not a hard-drive wiping virus.

posted by Ace at
06:46 PM
|
Access Comments