« Elon Musk Fired the Top Four Censors at Twitter "For Cause," Denying Them a Combined $122 M in Golden Parachute Payouts;
He Might Force The Thousands of No-Account Lefty Blue-Ticks to Pay $20 Per Month To Keep Their Verification
|
Main
|
The Reporters Who Covered Fetterman Knew He Was Mentally Crippled -- But Covered For Him.
What Penalty Will They Suffer for That? »
October 31, 2022
The Intercept: Government -- the FBI, In Particular -- Is Pressuring Social Media Platforms to Push Official US Propaganda on Origins of Covid and Even the Afghanistan Withdrawal, and Censor Anything that Contradicts It
After a pressure session, one Microsoft executive texted the Department of Homeland Security: "Platforms have got to get comfortable with gov't."
Fired Twitter lawyer Vijaya Gadde met monthly with the DHS to discuss how she could better act as a government censor.
Lee Fang at the Intercept.
THE DEPARTMENT OF HOMELAND SECURITY is quietly broadening its efforts to curb speech it considers dangerous, an investigation by The Intercept has found. Years of internal DHS memos, emails, and documents -- obtained via leaks and an ongoing lawsuit, as well as public documents -- illustrate an expansive effort by the agency to influence tech platforms.


...

Behind closed doors, and through pressure on private platforms, the U.S. government has used its power to try to shape online discourse. According to meeting minutes and other records appended to a lawsuit filed by Missouri Attorney General Eric Schmitt, a Republican who is also running for Senate, discussions have ranged from the scale and scope of government intervention in online discourse to the mechanics of streamlining takedown requests for false or intentionally misleading information.

Key Takeaways

Though DHS shuttered its controversial Disinformation Governance Board, a strategic document reveals the underlying work is ongoing.

DHS plans to target inaccurate information on "the origins of the COVID-19 pandemic and the efficacy of COVID-19 vaccines, racial justice, U.S. withdrawal from Afghanistan, and the nature of U.S. support to Ukraine."

Facebook created a special portal for DHS and government partners to report disinformation directly.

"Platforms have got to get comfortable with gov't. It's really interesting how hesitant they remain," Microsoft executive Matt Masterson, a former DHS official, texted Jen Easterly, a DHS director, in February.

In a March meeting, Laura Dehmlow, an FBI official, warned that the threat of subversive information on social media could undermine support for the U.S. government.
We can't have people losing faith in the government. When the government is acting incompetently and corruptly is when it is most crucial that people maintain faith in their government.
Otherwise they might start demanding fundamental change!
Dehmlow, according to notes of the discussion attended by senior executives from Twitter and JPMorgan Chase, stressed that "we need a media infrastructure that is held accountable."
The government needs to hold the media accountable.
This is fine.
And I suppose President Trump in his second term will also have this power, right?
This woman must be fired. Half of the FBI must be fired, and the CIA, NSA, and DOJ too.
...

There is also a formalized process for government officials to directly flag content on Facebook or Instagram and request that it be throttled or suppressed through a special Facebook portal that requires a government or law enforcement email to use. At the time of writing, the "content request system" at facebook.com/xtakedowns/login is still live. DHS and Meta, the parent company of Facebook, did not respond to a request for comment. The FBI declined to comment.
There, that's it. Game over.
Meanwhile, Conservative, Inc., almost all on the payroll either directly or indirectly of Monster Tech, continues defending them or remaining stone-silent about this massive government-corporate conspiracy to end the First Amendment.
They've got bean-shaped pools with infinity edges to put in their backyards. They're not here to fight for anyone's constitutional rights.
...

DHS's mission to fight disinformation, stemming from concerns around Russian influence in the 2016 presidential election, began taking shape during the 2020 election and over efforts to shape discussions around vaccine policy during the coronavirus pandemic. Documents collected by The Intercept from a variety of sources, including current officials and publicly available reports, reveal the evolution of more active measures by DHS.

According to a draft copy of DHS's Quadrennial Homeland Security Review, DHS's capstone report outlining the department's strategy and priorities in the coming years, the department plans to target "inaccurate information" on a wide range of topics, including "the origins of the COVID-19 pandemic and the efficacy of COVID-19 vaccines, racial justice, U.S. withdrawal from Afghanistan, and the nature of U.S. support to Ukraine."

"The challenge is particularly acute in marginalized communities," the report states, "which are often the targets of false or misleading information, such as false information on voting procedures targeting people of color."

The inclusion of the 2021 U.S. withdrawal from Afghanistan is particularly noteworthy, given that House Republicans, should they take the majority in the midterms, have vowed to investigate. "This makes Benghazi look like a much smaller issue," said Rep. Mike Johnson, R-La., a member of the Armed Services Committee, adding that finding answers "will be a top priority."

How disinformation is defined by the government has not been clearly articulated, and the inherently subjective nature of what constitutes disinformation provides a broad opening for DHS officials to make politically motivated determinations about what constitutes dangerous speech.
Understatement of the century.
The inherently subjective nature of what constitutes disinformation provides a broad opening for DHS officials to make politically motivated determinations about what constitutes dangerous speech.

DHS justifies these goals -- which have expanded far beyond its original purview on foreign threats to encompass disinformation originating domestically -- by claiming that terrorist threats can be "exacerbated by misinformation and disinformation spread online." But the laudable goal of protecting Americans from danger has often been used to conceal political maneuvering. In 2004, for instance, DHS officials faced pressure from the George W. Bush administration to heighten the national threat level for terrorism, in a bid to influence voters prior to the election, according to former DHS Secretary Tom Ridge. U.S. officials have routinely lied about an array of issues, from the causes of its wars in Vietnam and Iraq to their more recent obfuscation around the role of the National Institutes of Health in funding the Wuhan Institute of Virology's coronavirus research.
Intercept gonna Intercept. They also include DeSantis' "Stop WOKE Act" as part of this government "censorship."
Chalk it up to the Mission: Impossible of convincing rabid lefties that government censorship is bad.
You can't convince them of that, because censorship is now a holy sacrament in the Church of Transnational Socialism.

Note that Greenwald quit the Intercept because... they were censoring him in the outfit he started because he was offering Non-State Approved reportage.
The extent to which the DHS initiatives affect Americans' daily social feeds is unclear. During the 2020 election, the government flagged numerous posts as suspicious, many of which were then taken down, documents cited in the Missouri attorney general's lawsuit disclosed. And a 2021 report by the Election Integrity Partnership at Stanford University found that of nearly 4,800 flagged items, technology platforms took action on 35 percent -- either removing, labeling, or soft-blocking speech, meaning the users were only able to view content after bypassing a warning screen. The research was done "in consultation with CISA," the Cybersecurity and Infrastructure Security Agency.

Prior to the 2020 election, tech companies including Twitter, Facebook, Reddit, Discord, Wikipedia, Microsoft, LinkedIn, and Verizon Media met on a monthly basis with the FBI, CISA, and other government representatives. According to NBC News, the meetings were part of an initiative, still ongoing, between the private sector and government to discuss how firms would handle misinformation during the election.
Note the CISA began in 2018 as a small group monitoring foreign disinformation.
Biden has transformed it into the censorship coordinating clearinghouse of the US, repressing the speech of US citizens.
...

Under President Joe Biden, the shifting focus on disinformation has continued. In January 2021, CISA replaced the Countering Foreign Influence Task force with the "Misinformation, Disinformation and Malinformation" team, which was created "to promote more flexibility to focus on general MDM." By now, the scope of the effort had expanded beyond disinformation produced by foreign governments to include domestic versions. The MDM team, according to one CISA official quoted in the IG report, "counters all types of disinformation, to be responsive to current events."


...

Jen Easterly, Biden's appointed director of CISA, swiftly made it clear that she would continue to shift resources in the agency to combat the spread of dangerous forms of information on social media.


...

CISA has defended its burgeoning social media monitoring authorities, stating that "once CISA notified a social media platform of disinformation, the social media platform could independently decide whether to remove or modify the post." But, as documents revealed by the Missouri lawsuit show, CISA's goal is to make platforms more responsive to their suggestions.

In late February, Easterly texted with Matthew Masterson, a representative at Microsoft who formerly worked at CISA, that she is "trying to get us in a place where Fed can work with platforms to better understand mis/dis trends so relevant agencies can try to prebunk/debunk as useful."
Here's that Zero Hedge article on the growing transnational socialist global consortium to eradicate speech the transnational socialist globalists find "dangerous." I haven't read it yet, but Greenwald links it, so it's probably worth reading. (I'd planned to read it and excerpt it but this post is late as it is!)
Worth repeating: Every censorship regime in history has insisted it's not censoring speech, it's just protecting you from bad speech.
Lefties -- especially reporters -- are so un-educated they believe this is the first time in history that Perfect Excuse for Censorship has been offered! They think this is Gold! Finally, censorship is being done for the right and proper reasons!
Yes, that's what every censorship regime says. The Nazis said so too.
Greenwald again: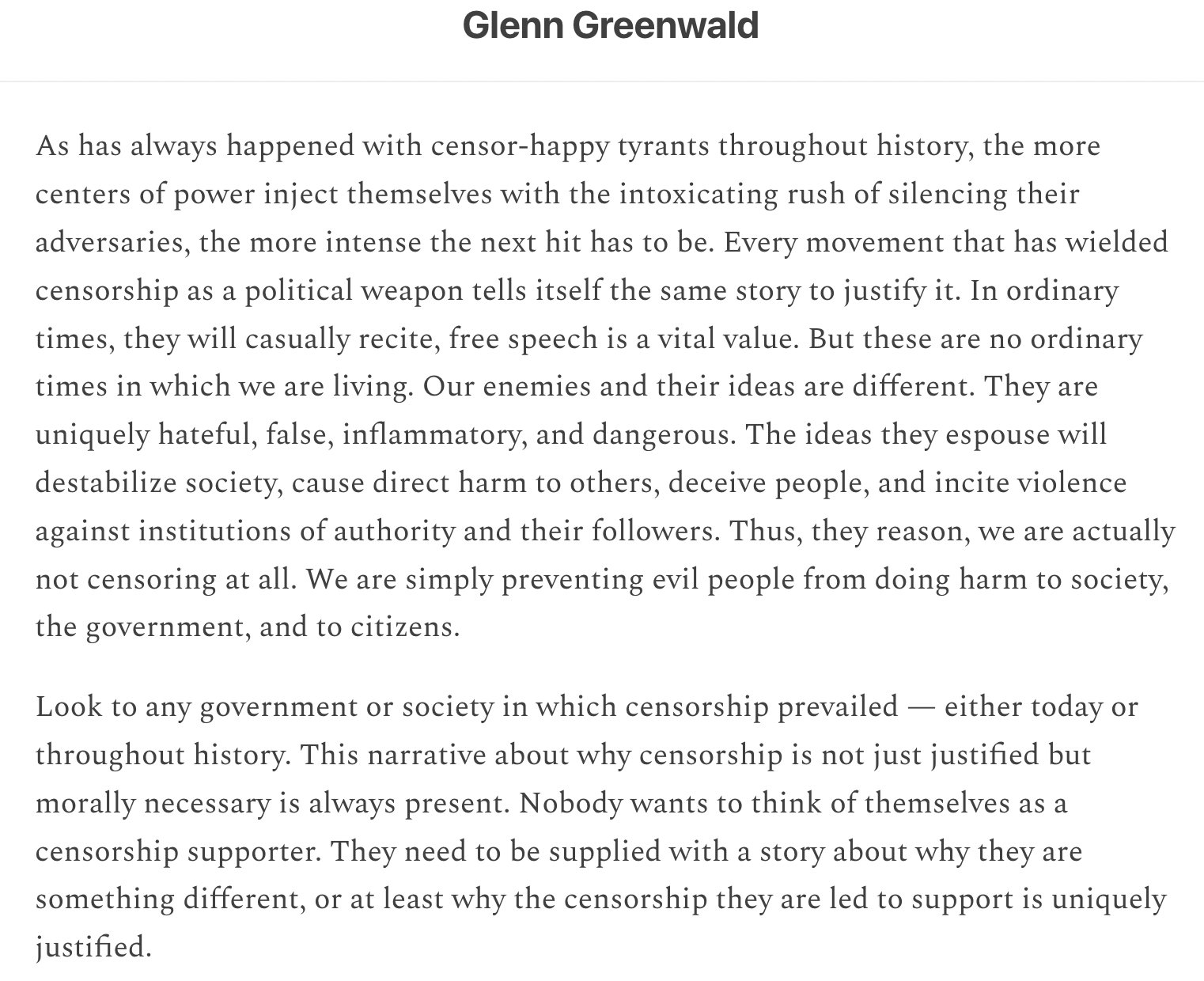 Every tyrant in history has said that his enemies were so subversive and dangerous that it was necessary to protect the public from their poisonous words by censoring them.
Stupid lefties, who collected degrees at college and never once opened a book, really think they're the first tyrants in history to ever face A Conspiracy So Vast filled with Enemies So Vile.
But don't you see? Our enemies really are so existentially threatening we have to reduce them to a state of peonage and serfdom! It's the only way they can be made to understand!
Don't you see -- We're the good guys! We're protecting you from Them!

posted by Ace at
01:26 PM
|
Access Comments