« The Intercept: Government -- the FBI, In Particular -- Is Pressuring Social Media Platforms to Push Official US Propaganda on Origins of Covid and Even the Afghanistan Withdrawal, and Censor Anything that Contradicts It
|
Main
|
Did Joe Biden Grope His Own Granddaughter? »
October 31, 2022
The Reporters Who Covered Fetterman Knew He Was Mentally Crippled -- But Covered For Him.
What Penalty Will They Suffer for That?
None, obviously. They did as their Regime handlers desired.
Before getting to that:
Hatari has begun writing Haiku about the Morbid Growth.
A lonely lump waits
It finds a neck to live on
Fetterman is born

Posted by: Hatari somewhere on Ventura Highway
I'll try my hand. (cracks Haiku-knuckles)
A white sun rises
over the fatty hummock
of Mt. Fetterneck
Of course, it's impossible to just write haikus only about the soaring white-head tipped peak of majestic Mt. Fetterneck. If you want to try your hand at haiku, feel free to explore the studio space about any topic you like.
The Zen koan of the Noted Philosopher Kamala Harris seem a fertile ground for poetical exploration.

Do you like circles?
Venn diagrams, overlapping
Two or three or more
This would be the first Haiku Open Tournament since, well, forever. Post your entries. I'll post a Best Of by Friday.
Don't worry about the number of syllables. Standard haikus are 5-7-5, I think, but we at Ace of Spades naturally compose our haiku first in Japanese, then translate back into English so that non-AOS readers can understand them, so naturally some might deviate from the 5-7-5 scheme.

In the first poll completed since the debate, Oz has taken a 2.7% lead over John Fetterman and His Morbid Growth.
In the latest InsiderAdvantage poll, Oz led Fetterman by 2.7% among likely voters with 47.5% support to 44.8%. That lead is just inside the survey's +/- 3.6% margin of error, making the race a statistical tie. Conducted Oct. 26 among 750 likely voters, the survey is the first to show Oz leading in the race and the first to feature a survey period exclusively following the debate.
And it's not just that poll. In all four polls taken since the debate, Oz is up:
InteractivePolls @IAPolls2022

Oct 30

PA: Doctor Oz leads John Fetterman in 4 Consecutive polls since the debate

@Peoples_Pundit

(R) Oz 48% (+2)
(D) Fetterman 46%

Coefficient
(R) Oz 48% (+3)
(D) Fetterman 45%

Insider Advantage
(R) Oz 48% (+3)
(D) Fetterman 45%

Wick Insights
(R) Oz 50% (+3)
(D) Fetterman 47%
Fetterman -- or Fetterman's Monster, to appease the pendants -- is getting desperate. He -- or, let's face it, his repulsive wife Madame Newark -- tweeted out this picture of Literal Violence.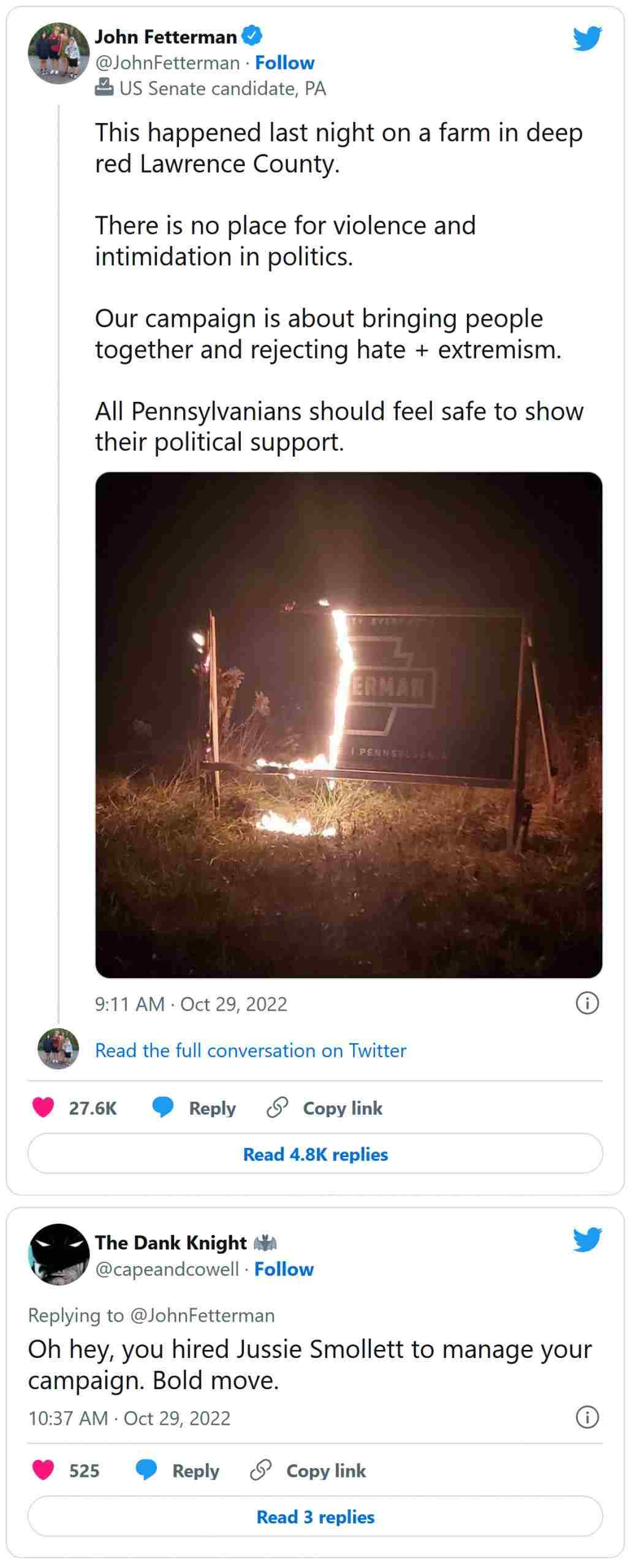 Who could have committed this Literal Violence on $1 sign?
Well, given that the fire is still burning -- barely; it's threatening to go out -- and given that this sign was burned "on a farm," meaning a place of low population density with very few pedestrians and passers-by -- there are only a few possible people who could have been so close to the sign as to have been able to snap a picture of it before the tiny fire went out.
Among those persons: The people who actually started the fire, of course.
Anyone know where the Lincoln Project was this weekend? Oh wait, it's Halloween; I imagine they were out scouting trick-or-treaters for "talent."

Back to the headline: Salena Zito wants some accountability for the "journalists" who take it as their job not to report the truth but to hide it.
That's literally almost every "journalist" in the propaganda media.
EXPORT, Pennsylvania -- For the first time in this election cycle, most of the people sitting around the restaurant bar casually watching the debate saw the depth of the effects of the stroke Lt. Gov. John Fetterman suffered in May when he began the debate Tuesday evening with a "good night" as his opening greeting.

It only got worse from there.

....

Many of those watching had no idea how bad Fetterman's health was, causing disbelief that no one had reported this sooner. And many were angry that Democrats and reporters knew all about it and said nothing.

...

And so the truth about John Fetterman's cognitive abilities remained buried, a secret, but a secret well-known to journalists with personal access to him since late July and to those who have observed him failing to comprehend anything his supporters say to him on the rope line.

They said and wrote nothing. The question is, why? Were they afraid they would receive the vicious cancel treatment and threats that Burns got? Were they afraid they would hurt the political team they were not-so-secretly rooting for? Either reason is a stain on the journalistic profession -- those culpable should really never again mock anyone who questions the honesty of the press.


...

In the minutes and hours after the debate, Twitter's reaction was very different from the voters' reaction in the state. Blue-check journalists, pundits, and Democrats were doing some serious contortions to tweet that there was nothing to see there -- Fetterman was fine, and Republicans are bad. The Philadelphia Inquirer even credited Fetterman with winning the debate.

Many of these same people have previously described Trump supporters as being part of a cult. But nothing is more cultish than to proclaim that nothing is wrong when clearly everything is wrong.
Read the whole thing.
Even Regime (Junior Varsity) mouthpiece Noah Rothman feels superior to the Regime shills who covered this up.
If there was any value in the debate, it was in the degree to which it exposed the duplicity of Fetterman's boosters. They think so little of you, and so highly of themselves, that they believed they could shape your perceptions of reality. At the very least, they could blackmail you into keeping your dissent to yourself. So many mortgaged their credibility in the pursuit of that crude objective. But last night, the bill came due.

After Fetterman's first full month absent from the campaign trail, it was obvious that something wasn't right. That impression was confirmed when the candidate's campaign released a doctor's note revealing that Fetterman's stroke was brought on by a previously undisclosed case of atrial fibrillation. But Fetterman also suffers from cardiomyopathy, for which he had a pacemaker and defibrillator implanted. The note produced more questions than answers, but the questions couldn't be asked. "It's almost ableist, you know?" said Gisele Fetterman when asked if her husband's health should be a campaign issue. To ask too many questions would risk "offending millions of Americans who have pacemakers."

Indeed, Republican groups had begun to leverage the candidate's absence from the trail. Even GOP Senatorial nominee Mehmet Oz "has decided to go there," wrote Politico in an effort to suggest the issue is beyond the pale. The implication was clear: To press too hard for details about the candidate's health concerns only served the GOP's interests. So those questions went unanswered.

We were warned again when a journalist committed the unforgivable professional sin of relating to her audience her observations about the candidate's health. When NBC reporter Dasha Burns was granted rare, intimate access to the candidate in October, she concluded that Fetterman's impairments were so significant that even assistive technology didn't help. She noted that "it wasn't clear he was understanding our conversation," and she was immediately body-checked by some of media's most prominent members and institutions.

The Associated Press, no less, published a report on the extent to which her "comment about Fetterman draws criticism," a reportorial endeavor that consisted almost exclusively of curating mean tweets. "This is just nonsense," podcaster and reporter Kara Swisher said of her colleague's observation. "Maybe this reporter is just bad at small talk." Fetterman's "comprehension is not at all impaired," insisted Rebecca Traister. She had only recently authored a confused profile of the candidate in which she alleged that his condition is simultaneously imperceptible, improving, and such a struggle that it has made Fetterman "even more familiar to voters." Worst of all, the AP reported, "the conservative website Townhall.com tweeted Burns' quote." You get the picture: Dig too deep, and you're only going to give the wrong people political ammunition. It worked.

...

To the members of the Philadelphia Inquirer's editorial board, Fetterman turned in a workmanlike performance. He "had zingers." He produced "mostly direct, thoughtful answers" even if his delivery was off. "He struggled, more than many were comfortable with," one editor allowed, "But that says more about us, than him." "Fetterman's style may be halting," New York Times editor Sheryl Gay Stolberg admitted, but "Everyone knew what he meant."

In a post-debate appearance on MSNBC, Traister gushed over Fetterman's "very fluent and direct response" to moderators' questions and his "really, really strong comebacks" to his opponent. "I definitely fumble on television," MSNBC host Alex Wagner interjected, as though what we witnessed last night was just nerves. "I mean, this happens," Traister agreed. The View's Sunny Hostin said, "It takes real bravery to allow people to see your weakness, right?" to the Pavlovian applause of an audience desperate for a plausible spin on this debacle. "And we know that Fetterman's cognitive abilities have not been compromised."

Indeed, if you set the bar low enough, you might say Fetterman won the debate by merely showing up. "Doing a nationally televised debate while recovering from a debilitating stroke is metal," New Yorker editor and author Jessica Winter opined. "The fact that he went up and did it is a testament in Fetterman's favor, and not a burden upon you, the viewer, because you're 'embarrassed' or whatever."
One reporter with some questions to answer is old leftwing hack Jonathan Alter's equally hackish daughter Charlotte. Before the debate, she worked hard to assure everyone that there was nothing -- nothing! -- wrong with Fetterman's brain, and any "flubs" you might hear him speak are probably just due to him having always been a poor debater who flubs words.
This, of course, was part-and-parcel with the Fetterman campaign's emergency Lower Expectations media push in the days before the debate.
Charlotte Alter @CharlotteAlter

Ahead of the Fetterman/Oz debate tonight, it's worth remembering a couple things:

1) Fetterman has never been a good debater. Even before the stroke, he has always been a somewhat wooden debater (see: PA primary debate, pre-stroke.) He's not Pete Buttigieg

2) Fetterman's vibe is "talks like a normal person," and normal people don't usually speak in fluent paragraphs memorized ahead of time and crafted for maximum political impact. So debates have never been his strong suit
Guys if he speaks ungrammatically and makes no sense that's just him "talking like a normal person," swearsies! Also, "he's no Bootyjudge!"
Charlotte Alter @CharlotteAlter

3) I expect Oz to do very very well tonight. TV has been his medium for years-- he's a natural. Fetterman thrives on social media and in person, Oz thrives on TV. A televised debate is playing on Oz's turf
Lowering Expectation for Fetterman, plus Raising Expectations for Oz.
She works for the Democrat Party. They don't sign her checks, but she works for them. Just like her fat scumbag sadsack father did.

Charlotte Alter
@CharlotteAlter
4) Everyone will be watching for Fetterman's stroke symptoms. I can tell you already what they are: he sometimes says the slightly wrong word, or conjugates something the wrong way. (ie: "understanding" instead of "understood.")

LOL. Yeah, that's the extent of it, huh?
For Dems, there will be some relief that he is not brain damaged. For Rs, his flubs will create fodder that they can spin into ads suggesting that he is worse off than he is.
How does she know that this portrays him as "worse than he is"? Is she a neurologist? Has she seen his medical records?
All "journalists" believe themselves to be experts in literally all fields known to mankind.
5) Take one of the least-natural debaters in the Dem party, give him auditory processing issues and a tendency to flub words, and that's Fetterman going into tonight. Up against a slick TV doc who has spent a decade in front of the camera. Gonna be an interesting night.
Once again, Lower Expectations for Fetterman, Raise them for Oz, while also insisting that any "flubs" he makes are actually normal for him, because he's "always" been a "bad debater" because he just "talks like a normal person.
Let's repeat those talking points again, for those who didn't get them the first three times:
Charlotte Alter @CharlotteAlter

I find that people who are just paying attention to #PASen now seem to think that before the stroke Fetterman was some masterful orator like Obama or Buttigieg. Couldn't be further from the truth. His strength has always been in his ability to talk like a normal person
And now, after the debate? Now she realizes she has to repair her reputation. Now she claims boy, was she surprised! And she continues insisting that Fetterman has always been so much sharper and more fluid in their (conveniently unrecorded) one-on-one talks!
Charlotte Alter @CharlotteAlter

I spoke to Fetterman recently, and I expected him to be very bad tonight. But he was much much worse than I expected (and much worse than in our one-on-one conversation.)

Charlotte Alter
@CharlotteAlter

My take all in one place:
1) Fetterman was already a very bad debater pre-stroke
2) I spoke to him recently, and his communication in our one-on-one conversation was much clearer than what we saw tonight
Lie, and then when your lie was exposed, claim you were merely wrong, but also, that you were secretly right all along -- in those one-on-one conversations that no one but you saw!
The painted-face Dragon Lady actually pulling the strings, Madame Newark proclaimed that John Fetterman's obvious brain damage was no different from someone who had light sensitivity requiring them to dim the screen of his cell-phone:
Stephen L. Miller @redsteeze

Severe cognitive brain damage is no different than turning on dark mode on your cell phone. So that's where they are at.

Because the Dragon Lady Madame Newark is the real candidate, the de facto candidate, we need to hear more from her. Enough of the 400 pound brain-damaged puppet. Let's hear from Madame Newark, the scheming, clout-thirsty Snooki behind Fetterman's brain-damaged The Situation.

posted by Ace at
02:42 PM
|
Access Comments