« THE MORNING RANT: Storm Clouds Are Converging Over America's Shipping and Transportation Industries
|
Main
|
The Intercept: Government -- the FBI, In Particular -- Is Pressuring Social Media Platforms to Push Official US Propaganda on Origins of Covid and Even the Afghanistan Withdrawal, and Censor Anything that Contradicts It »
October 31, 2022
Elon Musk Fired the Top Four Censors at Twitter "For Cause," Denying Them a Combined $122 M in Golden Parachute Payouts;
He Might Force The Thousands of No-Account Lefty Blue-Ticks to Pay $20 Per Month To Keep Their Verification
Elon Musk has dismissed four top executives at Twitter "for cause" in order to avoid having to pay them eight-figure severance packages, according to a report.

Immediately after completing the acquisition of Twitter on Thursday, Musk fired four top executives at the site -- CEO Parag Agrawal; CFO Ned Segal; Chief Legal Officer Vijaya Gadde; and General Counsel Sean Edgett.

Musk reportedly terminated the executives "for cause" -- which would void a clause in their contract that entitles them to payouts worth tens of millions of dollars in severance and unvested stock options, according to reports on Saturday by the New York Times and the Information.

The research firm Equilar told Reuters on Friday that Agrawal, Segal, and Gadde are in line to receive golden parachutes worth a total of some $122 million.

Equilar, which researches executive compensation, estimates that Agrawal's exit payout will total some $57.4 million while Segal will collect $44.5 million after his termination.

Gadde, who has become a lightning rod of controversy due to her reported role in aggressively policing Twitter's platform and banning users who run afoul of content moderation rules, is scheduled to receive a $20 million payout, according to Equilar.
Elon Musk's contract to purchase Twitter required that he pay the executives according to their existing contracts, including golden parachute provisions, but those contracts included nullifying those provisions if they were fired "for cause."
Did he have cause to fire them? Obviously they're all going to sue him. Does he have something that can withstand scrutiny in court?
He thinks he does -- he says the Twitter board defrauded the court in his own lawsuit against them.
I assume he believes the lawyers all assisted in this fraud.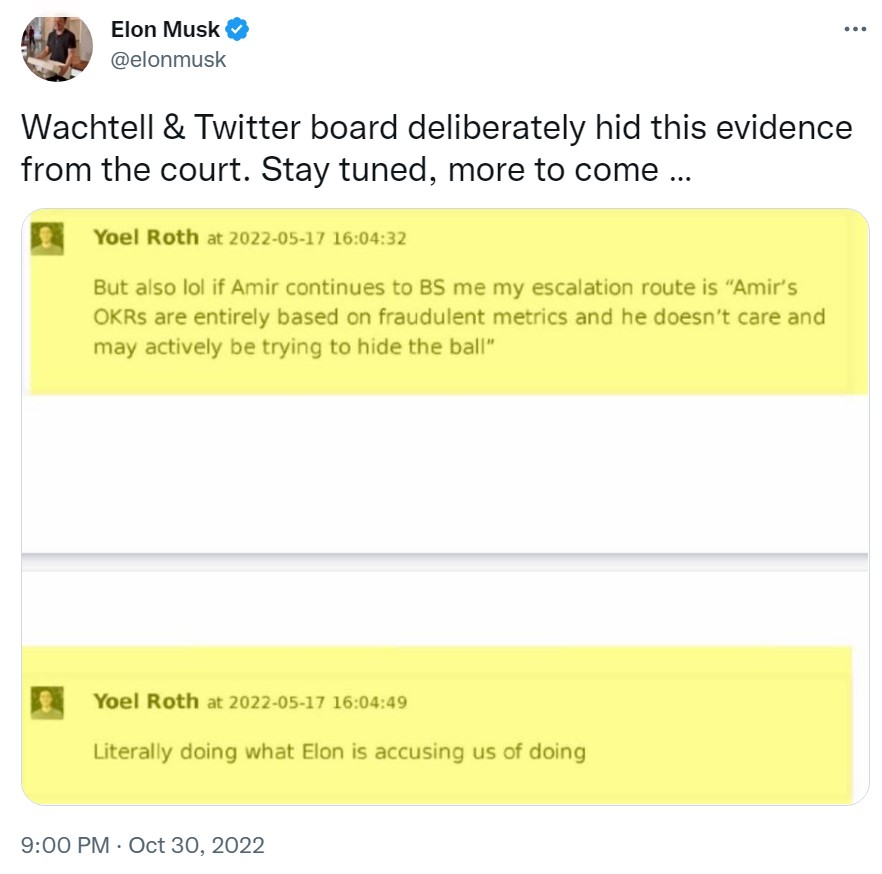 But is that "cause"? They will argue that even if they did do that, they were breaking the law for the benefit of Twitter and its shareholders, in which case they would not have been fired "for cause" by the previous regime. They screwed over the next owner, but not the last one (the shareholders), and they'd argue it's the last owner they had a fiduciary responsibility to. Even if they did commit a bit of Light Fraud on a Court to do so.
We'll see. Might be more of a leverage point to reduce the cost of a settlement than an earnest attempt to defeat their inevitable lawsuits.
Some claim that he's going to start laying off Twidiots today -- to deny them their year-end bonuses.
But he denies this, sadly.
Musk has also denied he has plays to lay off 75% of Twitter's staff, as reports claim.
New reports say he'll lay off 25% -- in the "first round" of layoffs.
He also told engineers to revamp the verification system -- which results in every leftwinger getting a blue check -- within 14 days or face firing.
He wants them to have that $20/month Blue-Tick Vanity Tax ready to roll out in two weeks.

As Deadline reports, he's going to squeeze the left for their cherished blue ticks.
Twitter is strongly considering charging verified users $19.99 per month to use Twitter Blue, according to reports in The Verge and Platformer, as Elon Musk seeks alternative ways of picking up more revenue.

According to the reports, which broke yesterday, Musk, who is expected to set out more layoffs this week, has tasked staff with updating Twitter Blue and quadrupling the subscription price from its current level of $4.99 per month. If staff fail to update by November 7, they could lose their roles, according to the reports.

Twitter Blue is a feature for verified users, those with a blue tick, that unlocks additional features. Under Musk's plan, these thousands of verified users would have 90 days to subscribe to the new version or lose their blue tick -- seen as a badge of honor in many professions.
The left is continuing to absolutely melt down.
This leftwinger -- who calls himself a "liberal" and who cries any time anyone suggests tightening Visa requirements for countries known to send terrorists to the US -- wants to "FOIA" Elon Musk's immigration papers to check for Chromatic Aberrations.