« Mid-Morning Art Thread
|
Main
|
Elon Musk Fired the Top Four Censors at Twitter "For Cause," Denying Them a Combined $122 M in Golden Parachute Payouts;
He Might Force The Thousands of No-Account Lefty Blue-Ticks to Pay $20 Per Month To Keep Their Verification »
October 31, 2022
THE MORNING RANT: Storm Clouds Are Converging Over America's Shipping and Transportation Industries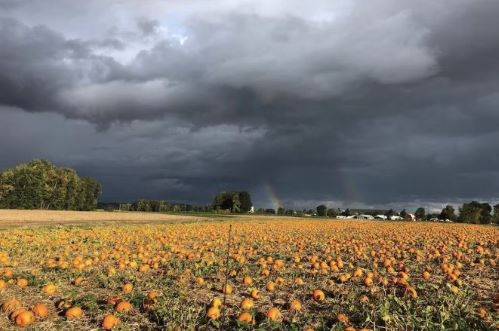 When competent leaders face a crisis or a natural disaster, they move quickly to mitigate the damage while hastening to bring about a return of functioning services and infrastructure. An example is Florida Governor Ron DeSantis' stewardship of the Hurricane Ian disaster response. Utilities, transportation, medical care, and provisions of life were quickly restored.
Where there is an absence of competence and leadership, one problem can ripple across the economy and become a catastrophic string of crises. If this happens when leftists are running the show, it's called "bad luck."
There is reason to fear that we are about to become very unlucky.
Specifically, the stars have lined up for there to be a catastrophic shipping and transport crisis in the very near future. I'm not predicting it, and I pray that it does not happen, but we are perilously close to having a massive reduction – or even suspension - of rail, trucking, and barge traffic, all occurring concurrently.
The Mississippi River and its tributaries are running low due to drought conditions. Unfortunately, that massive river system is also a highway system for barges carrying grain, fertilizers, and so much more.
Droughts happen, and a drought is certainly not the fault of the Biden administration*, but it is responsible if a breakdown in other domestic modes transportation prevent goods from being shipped when barges are not an option. [*Obviously, if there were a Republican president, the drought would be his fault for not supporting the elimination of fossil fuels, and for ignoring the advice of "experts" who recommended eco-communism to save Gaia.]
Drought and low river levels are crippling barge traffic and hurting grain exports [St. Louis Public Radio – 10/23/2022]
Months of drought are making the Mississippi River nearly unnavigable for barges, and that's creating problems for farmers looking to ship their harvest.

The slowdown on barge movement is taxing an already stressed supply chain.

"Trucks and trains might be an option for some farmers, but it is much more expensive, and those modes of transportation are already at or near capacity," Steenhoek said.
So, trucks and trains may be able to pick up a little of the slack for lost barge traffic? Well God forbid the trains stop running too.
Uh oh.
Threat of nationwide rail strike grows after 2nd union rejects labor deal
The vote by the Brotherhood of Railroad Signalmen, the second union to reject the White House-brokered deal, elevates the likelihood of a nationwide strike when a negotiation deadline arrives in November.

The potential work stoppage could paralyze the nation's supply chain and transportation rail service as the U.S. enters peak holiday season.
A shortage of baby formula was understandably a crisis for millions of parents. We are now talking about a shortage of everything!
At least we'll still have over-the-road shipping via tractor trailers, right?
Well, as Ace covered last week, there is just a 25-day cushion of refined diesel fuel, which is an historically low level. And with an administration that is actively hostile to petroleum products, there will not be any increases in refinery capacity to stop the erosion of diesel stocks.
American oil refineries shutter amid Biden's hostile fossil fuel policies, adding to pain at the pump [Fox Business – 4/28/2022
But government pressure to wean the country off of fossil fuels has made business difficult…

"Refineries are getting squeezed out of business because of stricter regulations from the Biden administration and the pressure by the government to reduce demand for gasoline."
Is DOOM imminent? No. Has the stage been set for a catastrophic breakdown in the supply chain that provides the staples of life? Absolutely.
Amidst this evolving crisis, we have a President who is clearly not in control of his faculties. It's almost comical that the Democrats are starting to coalesce around the idea that the person who can take the reins from Biden and lead this country out of our problems is…Pete Buttigieg, the Secretary of Transportation.
OK, we're doomed.
*****
Well, since we're on the topic, how about a little more DOOM?
Do you remember how the 2008 economic meltdown was fueled by too-big-to-fail investment banks crashing and burning. Are we going down that path again?
Credit Suisse is one of the largest banks in the world, currently more than double the size of Lehman Brothers when it failed in 2008, taking the entire economy down with it.
Credit Suisse Shares Tank As Capital Concerns Spark Reminders Of Lehman Brothers Failure: Here's What We Know [Forbes – 10/03/2022]
$1.47 trillion. That's how much assets Credit Suisse managed as of the end of the second quarter of 2022, compared to Lehman Brothers' over $600 billion in assets when it filed for bankruptcy September 15, 2008, plunging the stock market.

Making matter more difficult are a series of unverified reports linked to Credit Suisse sent social media into a frenzy over the weekend, with an unnamed large investor in the bank telling Fox Business reporter Charles Gasparino Saturday the bank is a "disaster" and ABC Australia reporter David Taylor tweeting a source told him a major investment bank was on the brink.
Credit Suisse stock crashed further last week, and over the weekend there was much more chatter about the fate of Credit Suisse.
Even if Credit Suisse doesn't implode, the European economy may crash all by itself, thanks to its net-zero energy policies which forced the continent to become dependent on Russian natural gas, because "renewable" energy turned out to be neither sufficient nor reliable. With Russian pipelines inoperable and wartime sanctions in place against Russia, Europe is facing a deadly winter with soaring energy costs and widespread blackouts.
Will the Energy Crisis Crush European Industry [Financial Times – 10/19/2022]
The future of Europe's gas-reliant chemicals industry — and in particular of BASF's Ludwigshafen site, the largest integrated chemical plant in the world — is deeply concerning for some industrialists.

Ludwigshafen is a key supplier to manufacturers of everything from cars to toothpaste and is the engine of Germany's chemicals sector. "If the German chemicals industry goes down, three weeks later every supply chain in Europe has a problem," says Cefic's Mensink.
The European leaders whose policies led to this nightmare scenario are the same people that America's ruling class admires and seeks to emulate.
We have got to democratically replace our leadership before they make a Depression in America as imminent as it is in Europe.
*****
Songs of the Season
It's Halloween!
Don't forget that you have an opportunity to start red-pilling your children tonight by discussing with them if they should pay a "candy tax" to you, even though they are the ones who went out and earned the candy.
Meanwhile down at the cemetery there should be a party going on, perhaps even a little Rockin' In The Graveyard
Have a fun Halloween!
(buck.throckmorton at protonmail dot com)


posted by Buck Throckmorton at
11:00 AM
|
Access Comments