« Loving Liberals of Martha's Vineyard Force Illegal Aliens on Bus to be Concentrated at a Camp Run by the Military
Update: The Illegals Are Thanking DeSantis For Busing them to Martha's Vineyard
|
Main
|
Quick Hits »
September 16, 2022
Return of the Libs of TikTok
LibsofTikTok is back, and she's making threats against Twitter: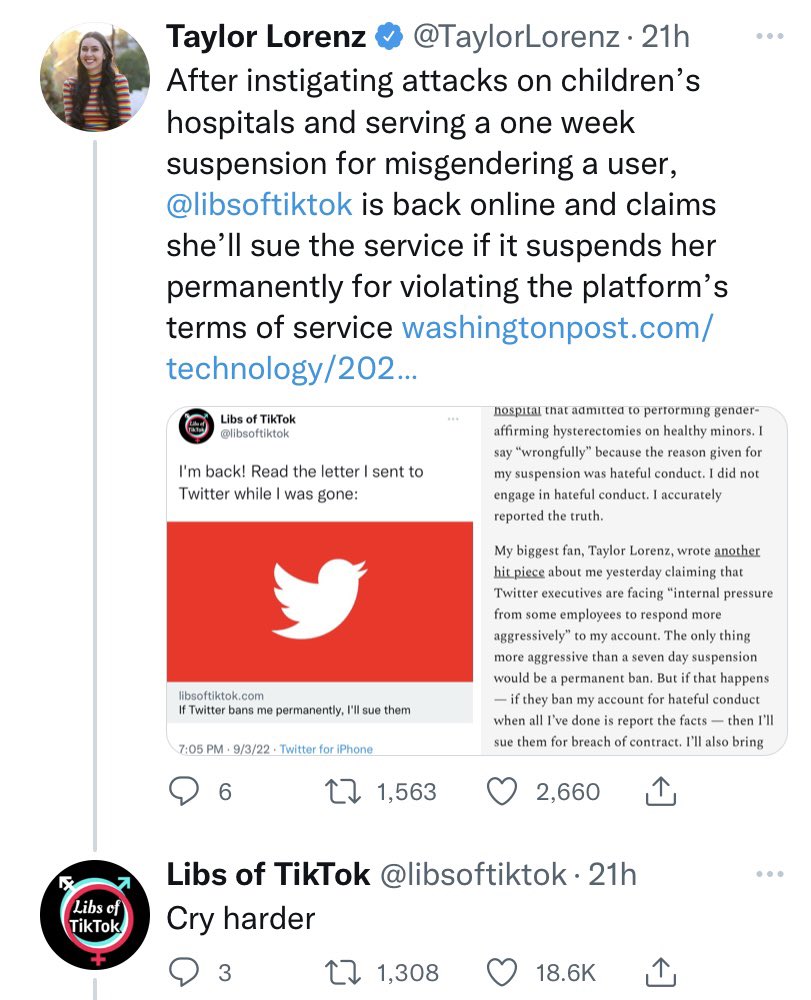 Last week, I was wrongfully suspended from Twitter for seven days after I exposed a hospital that admitted to performing gender-affirming hysterectomies on healthy minors. I say "wrongfully" because the reason given for my suspension was hateful conduct. I did not engage in hateful conduct. I accurately reported the truth.

My biggest fan, Taylor Lorenz, wrote another hit piece about me yesterday claiming that Twitter executives are facing "internal pressure from some employees to respond more aggressively" to my account. The only thing more aggressive than a seven day suspension would be a permanent ban. But if that happens -- if they ban my account for hateful conduct when all I've done is report the facts -- then I'll sue them for breach of contract. I'll also bring claims under California state law and the California Constitution.
It would be just swell if Conservative, Inc. would cover Monopoly Tech Censorship every once in a while, but they're too busy cashing their checks, aren't they?
The letter she wrote to Twitter is at the link.

Taxpayers are being forced to pay for the loans of lazy layabout gender studies "students," who pissed away their money taking classes from demented sexually-bent rodents like this.
Allow frogself to introduce... frogself.
Pediatrician whose license should be yanked: Puberty blockers should be taken just to give kids a "pause" in their puberty while they "explore your gender identity." She says they should be taken very early -- after puberty has started, but "not too far along." Then you can go on to hormone replacements (that is, cross-gender hormones) starting at... "fifteen or so."
A Gender Butcher surgeon admits that none of the children he mutilates will ever have a satisfactory sex life. I mean, this is obvious, but once again, this is something that isn't mentioned in the Gender Journeys brochure, now is it?
At a recent talk at Duke University on "Trans & Gender Diverse Policies, Care, Practices, & Wellbeing," surgeon and "trans affirming" doctor Marci Bowers, who transitioned at the age of 38, admitted that children who undergo transition before puberty will never have adult sexual function or experience orgasm.

"An observation that I had," said Bowers, "every single child who was, or adolescent, who was truly blocked at Tanner stage 2," which is the beginning of physical development, when hormones begin their work of advancing a child to adulthood, "has never experienced orgasm. I mean, it's really about zero."

This raises huge and glaring red flags about the concept of "informed consent" for children and teens who are ushered into transition. How can a child, or a pre-teen, who has never experienced sexual satisfaction, orgasm, sexual intimacy, consent to giving that up?
This is a huge "duh" but I bet it's not discussed, partly because parents are, if you can believe this, reluctant to talk about their kids having sex or even worse, having orgasms.
So kids get chopped without them or their parents ever learning that they will never actually have a sex life.
And by the way: the whole reason kids are pressured to go on hormones early is for reasons of being "sexy." They think that if they can transition early, they'll wind up looking more like the gender they want to pretend to be and get more dates.
So something being done for purposes of having sex ends up with a lack of any kind of enjoyment from sex.
Again: Not in the brochure.
The man admitting this, Dr. "Marci" Bowers, is himself a genderbender, and was in Matt Walsh's What Is a Woman documentary. He brags of having clipped the testicles from 2000 boys, and performed vagioplasties on children as young as 16.
This black girl with "species dysphoria" who claims she is a human but has the "soul of a wolf" is one of the least mentally-ill people on Libs of TikTok today. I mean, at least she says she is "overall, human" but "just enjoys connecting to my animal identity." Like, she's still mostly in contact with reality. She seems to understand she's LARPing.
Remember the medical student who seems to have deliberately harmed a patient, repeatedly sticking him with a needle to hurt him, because he scoffed at the pronouns on her badge? She's been awarded the highest award Wake Forest Medical School can give out, so she has her pick of residencies. They're actively rewarding ghouls who hurt their patients for Social Justice.
Her name is Kychelle Del Rosario. Avoid her and any hospital which puts her on staff.
There's nothing sexual or technically "obscene" about this clip. However, what it shows is such a disturbing portrait of madness that I'm offering a warning. A tranny dressed as a particularly repulsive, lunatic clown. It's nightmare fuel, guys.
A butcher poses smiling with the girl she just mutilated. Content warning. It's repulsive.
Rep. Marjorie Taylor Greene @RepMTG

This child is not old enough to vote, buy cigarettes, or watch an R rated movie, but they let her choose to have them cut her breast off.

My Protect Children's Innocence Act will stop this.
She links this before-and-after picture, which I offer a Disturbing Content warning for. It's also, frankly, nudity of an underaged girl's chest, but we're supposed to pretend it's a boy's chest now that she has two gruesome black slits where her breasts used to be.
A 31 year old Dutch man has won the right to play football with -- and use the locker rooms with -- teenaged girls, and he says it's "the best gift I could get."
Well... yeah. We know.
A 31-year-old Dutch male-to-female transgender celebrated being allowed to play football with a group of teenage girls and use their changing room by saying it was "the best gift I could get."

Yes, really.

A report by Dutch news outlet VRPO reveals the 'struggles' Marjolein Schepers underwent trying to comply with rules set by the Royal Football Association (KNVB).

However, after being given a new passport that certified the biological male to be a woman, Schepers was then able to register as a woman with the KNVB.

After initially encountering difficulties with his hometown team in Westerbork, Schepers traveled 200 kilometers to join up with a team of teenage girls in Lisse, with Schepers proclaiming it to be, "The best time of my life."

"I was finally accepted by my teammates. I joined in," said Schepers, adding that the ability to use the same dressing room as the young girls was "the best gift I could get."

However, Schepers was subsequently suspended from playing by the KNVB due to him being significantly older than teams comprising of players under the age of 20.

"I'm 31 years old, but I don't feel that way. I'm full of hormones, and I feel like a 15-year-old girl," said Marjolein. "The KNVB is afraid that I am too strong to play with and against young girls. That is not the case, and you cannot judge that from a chair in Zeist."

Marjolein insisted that the KNVB should come and watch him in a training session to reassure them.

"You will see that the happiest girl in the world is playing a nice game of football with her team," said Marjolein.

Aside from the moral and sexual problems with a 31-year-old biological male using the same changing room as a bunch of teenage girls, Schepers clearly enjoys a physical advantage over the other players he will come up against.

Paul Joseph Watson got that from a Netherlands public broadcasting site called VPRO.nl. I checked wikipedia, and it's a real news site.
I thought he must have gotten juked by one of the many European fake news sites, but, as far as I can tell, this is real.

I don't think this is mentioned in your "Gender Journeys" brochure:
Libs of TikTok @libsoftiktok

According to some statistics, the rate of urethral complications after phalloplasty surgery is over 50%. They do this surgery on adolescents.
Black and Brown Hate Tweets @BlkandBrwnHate

Nothing to see here folks.

Just a vehemently anti-white, racist article on a .gov website at the
@NIH
This just in from Libs of TikTok: In Ontario, a trans teacher is wearing ludicrously oversized fake breasts to teach children.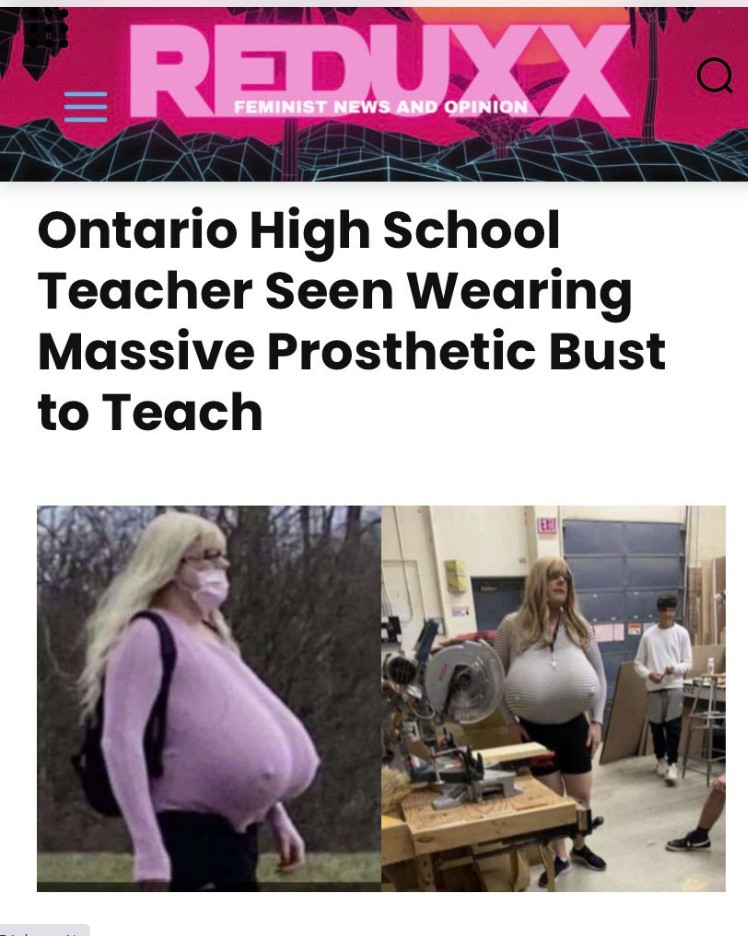 Multiple photos and videos have surfaced of the same individual instructing young students, and in all of them he is wearing the oversized bust.

The media has been confirmed as originating from Oakville Trafalgar High School in Oakville, Ontario.

The man seen in the photos and videos is a Manufacturing Technology instructor who allegedly began identifying as a woman last year. The teacher now goes by the name Kayla Lemieux.


"The kids here most definitely don't think its normal... but realistically we can't say anything," one student said on Twitter, "Last year, the teacher was a man. I don't think the school can fire him."
We're not groomerssss! There'sssss nothing sssexual about thisss at all!
It'sss just our culture!!!
Two large Blessings of Liberty (TM), David French just emailed me to say.
The next step is that the trans lobbyists and assorted "gay allies" will begin saying that actual women sometimes have large breasts, so what's the difference, bigot!??!!
Kimberly Guilfoyle has big breasts and sometimes shows a little cleavage! There's literally no difference, Haters!!!

posted by Ace at
05:25 PM
|
Access Comments