« Mid-Morning Art Thread
|
Main
|
Joe Scarborough Brings On the Perfect Pitchman to Vouch for the Integrity of the FBI »
August 15, 2022
The Morning Rant: About Those Georgia Elections
Stacey Abrams – Election Denier
You've certainly noticed how the partisan left-wing media keeps demanding that Republicans running for any race – local, state, or national - acknowledge that Joe Biden was elected fair and square with no fraud, and that if the Republican states otherwise, he is smeared with the conspiracy label "Election Denier."
Can we co-opt that stupid term and turn it back on the media like we did "fake news"?
As you'll recall, the term "fake news" was originally a smear used by the media against conservatives who used social media to share stories that the liberal media was trying to embargo. Donald Trump brilliantly hijacked that term and started using it against the media until they had to add it to their list of banned words, because people thought of CNN first when they heard the term "fake news."
Let's do that to "Election Denier." And let's start with Stacey Abrams. This is from just a week ago.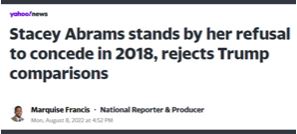 Stacey Abrams is still talking about how her 2018 gubernatorial election was stolen from her, and she still won't concede.
No conservative pundit, politician, or partisan should ever refer to Stacey Abrams again as anything but "election denier Stacey Abrams."
No Republican being asked to confirm the integrity of the 2020 election should answer with anything but a demand that the questioner acknowledge that Stacey Abrams is an election denier.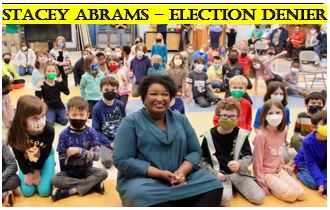 Hillary and every other Democrat who've claimed that the 2000 and 2016 elections were stolen should also be labeled "election deniers" whenever they are spoken of.
Oh, look who else is an election denier – President Biden's Press Secretary!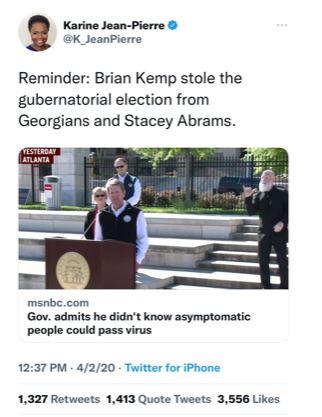 Election denier Karine Jean-Pierre is roundly mocked for the awful job she is doing as Press Secretary, but shouldn't we also be discussing how having an election denier as the President's spokesperson is a Threat To Democracy™ too?
*****
Erick Erickson Smearing MAGA While Trying To Re-elect Raphael Warnock
Erick Erickson captures two infuriating GOPe talking points in this petulant tweet, in which he assigns the blame for passage of the Build Inflation Higher legislation (or whatever it was called) on MAGA Republicans, whom he blames for the loss of both Georgia Senate seats.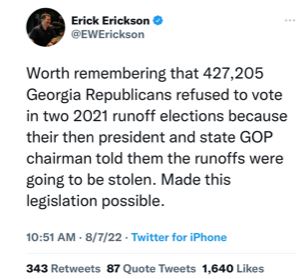 As you'll recall, Georgia's #NeverTrump GOP establishment decided to effectively condone the Fulton County Democrats' ballot fraud in November 2020, in order to spite Trump and his supporters. As a result, a great many conservative voters in Georgia decided not to bother even trying to beat the ballot fraud in the runoffs. They also felt no desire to reward that same establishment by voting for its two awful senate candidates in the two runoff elections. Those two Republican candidates were Veruca "I want a senate seat nowwww" Loeffler, and David "I spent most of my career outsourcing jobs" Perdue.
So, what are the two infuriating establishment Republican talking points that Erickson is pushing?
First off, there is the "just one more Republican Senator" fallacy. The legislation passed 51-50 with Kamala breaking the tie. "If only there was one more Republican Senator we could have blocked it…", right? How does any educated person who follows politics still fall for this?
It wasn't one vote shy. There were at least half a dozen GOP Senators (probably more) who would have enthusiastically voted for it if their vote was needed, because their true constituency is Washington DC, not the people who elected them. Sure, those Senators preferred to cast the safe "against" vote, which they did, but someone among the Collins/Romney/Murkowski/Cornyn crowd would have eagerly stepped up for Biden if needed. Even if there were 55 GOP Senators, enough would have ultimately defected to ensure that Biden and the swamp got some version of Build Brandon Better to pass by one vote. And we'd still be hearing how the Republicans needed just one more Senator to defeat it.
Second, have you noticed how the Ericksons of the world blame the MAGA voters for not turning out to vote when a GOP establishment candidate loses. But when a MAGA type gets the nomination and "polite Republicans" like Erickson refuse to vote for those candidates, who gets the blame for defeat? Well of course, MAGA conservatives still get the blame, because they shouldn't have nominated someone that Erickson and his cronies won't vote for.
By the way, we have that situation right now in Georgia. Herschel Walker is beloved by MAGA Republicans and hated by the establishment. So is Erickson trying to get polite Republicans out to vote for Herschel? No, of course not. He's trying to sabotage Herschel's campaign.
"Everyone acknowledges the problems," says conservative radio host Erick Erickson. "They're curled up in the fetal position trying to make sense of it all, cling[ing] to 'the national environment's so bad he can get across the finish line.' "

The party in the White House historically fares poorly during the midterms, and Republicans are anticipating a red wave this fall as President Biden's approval ratings keep sinking, the pandemic lingers and inflation persists.

But Erickson is skeptical the national climate will be enough to buoy Walker. "Candidates matter," Erickson says. "A lot of people look at the national dynamics and think that matters most. Candidates matter more than a lot of people think."
If Raphael Warnock is returned to the Senate, it's because Erick Erickson and his ilk prefer radical leftists like Warnock over conservative Republicans like Herschel, and they are doing all they can to ensure Warnock's re-election.
(buck.throckmorton at protonmail dot com)

posted by Buck Throckmorton at
11:00 AM
|
Access Comments