« With Democrat Party Having Turned On Him, Biden "Gets Tough" By Signing Illegal Executive Order On Abortion
Very Special Bonus Content: "Repeat the Line"
|
Main
|
What The Hell Is Wrong With Millennial Nurses? »
July 08, 2022
Covid Reporter Alex Berenson Returns to Twitter After Settling Lawsuit Against It;
Free Beacon Reports That FaceBook's Source for "Fact" Checks About the Biden Administration Is... the Claims of the Flacks and Hacks of the Biden Administration
Journalist Alex Berenson has settled his suit against Twitter and his reinstated after a year of being banned.
Berenson can't say much about the lawsuit, due to the usual NDA, but he did allude to the "pressure" the government may have applied to Twitter to coerce them into banning him.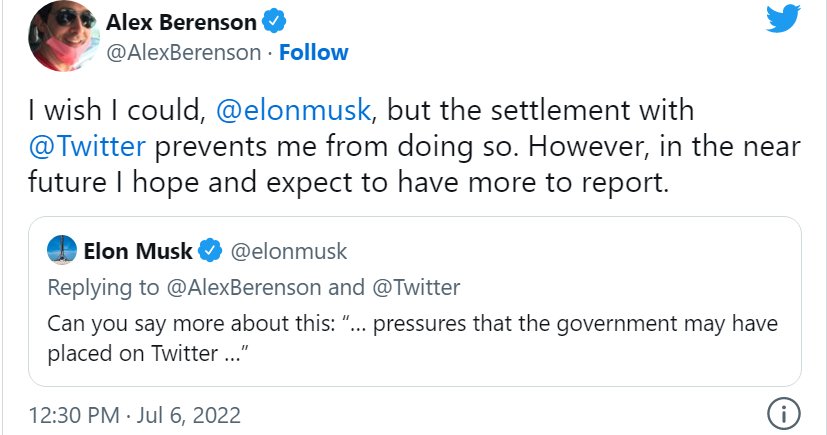 He can't talk right now, but Ian Haworth of the Free Beacon talked to a FaceBook engineer about how FaceBook deliberately skews its algorithm to spike conservative news.
And apparently at the behest of the Biden Administration, whose claims it was using as the "facts" it was "checking" against.
What Biden says is the "fact;" any critic who disputes him is guilty of pushing "misinformation." That is the rule at FaceBook.
It took just hours after a Washington Free Beacon report on a Biden administration plan to distribute crack pipes to drug addicts at taxpayer expense for the Facebook fact-checkers to mobilize.

In a "fact check" titled "Biden Administration Is NOT Funding 'Crack Pipes, Heroin' For Drug Use," Lead Stories--a prominent member of Facebook's third-party fact-checking program--concluded the Free Beacon report was "not true." Lead Stories based its determination on Health and Human Services Secretary Xavier Becerra's declaration, made days after the report elicited considerable blowback, that as Lead Stories phrased it, "none of the federal funds for harm reduction programs for drug addicts can be used to provide crack pipes."


"While a description of the HHS grants stated that the grantees would be required to buy materials like safe smoking kits and supplies to 'enhance harm reduction efforts,' such kits and supplies are just a few of the many materials that grantees can utilize," Lead Stories added. The fact-checking system at Facebook, which I saw first hand during my time as a software engineer on Facebook's "Misinformation" fact-checking team between 2019 and 2021, hands monumental power to supposedly nonpartisan fact-checking organizations to quash legitimate news.

According to the original Free Beacon report, President Joe Biden's Department of Health and Human Services planned to implement a $30 million grant program that included the distribution of "safe smoking kits" to drug addicts. A spokesman for the administration told the Free Beacon that these "safe smoking kits" would--like many other similar existing kits across the nation--include pipes for the use of "any illicit substance." Another Facebook fact-checker, AFP Fact Check, also concluded the "U.S. grant program is not funding crack pipes for addicts."

As a result of this wave of fact-checking activity, Facebook posts linking to the Free Beacon report were tagged as "Partly False," thereby "significantly" reducing the "content's distribution so that fewer people see it," according to Facebook's own fact-checking policy.


The Free Beacon tried to fight the decision, but complaints fell on deaf ears. Lead Stories editor in chief Alan Duke insisted he had no responsibility to contact the Free Beacon before making a determination, which relied exclusively on the word of Biden administration officials. That's right: Lead Stories diminished the story's distribution on Facebook based on the word of Biden administration officials whose policies were suddenly under scrutiny.

"Your fact check on Lead Stories led to our highly trafficked piece being removed from Facebook. Is there a reason you didn't bother reaching out to our reporter or anybody at the Free Beacon?" the Free Beacon's executive editor, Brent Scher, asked Duke.

"Your article may be 'highly trafficked' but it is also highly false," Duke, a former CNN reporter, responded. "Please let us know when you have updated it with the correct information, as shared in our article."


Duke, whose Twitter profile describes him as a "Facebook fact-checker," added that his duties required him only to contact government spokesmen--not the Free Beacon.
Still waiting for any word from National Review or AEI or any of the other grifter organizations on Big Tech's payroll to state whether they believe that corporations should be "free to be pressured by the government so long as the government in question is leftwing."
Because that seems to be their position. They literally never object to this, ever.

posted by Ace at
02:01 PM
|
Access Comments