« Wednesday Morning Rant [Joe Mannix]
|
Main
|
Biden Threatens Oil Companies That He Will Punish Them If They Don't Start Producing More Oil, As His Policies Have Made It Impossible For Them to Do »
June 15, 2022
GOP Flips a Texas House Seat from Blue to Red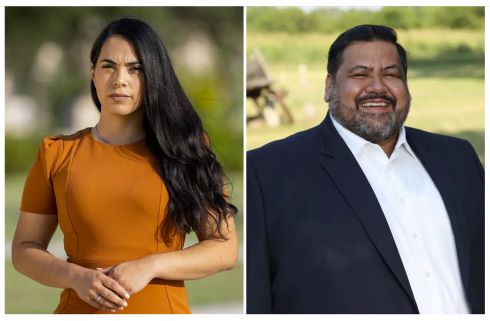 Mayra Flores defeated Dan Sanchez
to win the special election in the Texas 34th district
Spoiler alert: The one who doesn't look like a
bookie's leg-breaker won.

Texas held a special election to fill the 34th congressional district, which had been vacated by U.S. Rep. Filemon Vela, who left to work for a lobbying group.
The rules of the special election were that all candidates would run in a "jungle primary" with the top two facing each other in a later runoff, unless one candidate got 50% or more of the vote.
Flores, who had 51% of the vote to Democratic candidate Dan Sanchez' 43% when The Associated Press called the race, will become the first Mexican-born congresswoman to serve in the House. Her family moved to the United States when she was 6 years old.

Flores will finish out the remainder of Vela's term, which expires in January, and Republicans were eager to win the seat and gain new ground in the Lone Star state to represent the district that spans east of San Antonio with parts along the coast to Brownsville. As currently drawn, the 34th Congressional District will essentially be dissolved later this year after a newly redrawn map favoring current 15th Congressional District Rep. Vicente Gonzalez, the Democratic nominee for November's general election to represent the 34th District, was constructed.
Dan Sanchez ran as supposedly pro-life, but still got big
In the South Carolina primaries, Nancy Mace, who condemned Trump after January 6th but did not vote for his impeachment, survived a challenge from the Trump-endorsed Katie Arrington. Meanwhile, Tom Rice, who voted for impeachment, lost.

posted by Ace at
12:12 PM
|
Access Comments