« GOP Flips a Texas House Seat from Blue to Red
|
Main
|
Megyn Kelly Rips Fox For Putting Pro-Trans Propaganda on the Air: "Dangerous" and "Irresponsible" »
June 15, 2022
Biden Threatens Oil Companies That He Will Punish Them If They Don't Start Producing More Oil, As His Policies Have Made It Impossible For Them to Do
An incompetent tyrant is threatening his political enemies with "emergency powers."
Say, NeverTrump -- you championed Biden because he was going to stop Trump's purported authoritarianism and Restore Our Norms, right?
Again, I'm not knocking civilians who are NeverTrump, but the NeverTrump political class, who must be stripped of any future influence. You do not get to fail this badly and keep your phoney-baloney jobs, all the while claiming you're the "Smart People" who "Really Understand Politics" and while denigrating those "Uncouth Hobbits" who know nothing at all.
They're paid to get things right about politics. They have been flagrantly wrong about everything for six years running now (and, someone might say, for more like 30 years.)
But of course, they'll keep their jobs: There is no penalty for consistently catastrophic failure in Washington, DC. Quite the opposite, in fact!
"President Biden may resort to using emergency powers if American oil companies don't increase output at their refineries, the president told oil CEOs in a series of letters Wednesday.

Biden's statement blames oil companies for running "historically high profit margins" even as Americans experience surging gas prices. Biden has recently faced criticism for a lack of executive action aimed at curbing inflation.

"There is no question that Vladimir Putin is principally responsible for the intense financial pain the American people and their families are bearing," Biden wrote. "But amid a war that has raised gasoline prices more than $1.70 per gallon, historically high refinery profit margins are worsening that pain."

"Your companies and others have an opportunity to take immediate actions to increase the supply of gasoline, diesel and other refined product you are producing," he continued. "My administration is prepared to use all reasonable and appropriate Federal Government tools and emergency authorities to increase refinery capacity and output in the near term, and to ensure that every region of this country is appropriately supplied."

What kind of vague, Putin-like emergency powers does he have in mind?
Well, we don't know. But this should give us a sense of what he has in store: one of his leftwing allies in the Senate, Ron Wyden -- say, NeverTrump, didn't you swear and affirm that Biden was a centrist and a moderate? -- is proposing a 21% surtax on oil profits. To be rammed through on a party line vote.
Oil companies that record a profit margin better than 10% would face a new federal surtax under a plan developed by a key senator, as Democrats and the White House struggle to curb US energy costs and broader inflation.

The proposal by Senator Ron Wyden, an Oregon Democrat who chairs the tax-writing Finance Committee, would mean oil companies face federal taxes of as much as 42% on profits considered excessive -- the 21% US corporate tax plus a new 21% surtax, according to two people briefed on the proposal.

Wyden has yet to release his plan publicly, and he'd likely need all 50 Senate Democrats to support it in order to pass the surtax over Republican opposition. He's among several Democratic lawmakers, including Senator Sheldon Whitehouse and Representative Peter DeFazio, who have discussed targeting what they consider excessive oil company profits.

The idea has caught the attention of top Biden aides in recent weeks, as they search for any and all ideas to tackle rising energy costs.

"We're not ruling that out of consideration. We've made that clear," Bharat Ramamurti, deputy director of the National Economic Council, told Bloomberg TV's "Balance of Power with David Westin."
Or would there even be a vote? Manchin won't vote for that. Perhaps he means for Biden to use his "emergency powers" to impose that by Angry Fiat.
Biden suspends oil and gas leasing in slew of executive actions on climate change

Emma Newburger

President Joe Biden on Wednesday signed a series of executive orders that prioritize climate change across all levels of government and put the U.S. on track to curb planet-warming carbon emissions.

Biden's orders direct the secretary of the Interior Department to halt new oil and natural gas leases on public lands and waters, and begin a thorough review of existing permits for fossil fuel development.

The series of actions kick off the president's agenda to reduce the country's emissions and establish stricter targets under the Paris climate accord.

As recently reported by the Financial Times ,Via Twitchy, Biden just found out that when he burned the US's domestic production capacity down, it was easier to shut down than to put back online.
As US petrol prices scale record highs, with the cost of a gallon of fuel surpassing $5 for the first time, Joe Biden has pleaded with the country's oil producers to open the taps and stem the surge.

But those calls -- a stark departure for a president who vowed to crack down on fossil fuels -- have largely gone unheeded as the industry insists its drilling spree days are behind it.

"When the White House started calling around in a panic, they thought shale oil production could grow sharply in the near term -- like in a matter of months or quarters," said Bob McNally, head of consultancy Rapidan Energy.

"They were shocked to learn that that's like asking for blood from a stone. It's almost impossible."
"Shocked to learn."
They'll also be packing him carefully in an egg-crate and carting his fragile ass to Saudi Arabia to beg the sheiks to pump more oil, too.
Say, anyone 'member what the viciously propagandistic fake news press said when Trump said that he wasn't going to burn down his relationship with a necessary country like Saudi Arabia over the death of a foreign spy?
They crucified him. They demanded that he make Saudi Arabia a pariah.
You will not be shocked to discover that the same viciously propagandistic fake news press is now saying Biden is doing the right thing by kissing up to Saudi Arabia -- after all, they are a necessary country. You just can't treat them as a pariah, you know.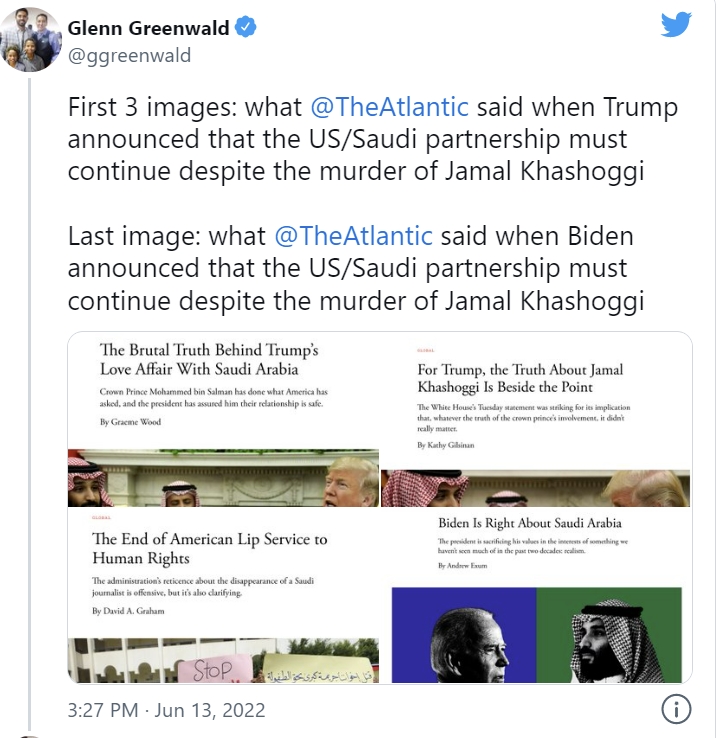 How quickly the feigned Sacred Values of the paid liars of the pampered press dissolve when the political fortunes of the Democrat Party are at stake!

Much more press and Democrat (but I repeat myself anew) hypocrisy at the thread.
The Democrats are very firm against drilling for oil.
Until they get into trouble. Then they begin making tyrannical threats against oil companies for not drilling enough.

posted by Ace at
01:02 PM
|
Access Comments