« EMT 4-17-22
|
Main
|
What Are We To Do? A Fine Question »
April 17, 2022
Sunday Morning Book Thread - 04-17-2022 ["Perfessor" Squirrel]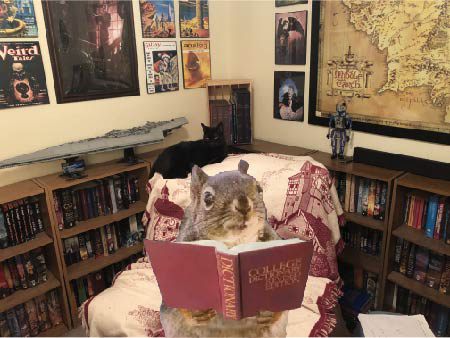 (Yes, it's a repeat. There's a method to my madness...)
Good morning, Horde! Welcome to the prestigious, internationally acclaimed, stately, and illustrious Sunday Morning Book Thread! The place where all readers are welcome, regardless of whatever guilty pleasure we feel like reading. Here is where we can discuss, argue, bicker, quibble, consider, debate, confabulate, converse, and jaw about our latest fancy in reading material, even if it's nothing more than the Gospels of Matthew, Mark, Luke, and John. As always, pants are required, unless you are wearing these pants...
So relax, find yourself a warm kitty (or warm puppy--I won't judge) to curl up in your lap, scarf down that chocolate bunny rabbit, and crack open a new book. What are YOU reading this fine morning?
NOTE ON COMMENTS:
As a general rule on specialty threads (Book, Pet, Gun, Food, Gardening, etc.), please keep comments mostly relevant to the specialty of that thread. Comments that are simply about the events of the day don't really belong here. At the very least, a good rule of thumb is to obey the "100 comment" rule, where all comments should be relevant to the specialty subject until after 100 comments or so. Thank you.
Now on to the Cadbury creamy goodness of the Sunday Morning Book Thread! Today's entry will be a bit longer than usual, so please bear with me!
"PERFESSOR" SQUIRREL SPEAKS OUT!
Happy Easter! Today is the day when Christians around the world celebrate the death and resurrection of our Lord and Savior, Jesus Christ. For believers, it's a concrete demonstration of Christ conquering both sin and death, not just for Himself, but for all mankind. Quite an achievement. He is the subject of one of the most powerful and influential books of all time, the Bible.
Today I wanted to do something a little different. This is my ninth entry in the esteemed Sunday Morning Book Thread. When I took over this column, for lack of a better word, I was very nervous. Trying to maintain the standard that OregonMuse (RIP) set is an intimidating challenge, to say the least. I am very fortunate that I've had the support of Weasel and CBD. Between them, they have helped me figure out how Minx 0.7 Alpha (Pixy's blog engine) works. It's revolutionary 1990s technology! (We are all still waiting for the upgrade to Minx 0.8 Alpha...#twoweeks...)
I'm also exceedingly blessed to have all of you reading this scruffy little corner of Ace of Spades HQ. Y'all tune in every week because you are at least as passionate about books and reading as I am. It's humbling to realize just how much of a reach this blog has. Even though we have our "core" group of commenters here, we also have uncounted readers and lurkers who tune in, day in and day out, because they view this blog as a major source of news, information, and yes, even entertainment.
Taking over this space has been a true blessing for many reasons. It's very satisfying to continue the work of OregonMuse (RIP). I want nothing more than to honor his memory by providing quality content in this space. That's why I am continuing some of his key features, but I also want to try and make this space a reflection of my own thinking. So don't be surprised if I try something out from time to time. Also, I encourage any and all of you to recommend ideas for this space! This isn't "my" blog content. It's "OUR" content!
I am also fortunate to have been contacted by authors who are eager to share their works with all of you. Some, like Gary Rafferty, author of Nothing Left to Give are new authors who have extraordinary stories to share about their personal experiences. Others, like Sarah A. Hoyt, are the authors of dozens of books. (See below!) Being able to connect with you personally via email just adds one more dimension to my blog-authoring activities.
Writing this column on a weekly basis is more complicated than you might expect. I have even more mad respect for all of the COBs and the head Ewok himself, Ace, for what they have to do to write and prepare content for this blog. So today I'm going to give you a peek behind the scenes on what it takes to compile the Sunday Morning Book Thread...This is inspired in part by a comment (on a non-Book Thread) that was posted a few weeks ago:
The inimitable cobs will never tell us how they compose their content, because if they did, everyone would just make their own content and traffic at the HQ would suffer, bigly....

Posted by: Zettai at March 28, 2022 11:06 PM (jkG9/)

Well, Zettai, if you are reading this, prepare to have your illusions shattered, my friend!
Every Sunday Morning Book Thread starts from a Google Doc. I go through the comments each week to cull recommendations and interesting comments that may be useful for next week's entry. I also take note of links that may be relevant or interesting, as well as jot any additional notes that may be helpful in compiling the Sunday Morning Book Thread.
Then I usually go searching for the images I need, such as pictures of libraries, pants, guilty pleasures, and a humorous meme or cartoon. I also have to tweak my "closing squirrel" image by adding a relevant book and the pimp hat as needed.
Once I have my resources and assets gathered, it's time to write the content. I compose my content in straight HTML using the Atom editing tool (it's free!). I really like this editor because it color-codes all of the HTML and also makes sure tags are closed correctly. I test out the content in a web browser to make sure things are lined up properly and that all of the links work. Once that is done, I have to strip out some of the HTML prior to publication (Pixy's blog-engine is weird that way).
The final step is to post the draft in Pixy's blog engine (Minx 0.7 Alpha). This involves feeding the hamsters hobo steaks and Valu-Rite. I also have to upload the images and do some final tweaking on the content. Then on Sunday morning, I publish the content at 9:00 a.m. Eastern time (I'm in Central time).
Each entry consists of a several different sections. Not every section will be posted every week, but I try to open with a library pic and close with Moron Recommendations. Between 2-3 additional sections make up the middle. I keep track of what sections have been posted each week in a Google Sheet. (I may have issues with Google, but I admit their Google Apps are VERY user-friendly and handy. Office365 is just horrible by comparison.). In particular, I have to track the Books by Morons to plan ahead, sometimes several weeks at a time. I post those on a first come, first serve basis unless there is some other reason not to.
Let's look at what goes into some of these sections...
PIC NOTE
Pictures of libraries are easy enough to find on the internet. But I would truly love to have more pictures of Moron libraries, like the one dedicated to Sherlock Holmes we saw last week.
IT PAYS TO INCREASE YOUR WORD POWER / TROPE AWARENESS / FICTIONAL GEOGRAPHY
A lot of you are published authors or would like to become authors. These sections are dedicated to the craft of writing in some way. Word power (vocabulary) is just one way to improve your craft. Understanding tropes and how they work is another way to improve. And the "fictional geography" is mostly just a way to spark creativity. I'm happy to add other tips and tricks for improving writing skills. If you would like me to expand this section even more, let me know in the comments!
My etymologist friend has been sending me quite a bit of usable content. I think he's thrilled that someone wants to feature some of the interesting stories he's uncovered on various words and phrases. So you can look forward to more of that!
WHO DIS
This is not meant to be a challenging puzzle game, but it can be a bit of fun. I try to come up with some clues about the authors. Like any good mystery, the answer will be found somewhere within the Sunday Morning Book Thread. I'm always happy to take suggestions.
++++++++++
BOOKS BY MORONS
We have a lot of published authors among the Moron Horde. Some of them are lurkers, but they reach out to me via email to ask if they can promote their work on the Sunday Morning Book Thread. I'm always happy to oblige! Authors have even offered me free copies of books, which is one of the perks of this gig, apparently. Signed copies of books are awesome!
I've come up with a way of capturing all of the Books by Morons that have been submitted so far so that you can peruse them at your leisure. I've added a special collection to my digital library on Libib: https://www.libib.com/u/perfessorsquirrel/l/1384940 From here, you can use the ISBN to search your favorite online bookseller or library (if you want to avoid Amazon) to find a copy.
By the way, if any Moron author is interested in donating a signed copy of one of their books as a door prize for the TXMOME, feel free to reach out to me. I'll see that the books reach their final destination in October (I plan on being there, but if I can't, I'll be sure to send them to someone who will be there.) NOTE: Make sure you sign the title page! I learned that this is the "correct" page to sign in a book from an author/guest speaker we invited to my campus for an event. We had her sign a bunch of her books for a similar door prize activity.
+-+-+-+-+
We do have one Book by a Moron, courtesy of Sarah A. Hoyt. She contacted me with the following: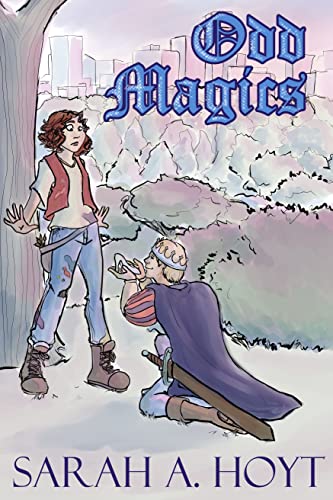 Very lurky, very silent ette (unless something gets me angry. Nobody likes me angry.)


Anyway, I have a thingy out....

It started because I was trying to cheer myself up by writing these on my blog, then the Huns (Mostly a subset of Morons, I think) demanded I put them out as a book, and eventually I did.


It has the advantage that retold fairy tales are mostly woke, and this definitely isn't.

Comment:
I'm a sucker for "modern" style fairy tales. I love Neil Gaiman, for instance, who does this really well. I obtained a copy of Sarah's book and have been reading it. The tales are short, sweet, and to the point. Very much in the same style as an original fairy tale, but with modern conventions and modern setting. However, unlike a lot of "woke" fairy tales, the characters DO get to live happily ever after (for the most part). Quite enjoyable.
MORON RECOMMENDATIONS
To me, this is the best part of writing the Sunday Morning Book Thread. Mainly because you do most of the work. All I have to do is cull through the recommendations in the comments each week and pull out 3-4 recommendations that seem interesting. I'm in awe of the breadth and depth of the reading that we all do every week. We are an exceptionally well-read group of Morons. Your recommendations are what keep me reading on a regular basis (well, that and I just love reading).
Like the Books by Morons, I've been documenting all of the recommendations you've been providing as part of a special collection in my digital library at Libib. You can find the collection at: https://www.libib.com/u/perfessorsquirrel/l/1384512 I've tagged each recommendation with the nic of the person who recommended it. You can click on the tags to find other recommendations from that same person. For instance, "trimegistus" has two recommendations at the moment. You can click on one of the books to view the entire details, which includes the recommendation/review.
If you do not see your recommendation posted here on the Sunday Morning Book Thread, rest assured I've done my best to document it in the digital library.
+-----+-----+-----+-----+
That's about all I have for this week. Thank you for all of your kind words regarding my Sunday Morning Book Thread. This is a very special place. You are very special people (in all the best ways!). The kindness and generosity of the Moron Horde knows no bounds. Let's keep reading!
If you have any suggestions for improvement, reading recommendations, or writing projects that you'd like to see on the Sunday Morning Book Thread, you can send them to perfessor dot squirrel at-sign gmail dot com. Your feedback is always appreciated! You can also take a virtual tour of OUR library at libib.com/u/perfessorsquirrel. Since I added sections for AoSHQ, I now consider it OUR library, rather than my own personal fiefdom...
PREVIOUS SUNDAY MORNING BOOK THREAD - 04-10-22 (hat tip: vmom stabby stabby stabamillion) (NOTE: Do NOT comment on old threads!)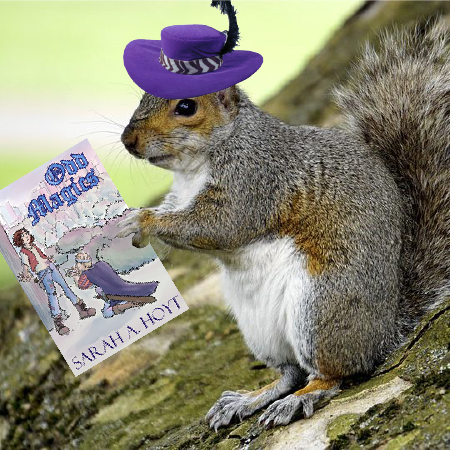 posted by Open Blogger at
09:00 AM
|
Access Comments