« Inflation Soared 8.5% In March, Another Highest-in-40-Years Record
|
Main
|
Absolute Comedy Great Gilbert Gottfried, RIP, After a Long Fight With Muscular Dystrophy »
April 12, 2022
Boston School Has Transgender Explain to 4 and 5-Year-Olds That Sometimes Babies Are Assigned the Wrong Sex
David French: Republicans Are "Against Free Speech" Because They're Instructing Government Employees What They Can Teach Kindergarteners
First, a Boston charter school decided that four and five year olds needed a crash course in gender-bending.
Sarah Hammond, the school's assistant principal, opened the floor to Skyler for her "I am" statement, telling the children, "Remember: Your job during the Identity Share is to be listening really carefully so that you can learn something new about Mr. Skyer."

"So something that's really cool and unique about who I am is that I am transgender," Skyler, who is a female identifying as a male, said. [Emphasis added] "So when babies are born, the doctor looks at them and they make a guess about whether the baby is a boy or girl based on what they look like. Most of the time that guess is 100% correct; there are no issues whatsoever, but sometimes the doctor is wrong; the doctor makes an incorrect guess."
It's a "guess" when the doctor sees the baby's genitals.
Just a guess. Just spitballin'. Just dead-reckoning.
In the Atlantic -- the neoliberal propaganda organ whose chief foreign policy writer Anne Applebaum argued that the Hunter Biden laptop suppression was harmless because she, a diehard leftwing hyperpartisan, did not find the story "interesting," and whose editor-in-chief Jeffrey Goldberg proclaimed that exposing the disinformation pushed by the leftwing media was itself just more "disinformation" -- David French declares that teaching transgenderism to kindergarteners was the next Blessing of Liberty (TM) he's proud to champion.
The American right has lost the plot on free speech. The passage of Florida's House Bill 1557, which bans "classroom instruction" on "sexual orientation and gender identity" in kindergarten through third grade and in a manner that isn't "age appropriate or developmentally appropriate" in all grades, K--12, is merely the latest in a string of what the free-speech-advocacy organization PEN America has called "education gag orders" that have been proposed by Republicans and passed by red-state legislatures from coast to coast.
David French, who consistently argues the case for free speech of liberals and against free speech of conservatives, has a lot of gall to accuse anyone else of inconsistency on this point.
Public school curricula are all controlled by the government. They always have been.
Does David French argue that grade school teachers should be allowed to teach whatever they feel like teaching?
Does he make this claim as to all possible sensitive or inappropriate matters a teacher might decide to teach? Or only regarding sexual matters?
Should they be allowed to teach key dogmas of Christianity?
Should they be allowed to teach that Islam promotes terrorism?
Should they be allowed to teach that a hugely disproportionate amount of crime is committed by black males aged 15 to 40?
That last point is true, and is relevant in discussions that Black Lives Matter has forced into the classroom, with its false claim that blacks are shot more often by police.
No, they're not -- whites are shot more, and when you control for the actual proportion of crime the races commit, blacks are actually shot less frequently than whites.
But you can't say that in the classroom, can you?
There are a whole host of true things that our liberal educrats forbid from being mentioned in the classroom, and would fire a teacher for saying.
States have whole Departments of Education and beneath those, but answering the DOE, local Boards of Education, making these inherently government-involved decisions.
I don't hear David French arguing that teachers should be free to teach that Evolution Is a Lie.
No, the only thing David French will fight for government-paid teachers' "right" to teach children -- who are present in government-funded schools due to government mandates of compulsory education up to age 16 -- is their "right" to teach children about homosexuality and transgenderism.
And his equivalency that "college = grade school" is shockingly false.
It's bad-faith false.
No one believes that the same level of complete freedom of educational curiosity to kindergarteners as to the legal adults attending college. Even David French doesn't believe that -- I hope.
But he makes the claim anyway, because this is now his grift.

Legal adults can attend classes about kink and bondage. Colleges really have those classes and "workshops."
Is he suggesting that grade schools should also feature them -- and if they don't, it's a case of "The GOP losing the plot on free speech"?
Again, I think he's just making arguments in extremely bad faith, as usual -- but maybe he really does believe this.
He has made similar claims before.
David French has previously claimed that it is a "blessing of liberty" that drag queens should be invited into government-funded libraries by radical leftwing librarians and put on sexualized drag shows for young children aged four to eight years old, in the guise of a "story hour."
And he recently claimed that anyone complaining about KBJ's light sentences for child pr0n who voted for Trump was a hypocrite, because Trump appeared in archival footage in a Playboy video about adult, legal-aged women.
Thereby conflating the sexualization of little children with the sexualization... of adult women who it's perfectly legal to sexualize.
It's quite a Groomer move to conflate these two very different things, David.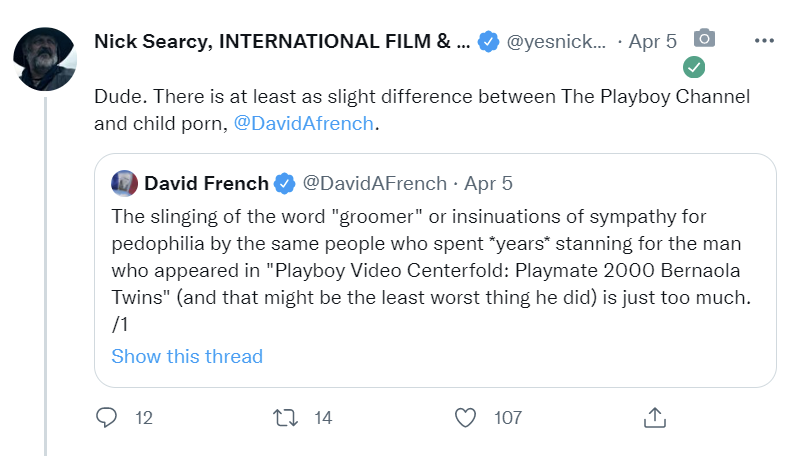 What a very strange equivalency to assert, David. The equivalency itself endangers children's safety.
Actual ped0s make the argument children should just be thought of as "little adults" who possess every "right" to be sexual (and to be sexualized) as adults possess...?
People who protect children, on the other hand, make the argument that adults and children are very, very different, and sex involving them is to be treated very, very differently.
David French's very easy conflation of "adult female giving her consent to be photographed naked" with "children with no legal power to consent being photographed having sex with other children and with adults" is troubling.
Either he's really believes this, or he's so deranged and leftwing now that there is literally no argument so repulsive that he won't make it if it gets him a paycheck and some Attaboys from his palz on the libertine left.
I hope he'll retract this evil equivalency, but I don't think he will: He's already been chastised about it and is standing behind it.
And also, because the same people who attack Trump for "never backing down, no matter how wrong, because of his oh-so-fragile ego" themselves never back down, no matter how wrong, because of their oh-so-fragile egos.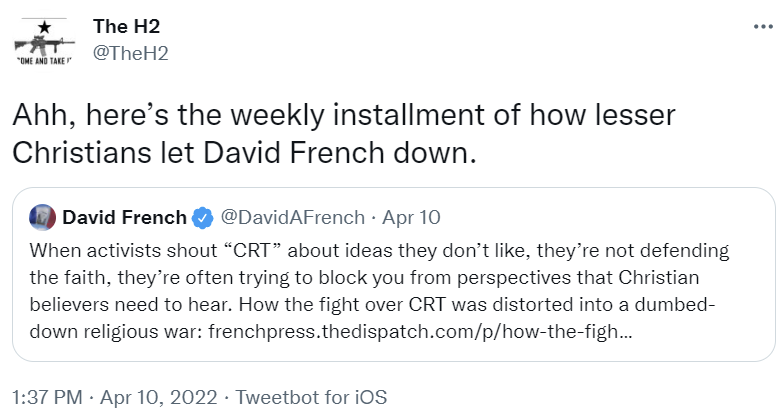 >>>And...I presume Trump wasn't having sex with the women in the playboy video anyway?
Posted by: 18-1
No, Trump's appearance in the video that David French is so scandalized by is news footage of him popping a bottle of champagne to welcome the Playboy limo as it arrives at Trump Tower. The news footage was then spliced into the opening montage of the Playboy video.
He also did a news conference/promotional appearance with Playboy playmates staying at his hotel which was cut into another Playboy-branded video. Which French doesn't mention, but I'll mention it.
Neither clip is sexual.

I wonder if French even saw the clip he's so outraged by, or if he relies entirely on his Trusted Sources at CNN and Vice to accurately describe the video.


posted by Ace at
04:23 PM
|
Access Comments