« Boston School Has Transgender Explain to 4 and 5-Year-Olds That Sometimes Babies Are Assigned the Wrong Sex
David French: Republicans Are "Against Free Speech" Because They're Instructing Government Employees What They Can Teach Kindergarteners
|
Main
|
Quick Hits »
April 12, 2022
Absolute Comedy Great Gilbert Gottfried, RIP, After a Long Fight With Muscular Dystrophy
Straight up one of the funniest human beings on the earth. One of the few guys who could make you laugh so hard you wanted him to stop.
Or, he could be so annoying that you wanted him to stop. Sometimes he'd just be cracking himself up.
Gilbert Gottfried, the comedian, "Aladdin" star and owner of one of the most iconic voices in Hollywood, has died after battling a long illness, his family announced Tuesday. He was 67.

His publicist told the Washington Post that he died due to complications from muscular dystrophy.

"We are heartbroken to announce the passing of our beloved Gilbert Gottfried after a long illness. In addition to being the most iconic voice in comedy, Gilbert was a wonderful husband, brother, friend and father to his two young children. Although today is a sad day for all of us, please keep laughing as loud as possible in Gilbert's honor," his family wrote on Twitter.
I met Gilbert Gotfried on the street one time in around 2005. He was more than willing to talk with me for about ten minutes.
One thing I told him was: I try to find out where you're appearing, but I can't find the information. Other comedians have websites where they post upcoming club dates; you should do that.
In the Gilbert Gottfried voice you all know, he tilted his head to one side, abashed, and said, "Yeahhhh, you're right, I really have to look into getting one of those."
Remember, this was around 2005. The internet was not completely new at this time. The idea of putting up a GilbertGottfried.com site with his club dates should not have been a newsflash.
But I think he just was only about comedy, not about business.
Here's his real voice, by the way. He didn't give he me the real voice; he kept to the kayfabe.
He uses his real voice, mostly, describing his horrible year as the replacement cast on Saturday Night Live, after the originals left.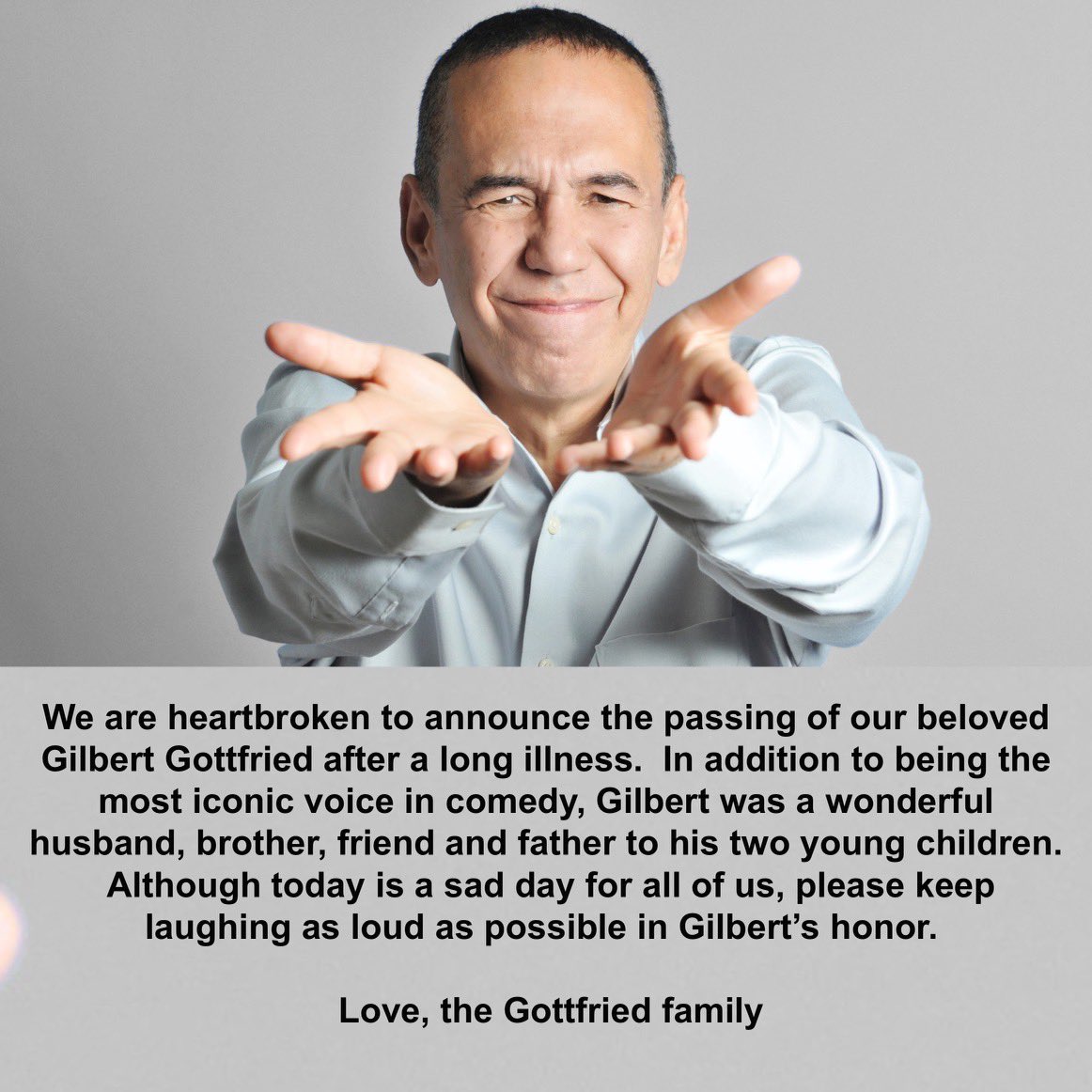 Oh, I completely forgot his roast appearances!
His roast of George Takei. Very, very NSFW.. Gilbert spends a bit of time on the "gay" angle, if you can believe that.
And then he actually gets into more NSFW areas.
His roast of Joan Rivers, though the opening roast of emcee Kathy Griffin is worth the click itself.

posted by Ace at
06:14 PM
|
Access Comments