« Daily Tech News 25 May 2021
|
Main
|
Mid-Morning Art Thread »
May 25, 2021
The Morning Report - 5/25/21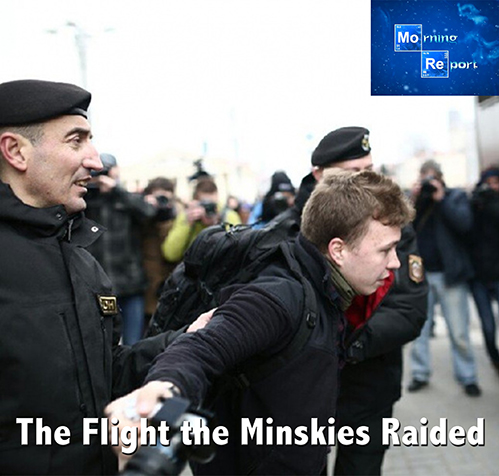 Good morning kids. Tuesday and the big story that broke yesterday was Vladimir Putin's Belarussian puppet, Alexander Lukashenko, forced down a RyanAir flight traveling between Athens, Greece and Vilnius, Lithuania and seized dissident journalist Raman Pratasevich - an actual journalist, not someone like Brian Williams who just plays one on television - and his girlfriend. Lukashenko is an authoritarian thug and despite "winning" the last election, the US and EU do not recognize him as legitimate (I sense a recurring theme). Pratasevich has been a vocal critic of the government but he has just issued this statement while being detained in Minsk:
"The attitude of the [Interior Ministry] employees towards me has been as correct as possible and in compliance with the law," Protasevich says in the video, which was posted Monday evening to a pro-government social media channel. "I continue to cooperate with the investigation and have confessed to organizing mass riots in the city of Minsk," he also says. His supporters believe the video was made under duress.

His father, Dmitri Protasevich, told the BBC on Monday that he was "really afraid" of how his son would be treated by the authorities.

"We hope that he will cope. We are afraid to even think about it, but it's possible he could be beaten and tortured. We are really afraid of that," he said.

"We are really shocked and really upset," he said. "This sort of thing shouldn't be happening in the 21st Century at the heart of Europe.

"We hope that the whole international community, including the European Union, will put unprecedented pressure on the authorities. We hope the pressure will work and the authorities will realise they've made a really big mistake."
Mistake? The only mistake Putin and Lukashenko made was not claiming the jet was hijacked by the Mossad in order to bomb Gaza and just shot it down. No doubt there would've been collective ululating and candy thrown from the windows. I mean, look who sits in the White House; a dementia patient who, in his rare moments of lucidity is taking bribes and payoffs from thugs like Lukashenko all over the former Soviet Union and elsewhere. But because he and his henchmen who rigged the 2020 election spent four years claiming Trump colluded with Putin to steal 2016, they've now painted themselves into a corner. Back in March, Biden actually referred to Putin as a "killer" with "no soul." Okay tough guy, make Putin pay! And pay he did - Biden cancels Keystone XL and gives the green light for Russia to build Nord Stream 2. Yeah, that'll show that dog-faced pony-soldier all right.
Look, I'm not itching for a confrontation with the Russians, but an incident like this would simply not have happened under Trump. Besides Democrats and especially Biden being absolutely wrong about foreign policy since forever, Biden being in the pocket of so many of our foreign enemies just makes the situation that much worse. Collectively, the American left project weakness and stupidity, which is rooted in their worldview that America's superpower status since the end of World War 2, and especially being the lone superpower for the past 30 years is a destabilizing force. Couple that with the toxic Marxist overtones of America being illegitimate, racist, imperialist etc. along with multiculturalism, moral relativism and globalism and this is the result.
One of the left's more nauseating battle cries is "the whole world is watching." Well, you can bet your bollocks to a barn dance that it sure is. Hello, Chi-Coms. But don't worry. Biden and the EU, especially Merkel, won't cancel Nord Stream 2, but there will be a strongly worded letter in the NY Times.
Speaking of ululating and passing out candy, it seems as if the head of the British chapter of Burn Loot Murder got shot in the head in London. Shame. Just as she was turning her life around. In any case as American Jews are now being set upon by so-called "Palestinian" sympathizers, with BLM plus much of the Democrat Party now openly openly anti-Semitic, the family of George Floyd, the waste of life criminal who expired while resisting arrest, is to be feted at the White House today on the one year anniversary of his demise. In his wildest moments of inspiration, I don't even think Paddy Chayefsky could have dreamed up a blacker black comedy than all of this. Can I still say "black comedy" or is that verboten?
Meanwhile, Rand Paul, who I am liking more and more every day got some fan mail:
The FBI has launched an investigation into a suspicious package that was sent to Sen. Rand Paul (R-KY) on Monday that contained a white powder and a message threatening violence.

The package was reportedly a "large envelope" that was sent to Paul's home in Kentucky from an unknown sender. Outside the envelope was a photo of a beaten-up Paul with what Fox News said was "a gun to his head" and included the message: "I'll finish what your neighbor started you motherf***er."
Fay, washed-up warbler Richard Marx, no doubt named after Karl and not Groucho, has lots of time on his hands.
On Sunday, pop singer Richard Marx, who has taken aim at former President Trump in the past, targeted Senator Rand Paul (R-KY) by citing Paul's neighbor who brutally attacked him, tweeting, "I'll say it again: If I ever meet Rand Paul's neighbor I'm going to hug him and buy him as many drinks as he can consume."

After Marx... was criticized for the post, he responded, "You see, Johnny-Bob... unlike your hero/fuhrer now residing down at MaraLoco, I never incited nor even suggested anyone be violent. Certainly not towards the traitor known as Rand Paul. I'm just saying that the fact someone slugged him doesn't break my heart."
Ah, the old Stormtrooper-nose on, Stormtrooper-nose off routine. Very clever, Dickie. You should only wind up in front of some "Palestinian" protesters who want to know if you're Jewish. If they kicked the shit out of you and put you in traction, it doesn't mean I'm inciting it. It just means it wouldn't break my heart.


ABOVE THE FOLD, BREAKING, NOTEWORTHY
CIVIL WAR 2.0: LEFTIST PERSECUTIONS, CAPITOL HILL BLACK WEDNESDAY PROTEST AFTERMATH, DEMOCRAT PUTSCH, AMERICAN DISSOLUTION
NOTE: The opinions expressed in some links may or may not reflect my own. I include them because of their relevance to the discussion of a particular issue.
ALSO: The Morning Report is cross-posted at CutJibNewsletter.com if you want to continue the conversation all day.
Follow us on Twitter: @CutJibNews
Follow us on Instagram:@Cutjibnewsletter

posted by J.J. Sefton at
07:06 AM
|
Access Comments