« Friday Night Club Chick [dri]
|
Main
|
Obama Sends Actor Ronnie Cox To Mend Fences With Small-Town Folks »
April 11, 2008
Obama To Rural Pennsylvanians: Vote For Me, You Corncob-Smokin', Banjo-Strokin' Chicken-Chokin' Cousin-Pokin' Inbred Hillbilly Racist Morons
Bumped. And flaming-skulled.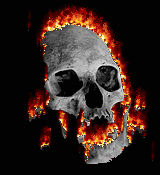 Well, it is what he said, more or less.
Actually he said this at a San Fransisco fundraiser (of course), but I can't wait 'till Pennsylvanians hear about this. Obama on the "resentments" of small-town Pennsylvanians:
You go into these small towns in Pennsylvania and, like a lot of small towns in the Midwest, the jobs have been gone now for 25 years and nothing's replaced them...And they fell through the Clinton administration, and the Bush administration, and each successive administration has said that somehow these communities are gonna regenerate and they have not.

And it's not surprising then they get bitter, they cling to guns or religion or antipathy to people who aren't like them or anti-immigrant sentiment or anti-trade sentiment as a way to explain their frustrations.
Nevermind all that stalking and sodomizing of city-slickers from Atlanta.
This isn't Obama "misspeaking," either. Remember, in that speech on race -- the greatest speech since Abraham Lincoln -- he first seemed to allow that white Americans had legitimate complaints about affirmative action and black crime rates, but then claimed those frustrations were actually misdirected anger about corporations.
This is pure leftist cant -- it's all "false consciousness" stuff, all what our Corporate Masters want us to think, playing us all against each other as they line their pockets with our sweat and tears.
Guns, border security, even religion itself aren't really legitimate points of interest. Instead they're all part of the "culture of fear" indoctrinated into us by the corporate emperors really running this country.
Thanks to Larwyn.
USADawg:
This is how Barry and his core supporters really think. Anyone who doesn't live in an urban center without 2 Starbucks per block is an ill-read hick and anyone who believes in God or the 2nd Amendment is an angry, frustrated potential abortion clinic bomber. The degree of condescending pretentiousness here is staggering.

Audio! Dude! Maybe if you tell them they're stupid and they smell like weasels on the rut you'll pick up 5% in Pennsylvania!

More! How bad is this gaffe? Well, even Hillary Clinton hacks are calling it condescending, and liberal spinner Kirsten Powers admits that there are some things that liberals say to each other when "among friends" that just don't play so well in Wilkes-Barre or Beaverton.
Which is interesting:
What other sorts of things do you liberals say to each other behind closed doors, Ms. Powers?
Why it's almost as if you have one way of speaking among the progressive elite and another language entirely for the rubes you'd presume to govern.
And which manner of speaking represents your real beliefs and expresses your real agenda? It's a mystery we'll never quite be able to puzzle out, I'm sure.
(See later updates for this stuff.)

Allah writes:
If you missed the Standard's post a few weeks ago on the various complaints about "distractions" that creep into Obama's rhetoric, read it now. This is of a piece with it. Everything in the Obama universe, including gun rights evidently, that doesn't fit his agenda is a byproduct of external forces conspiring to manipulate the masses to keep his agenda at bay. Exit question: How does Hillary leverage this? Does she dare get the video and stick it in an ad?
Good point. I saw this for the warmed over "false consciousness" hard, hard leftist cant it was, but I didn't think to connect it up with Obama's endless talk of "distractions" -- distractions (such as religion!!!) which keep us from seeing the True Oppressors and Real Enemies.
This shit you and me talk about every day? Terrorism, border security, abortion, God, guns, etc.? All distractions from the real issues, which Obama never gets quite 'round to detailing for us but you can probably guess it doesn't involve a capital gains tax reduction.
Empower the people, baby. Rise up against the corrupt white power system. And if you have to "bamboozle" and "hoodwink" a few of 'em to get there, no big shakes.
As a great man once said, you can't make an ommlette without breaking a few eggs.
Obama's Political Education: Here is exclusive archival footage of Obama being groomed for his candidacy by ace campaign manager David Axelrod:

Update: Allah tells me I'm being unfair to KP. I guess because it's an honest admission of how liberals talk to each other in private, so not something she should be attacked for. She's not saying she does it, necessarily. She's just telling us the way it is.
But while I take his point, I still am hellacurious as to what other things liberals might say that sound "totally normal" to them but doesn't play outside of Upper West Side dinner parties and Georgetown fundraisers and San Fransisco salons.
Give her points for honesty, yes, but a few demerits for not expanding on precisely what other sorts of very-derogatory stuff they might say about the hicks in the sticks, or what other Marxist cant they might find themselves easily slipping into when they're not careful.
Why are they allowed to keep their secret liberal code secret?
Oh, and Obama responds. Lifted from Allah, go there if you want the link to the source:
"Senator Obama has said many times in this campaign that Americans are understandably upset with their leaders in Washington for saying anything to win elections while failing to stand up to the special interests and fight for an economic agenda that will bring jobs and opportunity back to struggling communities. And if John McCain wants a debate about who's out of touch with the American people, we can start by talking about the tax breaks for the wealthiest Americans that he once said offended his conscience but now wants to make permanent,"
I think he just called all this a distraction from the need to repeal the Bush tax cuts.
How do you folks read it?
Connecting It Up To Yet Another Slip of the Tongue: WS:
it isn't a gaffe, just a revealing slip of the tongue. Orthodox, secular liberals like Obama tend to explain religious fervor as a symptom of fear and bitterness. Likewise the irrational racism, xenophobia, and attachment to firearms of the "typical white person."
You all cling to God and guns because you live in shitholes and you have nothing goin' on for yourselves economically.
This is one degree away from saying "Religion is the opiate of the masses."
Heh: Spamhead writes:
Of course Obama is wrong. Rural Pennsylvanians loved their guns, hated foreigners and minorities and used religion as a front for their hatred loooong before the mills closed.
Yeah, right?
I don't get this whole "society/economic alienation causes hatred of the other" type shit. I've hate "The Other" the moment my postnatal brain became aware that there was such a thing as "The Other."
I'm proud to say that no one needed to teach me how to hate.
Correction: Okay, okay... I changed King of Prussia to Wilkes-Barre.

posted by Ace at
08:23 PM
|
Access Comments